THE NEW POPE: RILASCIATA LA DATA DI USCITA E LE PRIME ANTICIPAZIONI
Il 10 gennaio arriverà su Sky Atlantic The New Pope, il seguito della serie di successo firmata da Paolo Sorrentino The Young Pope.
Inoltre, è stata rilasciata la sinossi della serie:
Troviamo Pio XIII (Jude Law) in un letto di ospedale, in coma. Sorge dunque la necessità di un nuovo papa. Per mezzo delle sue ambigue strategie, il cardinal Voiello riesce a far eleggere Papa Sir John Brannox (John Malkovich). L'aristocratico inglese salirà al Soglio Pontificio con il nome di Giovanni Paolo III. Quest'ultimo dovrà guadagnarsi la stima e la devozione dei fedeli, compito arduo considerato il suo illustre e affascinante predecessore che, nel frattempo, inizia a lanciare "strani" messaggi nonostante sia in stato comatoso, dando modo ad alcuni fedeli di sviluppare una vera e propria idolatria nei suoi confronti. Il Vaticano, intanto, rischia di essere sommerso dagli scandali.
(potete trovare qui maggiori informazioni).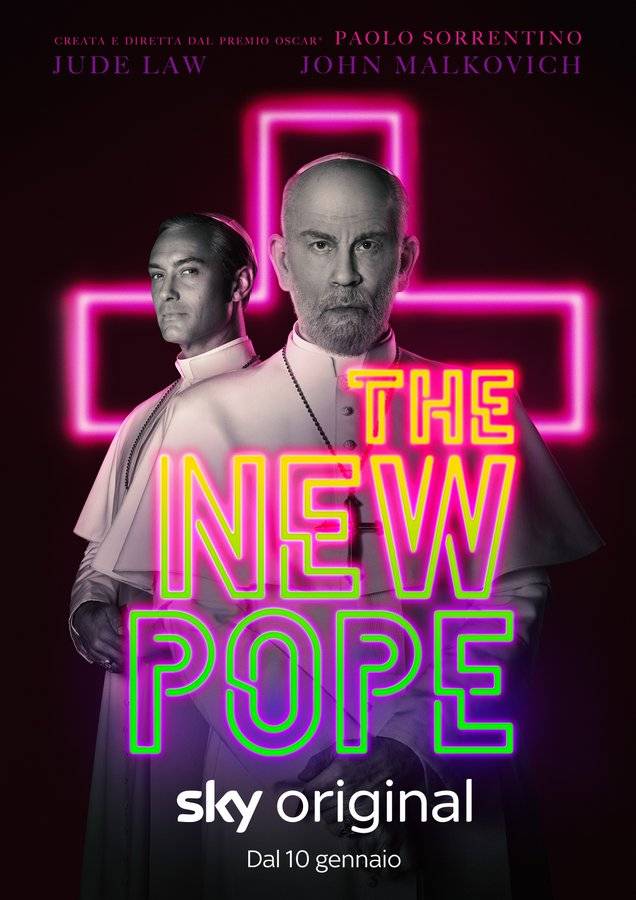 DISPATCHES FROM ELSEWHERE: RILASCIATO IL TEASER DELLA NUOVA SERIE ANTOLOGICA CON JASON SEGEL
Dispatches from Elsewhere è la nuova serie creata da Jason Segel che andrà in onda su AMC nel 2020 e questa settimana è stato rilasciato il primo teaser.
La serie si focalizza su quattro persone ordinarie che sentono che nella loro vita manca qualcosa, ma non riescono a capire cosa. Queste quattro persone vengono riunite dal caso – o, meglio, dal destino – quando s'imbattono nel puzzle che si nasconde dietro il velo della vita quotidiana. Mentre iniziano ad accettare le misteriose 'spedizioni da altrove' (dispatches from elsewhere), scoprono che il mistero è ancor più profondo di quanto immaginassero, e i loro occhi si aprono a un mondo pieno di possibilità e magia.
(potete trovare qui maggiori informazioni).