È il 2015 quando, senza fare troppo rumore, Master of None (serie tv scritta e interpretata da Aziz Ansari, conosciuto ai più per il suo ruolo in Parks and Recreation) approda su Netflix e lì resta, senza riuscire mai a sfondare e a ottenere il successo di massa che meriterebbe.
Con le sue due sole stagioni, per un totale di venti puntate, Master of None merita di essere riscoperta e valorizzata, nella remotissima speranza che, prima o poi, possa avere nuovi episodi.
Si tratta di uno show ignorato da molti, forse a causa di un'inadeguata sponsorizzazione da parte di Netflix, forse per non aver saputo catturare l'attenzione del pubblico. Quel che è certo è che, nonostante lo scarsa diffusione, la serie di Ansari si è meritatamente guadagnata il plauso della critica e di coloro che le hanno dato una possibilità. Master of None non è infatti uno show adrenalinico, di quelli che fanno rimanere lo spettatore col fiato sospeso in attesa di colpi di scena e spettacolari espedienti narrativi, né un dramma strappalacrime e nemmeno una spassosissima sitcom.
Master of None è uno show che parla di vita, vita vera, vita imperfetta.
La trama, semplice e senza troppi fronzoli, narra della quotidianità di un giovane "capace di tutto, ma maestro in niente". Il protagonista è infatti Dev Shah, trentenne newyorkese che deve fare i conti con la propria quotidianità e i problemi a essa correlati. Dev, aspirante attore, non ha niente di speciale: fa un po' di tutto senza eccellere in nulla di particolare e, un po' perso, è alla costante ricerca del suo posto nel mondo e di qualcuno con cui condividere il proprio viaggio.
Perché non è semplice destreggiarsi tra famiglia, amici, relazioni sentimentali e lavoro, soprattutto se sei un americano doc, ma la gente tende a considerarti solo come un immigrato che in quanto tale deve avere un buffo accento.
Dev è infatti un ragazzo come tanti, con le fisse e gli interessi propri della sua generazione, desideroso di ottenere successo in ambito recitativo, ma che trova sul suo cammino una serie di ostacoli, dettati anche dal proprio invadente retaggio culturale indiano, rispetto al quale tra l'altro non riesce a riconoscersi.
La serie parla di questioni importanti con delicatezza e senza imporre la classica morale della favola: Master of None, con la sua narrazione pacata e realistica, ha infatti il pregio di riuscire a centrare i nervi scoperti dei problemi e delle ipocrisie della vita moderna, trattando con attenzione e con una vena ironica tematiche delicate come il razzismo, facendoci al contempo immedesimare nel protagonista e nelle sue sventure. Come non citare l'episodio in cui Dev, pur piacendo molto ai direttori di casting di una serie tv, non viene preso assieme a un altro amico indiano perché nello show "non ci possono essere due indiani nello stesso gruppo di amici"?
Una piccata critica all'ipocrisia dell'industria cinematografica americana, che spesso si finge aperta e inclusiva, ma che nella maggior parte dei casi si rivela essere di tutt'altro avviso.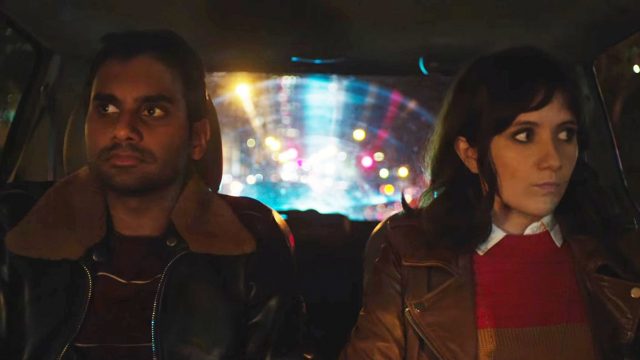 Nel corso della serie vengono analizzate anche una serie di altre tematiche importanti come la religione, la discriminazione, le relazioni sentimentali e la ricerca della propria strada.
Ansari riesce nell'intento di portare sullo schermo spaccati di vita vissuta, vicende che potrebbero capitare a chiunque, costruendoci attorno interi episodi. Ogni puntata è infatti costituita da un racconto autoconclusivo incentrato su un particolare problema e su come Dev cerchi di risolverlo. Pur scrivendo una commedia, Aziz Ansari non ci regala scenari idilliaci: la vita non va sempre come dovrebbe andare, spesso per colpa dei nostri stessi desideri e capricci. Le relazioni sono complicate, possono lasciare tristi e disillusi e il lieto fine non viene dato per scontato.
Seguendo le vicende di Dev, veniamo a conoscenza degli altri personaggi che abitano il suo mondo: dagli apprensivi genitori (interpretati tra l'altro dagli stessi genitori dell'attore), alle ragazze che l'uomo frequenta, fino al suo variegato gruppo di amici, ognuno con una parte importante da giocare nel percorso evolutivo del protagonista. Seppur circondato da tante persone, il ragazzo è però schiacciato da una pesante solitudine.
Dev è un personaggio in cui ci si può davvero immedesimare: la sua perenne insoddisfazione, sia in ambito lavorativo che relazionale, il suo altalenante rapporto coi genitori tradizionalisti e la sua costante incertezza contribuiscono infatti a creare un protagonista realistico e sfaccettato. Dev è costantemente scontento di se stesso e della propria vita, così come lo sono tanti giovani di oggi. Sempre in bilico tra il desiderio di sfondare e l'apatia esistenziale nei confronti di ciò che lo circonda, il ragazzo almeno all'inizio si dimostra incapace di compiere scelte importanti.
Il nostro Dev rappresenta l'emblema di una generazione che brancola nell'incertezza.
Tra i tanti pregi della serie, oltre a ciò che abbiamo elencato, possiamo annoverare i dialoghi, ben studiati, ma allo stesso tempo spontanei e realistici e la sceneggiatura semplice e lineare, che permette agli episodi di scorrere con piacevolezza. A farla da padrone sono però la colonna sonora e la fotografia, capaci di creare atmosfere malinconiche e sognanti e in grado di farci volare lontano con la mente e col cuore.
Con la seconda stagione lo show non subisce colpi d'arresto, anzi si raffina. La serie mantiene tutto quello che aveva di buono e al contempo migliora ulteriormente il comparto narrativo e tecnico. Noi italiani, nonostante i palesi stereotipi, potremo gustare una serie di chicche riguardanti il nostro paese: dalle ambientazioni modenesi, alle citazioni filmiche a pellicole come Ladri di biciclette o La dolce vita, fino all'introduzione della nostra Alessandra Mastronardi in un ruolo di prima importanza.
Master of None ci culla in una piacevole e allo stesso tempo amara malinconia: una serie in perenne bilico tra commedia ironica e triste realtà dei fatti, capace di farci perdere in noi stessi e nei nostri desideri.
Aziz Ansari crea una formula vincente, mescolando sapientemente humor e drama, regalandoci così un piccolo gioiello nella serialità odierna. Una serie deliziosamente divertente e allo stesso tempo commovente in cui potersi riconoscere.