Come ben sappiamo la macchina del marketing di Netflix è capace di trovate rivoluzionarie. Uno dei grandi meriti della piattaforma è senz'altro quello della comunicazione sociale. Basti pensare alla campagna per il lancio di Santa Clarita Diet con gli enormi e macabri manifesti in giro per Milano. O l'hype attentamente pianificato e suscitato per l'uscita di Dark. Non tutte le serie però hanno goduto di questa attenzione. Nel vasto novero di produzioni (o distribuzioni) Netflix dei veri e propri gioielli sono stati trascurati. È il caso di Master of None, ma non solo (e non tanto). Si va da un gioiellino distopico, alla parodia crime, fino all'avventura più folle degli ultimi anni. Ecco a voi le cinque serie tv meno pubblicizzate e più geniali che troverete su Netflix e che probabilmente vi siete persi.
1) Lovesick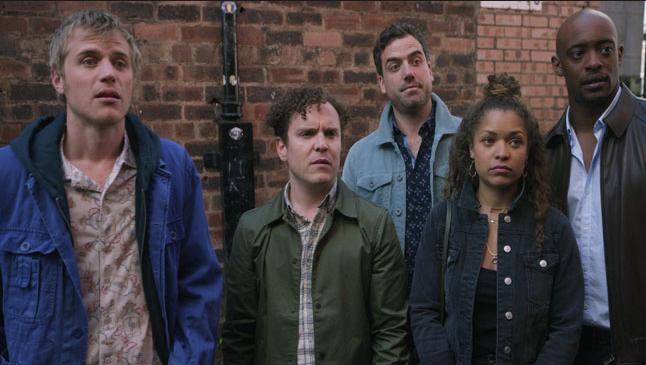 Una comedy solo apparentemente leggera che fa il paio con il successo di Master of None. Tre stagioni, ventidue episodi totali per una media di poco superiore ai venti minuti a episodio. Il pretesto che mette in moto gli eventi e dà il titolo alla serie è la clamidia contratta dal protagonista Dylan (un ottimo Johnny Flynn). Il povero ragazzo dovrà contattare le sue ex per metterle al corrente del problema.
Ad affiancare Dylan gli amici di sempre, Luke e Evie, un'irresistibile Antonia Thomas. Lovesick affronta con gusto e sguardo critico il fuori-tempo di un'intera generazione. Un costante senso di disagio e assenza di sintonia attanaglia le vite dei protagonisti, li porta a riflettere sulle scelte e gli errori. Li costringe a fare i conti con la mancanza di direzione delle proprie vite.
Un'interferenza sembra attraversare ogni storia, distorcere la linearità della vita e macchiarsi di rimpianti e nostalgia per ciò che poteva essere e non è stato. Si ride, ma dietro l'immediatezza dell'espediente comico si nasconde sempre una riflessione più seria. Una serie che colpisce nel profondo agitandovi e solleticando corde che credevate ormai irrigidite. Il tutto con semplicità e gusto, senza mai scadere nel volgare o nel tragico. In scena, una quotidianità imbevuta di melanconica gioia.