Quello di Aziz Ansari è un nome che ultimamente si fa fatica a pronunciare. Netflix però, pubblicando e producendo il suo nuovo show Right Now, ha voluto dare voce al comico dopo oltre un anno di allontanamento dalle scene. Cosa è accaduto in questo periodo? E perché Ansari ha voluto scomparire dal palcoscenico per un po'? Queste domande verranno sciolte fin dall'incipit dello spettacolo di stand-up, con una chiarezza e una doverosa serietà che mai ci saremmo potuti immaginare da un comico.
Come forse qualcuno di voi già saprà, ma è bene ricordare, l'allontanamento dalle scene di Ansari è figlio di un'accusa per molestie sessuali a lui rivolta da una ragazza.
Questa notizia, di certo sconcertante, non ha avuto però lo stesso rilievo che ha ricevuto lo scandalo analogo che ha coinvolto il più popolare comico d'america: Louis C.K..
Abbiamo quindi di fronte a noi due comici molto famosi, con più di una cosa in comune.
Come Louis C.K. ha prodotto e recitato nella sua serie televisiva Louie nei panni del protagonista principale, Aziz Anzari ha fatto lo stesso con Master of None. Due serie diverse ma entrambe di una certa levatura dal punto di vista stilistico. Per capirci, se fossero canzoni anziché show televisivi, vincerebbero il premio della giuria di qualità a Sanremo.

Utile, quanto in un certo senso ironico, ricordare anche come entrambi, prima della loro consacrazione, abbiano preso parte al cast di Parks and Recreation.
Ansari come uno dei personaggi principali nel ruolo di Tom Haverford e C.K. invece presente in sole sei puntate nei panni di Dave il goffo fidanzato di Leslie Knope (Amy Poehler).
Veniamo ora alle accuse per molestie sessuali, una similitudine certamente più scomoda della precedenti. In un momento storico come quello che stiamo vivendo oggi, che tra qualche anno verrà ricordato come l'epoca del MeToo, il peso che possono avere delle denunce di questo calibro su due personaggi dello showbiz è tutt'altro che clemente.
Niente sarà più come prima e le risate in questo caso non servono a sdrammatizzare.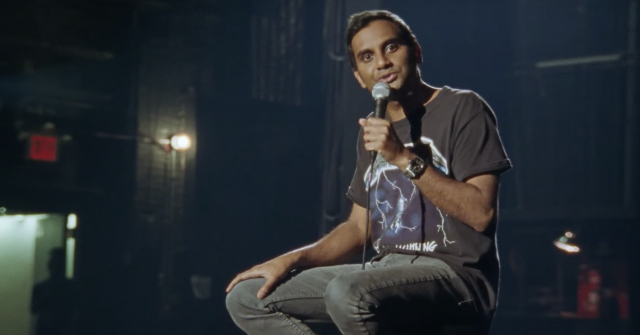 Un anno dopo quelle accuse, che Ansari stesso ha definito come il peggiore periodo della sua vita, il comico ritorna a galla con un nuovo show prodotto da Netflix: Right Now.
Ancora una volta C.K. e Ansari sono accomunati in qualcosa. Infatti, giusto pochi giorni prima dalla pubblicazione dello spettacolo del comico su Netflix, Louis si è esibito a Milano per la prima volta dopo le accuse che l'hanno investito quasi due anni fa.
Le differenze tra i due comedian ora però si fanno evidenti. Se lo spettacolo milanese di C.K. è stato definito da molti sgradevole proprio perché il comico ha voluto parlare il meno possibile della vicenda, se non vestendola di un'ironia fuori luogo, diverso è stato l'approccio di Aziz Ansari. 
Right Now è lo show Netflix diretto nientemeno che da Spike Jonze, regista di Her, film vincitore del premio Oscar come Miglior sceneggiatura originale nel 2014.
La regia d'autore è certamente mirata a mostrarci più di un semplice spettacolo di stand-up a telecamera fissa. Lo sguardo di Jonze è volto a presentarci un Ansari più umano, pentito, in cerca di una redenzione che solo il perdono del pubblico può dargli.
I primi piani e le forse artefatte riprese rubate, dove il comico non sa o finge di non sapere di essere ripreso, sono solo alcuni degli escamotage che il regista usa per farci empatizzare con il suo protagonista.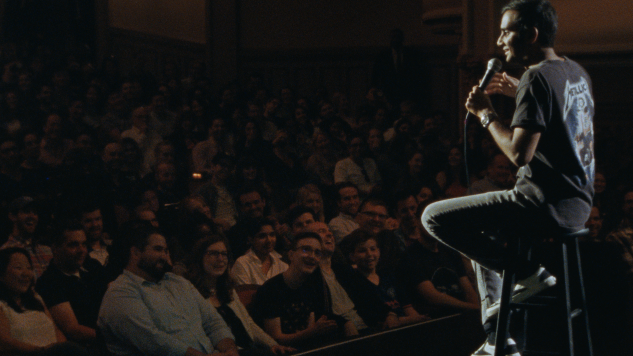 Ansari rompe il ghiaccio sulla vicenda in maniera scontata ma elegante!
Il comico racconta di essere stato fermato da un passante che riconoscendolo gli domanda se sia proprio lui l'attore che recita in Patriot Act, confondendolo quindi con un altro comico indiano, Hasan Minhaj. Ansari ironizza a questo punto sul fatto che spesso gli attori appartenenti a minoranze etniche vengano spesso inopportunamente confusi tra loro.
Il passante però, come ci racconta Aziz, raddrizza il colpo, domandandogli dunque se sia lui l'attore di Master of None e di Parks and Recreation. Ansari dunque finalmente riconosciuto ammette la paternità di entrambi gli show.
Lo sconosciuto impertinente in ultimo gli domanda: 'Sei tu Aziz Ansari accusato di molestie sessuali?'. E Aziz facendo un balzo indietro risponde: 'No, no, ti stai confondendo! Quello è Hasan Minhaj!'.
A meno di tre minuti dall'inizio dello show, Ansari ha tirato in ballo la questione più spinosa della sua vita, e lo fa con assoluta limpidezza e sincerità. Dopo aver scaturito un'ilarità generale il comico incalza:
Non ho fatto molte dichiarazioni su questa faccenda, ma ne ho parlato in tour, perché significa molto che siate qui. Sono sicuro che molti di voi si chiedono che cosa provi io. Per me è difficile rispondere, perché ho provato molti sentimenti diversi l'anno scorso…

Ho provato paura. Ho provato umiliazione. Ho provato imbarazzo.

E, infine, mi è dispiaciuto che questa persona si sia sentita così. Dopo un anno spero che questo sia un passo avanti. Mi ha fatto crescere e riflettere molto. Spero di essere migliore. Penso sempre a ciò che mi disse un amico: "Sai che ti dico? Questa storia mi ha fatto ripensare a tutti i miei appuntamenti passati". Mi sono detto: "Caspita, è incredibile. Grazie alla mia storia, altre persone sono ora più attente ed è un fatto positivo".

Ecco quello che provo.

E so che uno show comico non dovrebbe iniziare così. Ma è importante per me che voi sappiate qual è la mia posizione, prima di condividere questa serata.
Uno show comico, come dice Ansari, probabilmente non dovrebbe iniziare così, ma un ritorno sul palcoscenico dopo quanto accaduto non potrebbe essere migliore di questo.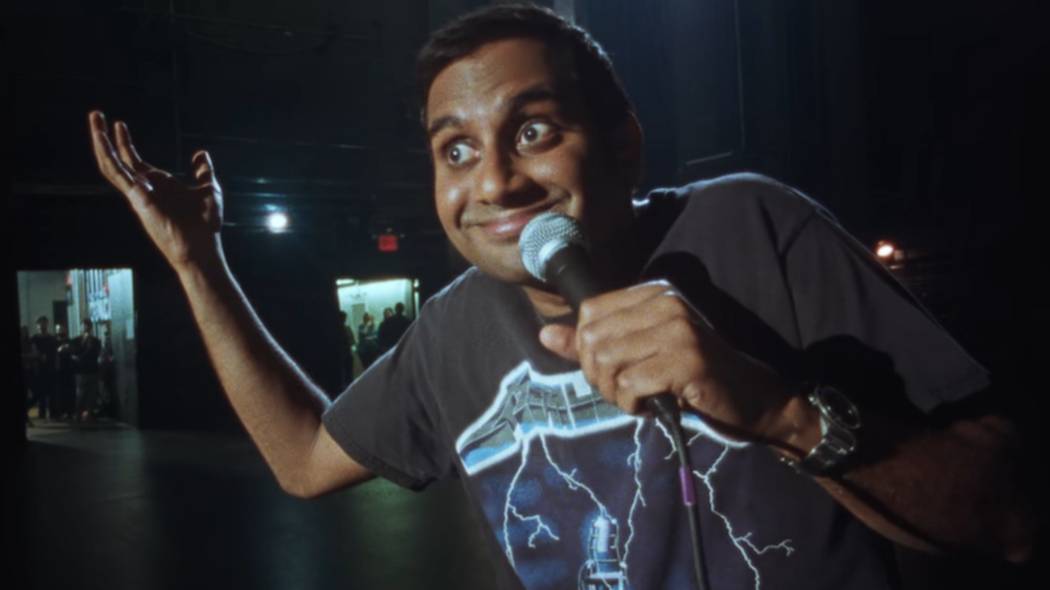 Lo spettacolo continua e il pubblico è caldo, pronto a riabbracciare con il suo calore il comico che avevano lasciato un anno prima.
Ansari in questo show Netflix non si risparmia e parla di appropriazione culturale, di politically correct, degli scandali sessuali di R. Kelly e di Michael Jackson e della continua propensione a produrre documentari sui casi più efferati, in una sorta di pornografia della violenza umana.
La critica ironia è alternata da altrettanta ironia vestita di dolcezza, quando parla ad esempio del poco tempo che dedichiamo ai nostri cari o quando infine si congeda dal suo pubblico ringraziandolo sentitamente di essere venuti a vederlo esibirsi.
Mi sono reso conto che è tutto effimero. Tutto quanto può sparire così…
Right Now è uno spettacolo Netflix imperdibile. Che siate o meno amanti della stand-up comedy, non meritate di perdervi un esempio di consapevolezza come quello che ci viene regalato da Aziz Ansari in questo show.
Il vecchio Tom Haverford direbbe: 'Treat Yourself'. Aziz oggi ci invita a pensare al momento, Right Now.