# #
Sicuramente ci avrete già fatto caso ma, per i pochi che ancora non se ne fossero accorti, è giusto fare una piccola premessa: viviamo in un'epoca in cui da tempo ha preso piede il culto della nostalgia. Nostalgia intesa come business, come qualcosa su cui lucrare. L'avrete notato accendendo la TV in queste settimane: siamo invasi da programmi costruiti sulla venerazione di epoche passate e da periodiche riproposizioni di vecchi film e telefilm cult della nostra infanzia. Sono tante le Serie recenti (di Everything Sucks ne abbiamo già parlato qui) dall'impianto interamente nostalgico, orientate a stuzzicare i ricordi e giocare con i sentimenti delle generazioni '80 e '90. Tutto molto bello direte, se non fosse che, come spesso accade, alla lunga il troppo stroppia.
# #
Il grosso rischio, quando si riportano in auge determinati oggetti o interi periodi di culto, è di inflazionarli a tal punto da rendere stucchevole e banale il loro ricordo, finendo alla peggio per renderli antipatici agli occhi di chi li ha sempre amati. Per usare un esempio recente, pensate a Sarabanda. I tempi in cui risultava piacevole la riproposizione dei vecchi spezzoni sono durati abbastanza poco. Ben presto il gradevole effetto nostalgia è stato soppiantato da un diffuso fastidio dei fan della prima ora, a causa dell'inondazione di meme e video inneggianti al tormentone Moooseca!. Come detto prima, riesumare il vecchio, sottoponendolo a una sovraesposizione esagerata, finisce per svilire il ricordo di una cosa bella rendendola insopportabile.
C'è una cosa però che per fortuna non è stata contaminata da questa ondata di pseudo-sciacallaggio. Una Serie amata da molti, ma che da anni è inspiegabilmente sparita dai radar delle programmazioni televisive. Parliamo di Malcolm in The Middle.
# #
Quante volte vi siete chiesti come mai Mediaset o Sky non trasmettano da tempo le repliche di questa meravigliosa Serie? Il perché, ad oggi, resta un mistero. Questioni di diritti scaduti che nessuno evidentemente avrà più voluto ricomprare. Anche nell'ambito dell'home video le cose non sono andate meglio. Attualmente non esistono dvd, blue-ray o cofanetti in edizione italiana ordinabili sul web. Finanche su youtube scarseggiano gli spezzoni, e i pochi che si trovano vengono spesso rimossi poco tempo dopo. I fan di Malcolm in the Middle sono stati così costretti a rifugiarsi nel vecchio, caro streaming online.
Nonostante tutto, non è detto che l'irreperibilità del materiale e la lontananza dagli schermi abbia giocato a sfavore della popolarità di questa Serie. Il numero di affezionati è ancora ben nutrito, e sono in costante aumento le fan page a tema su Facebook e le richieste di aggiungere Malcolm in the Middle al catalogo italiano di Netflix (infatti ce l'avete chiesto anche voi).
È successo in pratica l'esatto opposto di quanto detto in apertura. L'assenza prolungata dagli schermi ha fatto fermentare, nel cuore di chi è cresciuto con Malcolm, il desiderio di rivedere le avventure della sua famiglia. Il suo ricordo è ancora puro e illibato come solo i bei ricordi d'infanzia possono essere.
Quando si parla di Malcolm in the Middle, non è tanto il protagonista ad essere rimasto nella memoria dei fan. Provate anche voi; nessuno vi saprà nominare un episodio associandolo alla storyline del genietto interpetato da Frankie Muniz. La verità è che ognuno di noi ricorda ogni puntata in base al ruolo nella storia che aveva Hal.
Ebbene sì, Hal Wilkerson (questo il cognome della famiglia, qualora ve lo foste sempre domandato) è il cuore pulsante di Malcolm in the Middle. È soprattutto colpa sua se da piccoli abbiamo passato i nostri primi pomeriggi a registrare ogni puntata sui vecchi VHS. Accollandoci gioco-forza, per i limiti del mezzo, l'interminabile pubblicità di Italia Uno.
Per i poveri sventurati nati tardi per venire allevati dai suoi discutibili insegnamenti, proviamo a illustrare perché, anche solo per Hal, valga la pena recuperare Malcolm in the Middle.
Come tutti i capifamiglia delle sitcom post avvento de I Simpson, Hal è il principale espediente comico della Serie. Intorno a lui ruotano tutte le vicende più divertenti, rendendolo a tutti gli effetti il comic relief principale di Malcolm in the Middle.
Rispetto alle sitcom tradizionali di inizio anni 2000, le dinamiche familiari sono sì estremizzate, ma sempre con un ripieno di cruda verosimiglianza che permette a ognuno di noi di potersi immedesimare. Hal in questo senso non è il classico padre che siamo abituati a vedere in Tv, un po' gigione ma con quel senso di responsabilità tipico della figura che ricopre. L'affidabilità genitoriale di Hal è attendibile quanto un orologio rotto: si comporta in maniera consona giusto un paio di volte al giorno. Per il resto del tempo è un vulcano di idee strampalate e di pulsioni improvvise da assecondare ad ogni costo.
Umile impiegato in una ditta dai contorni mai del tutto definiti, Hal è il classico inetto che odia a morte il proprio lavoro, rimuginando ogni giorno sulla mesta fine dei suoi sogni infranti. È consapevole di dover sgobbare controvoglia per portare a casa la pagnotta, il che lo espone continuamente al rischio di mettersi nei guai. Sposato con Lois, ne è innamorato pazzo, nonostante risulti quasi intimorito dalla sua forte personalità. Di fatto è lei il capofamiglia, in una sorta di dittatura matriarcale nella quale Hal si limita ad assecondare la volontà della moglie. Il che, a conti fatti, risulta il male minore, visto che i figli rimasti in casa (il primogenito Francis è stato spedito da Lois in accademia) sono uno più scalmanato dell'altro. Senza l'estremo e a volte irragionevole pugno di ferro della madre, la famiglia Wilkerson vivrebbe nell'anarchia più totale.
Oltre a Malcolm, Reese e Dewey, Hal in fin dei conti è il quarto figlio a cui Lois deve badare. La sua forte propensione ad assecondare il proprio istinto spesso lo rende il più ingenuo e immaturo dell'intera famiglia.
È impossibile non simpatizzare per il personaggio reso celebre da Bryan Cranston, interpretato ben prima che la sua carriera decollasse in modo stupefacente grazie a Breaking Bad.
Detesto ammetterlo, ma se l'avessi conosciuto solo per la sua parte in Malcolm in the Middle non avrei mai pensato a lui.
In effetti non c'è da biasimare Vince Gilligan per questa sua affermazione. Pensò Cranston per il ruolo di Walter White grazie a una puntata di X-Files, "Drive", dove interpretava un tizio in auto che sequestra Moulder. Chi mai avrebbe potuto pensare che un attore dotato di magistrali tempi comici, capace di far ridere con la parola e con lo slapstick, si sarebbe rivelato un interprete drammatico di tale caratura?
Hal piace a tutti perché prima di tutto è un uomo buono. Imbranato sì, ma profondamente sensibile, tanto da apparire spesso debole e incline al pianto quando sopraffatto dalle quotidiane difficoltà. Incarna molti degli aspetti peculiari del Fantozzi nazionale: è un perdente, un vinto che dalla vita ha ricevuto meno di quanto meritasse.
Ciononostante non perde quasi mai la speranza. I suoi occhi sono quelli di un eterno sognatore, uno che cerca di cogliere ogni occasione buona per dare una svolta alla sua vita. Il problema è che spesso il sogno degenera in ossessione. Nel corso di Malcolm in the Middle lo abbiamo visto ingegnarsi nei modi più disparati per tentare di sbarcare il lunario, preso dalla smania di inseguire la sua nuova strampalata passione. Ha più volte trascurato il lavoro per dedicarsi a tempo pieno alla pittura o alla vendita di alberi di natale. Addirittura al raggiungimento del record in un gioco da ballo.
In generale Hal non riesce a resistere a lungo alle tentazioni che la vita gli pone di fronte, finendo spesso per pagare caro il suo agire impulsivo. 
Ama lo sport e venera il lusso. Eccelle nel pattinaggio, come dimostrato in uno degli episodi più iconici di tutta la Serie, e adora le Porsche. Come la celebre nuvola del ragioniere, è la sfortuna a mettergli sempre i bastoni tra le ruote rovinando anche i suoi pochi piani brillanti. Partoriti, a onor del vero, in mezzo a una sequela di inattuabili castronerie. Non va tanto meglio neanche nelle amicizie, visto che la sua compagnia vive in costante competizione l'uno con l'altro, come possiamo constatare nelle ricorrenti e memorabili partite di poker.
L'unica sua certezza, l'unica costante di una vita che altrimenti apparirebbe come un completo disastro, è Lois.
L'amore di Hal verso Lois non viene mai messo in discussione in nessuna delle sette stagioni di Malcolm in the Middle. Anzi, sono ancora fisicamente attratti l'uno dall'altra come fossero fidanzati novelli. L'unica tentazione che non ha mai sfiorato Hal, è proprio quella di lasciare sua moglie. Sa di essere totalmente dipendente da lei, tant'è che glielo ripete in più di un'occasione. Il fatto di avere due caratteri completamente diversi ha contribuito a cementare la solidità della coppia. Il risultato della loro unione è un equilibrio perfetto di due personalità difformi ma tra di loro complementari.
L'episodio 2×02, "La partita perfetta" è il più indicativo per comprendere le differenze tra i due genitori. Vediamo come si svolge una serata al bowling a seconda che sia Lois o Hal ad accompagnare Malcolm e Reese. Potete immaginare le esilaranti conseguenze provocate dal modo di fare rompiscatole e opprimente della prima e quello permissivo e maldestramente autoritario del secondo.
L'aspetto sociologico più interessante e verosimile di tutta la Serie è proprio l'attenzione riservata ai sacrifici che debbono fare ogni giorno Hal e Lois per crescere i propri figli tra mille difficoltà. Nonostante i cataclismi provocati dai suoi ragazzi, Hal stravede per ognuno di loro. Compreso Francis, il maggiore "esiliato" in costante conflitto con la madre.
Questa è senza dubbio la più grande qualità di Hal: esserci sempre per sua moglie e i suoi figli nel momento del bisogno. Pur con i propri infiniti difetti, al netto del suo modo di essere da eterno bambino. Ogni sua sbandata, ogni sua ossessione momentanea viene sistematicamente accantonata per tornare ad essere al servizio della pazza, assurda famiglia.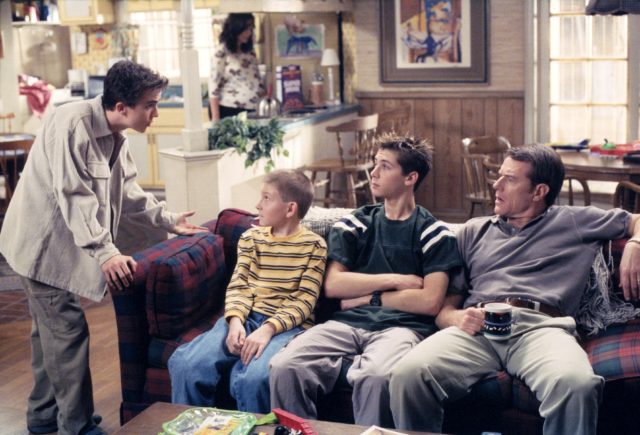 Vien quasi da sé, dunque, il riferimento più scontato. Lui sì che può permettersi il diritto di dire:
Al that I did, I did it for my family
Chiaro Mr White?