# #
Bryan Cranston, ancor prima di essere un formidabile attore, è uno straordinario personaggio. Difficile trovare un'altra personalità così istrionica ed espressiva in tutto il mondo. Espressività che, Hal docet, egli utilizza soprattutto in chiave umoristica, essendo noto per l'incredibile verve comica. Proprio la sua fama da comico stava per precludergli, nel 2008, la possibilità di interpretare il protagonista di Breaking Bad.
# #
Incredibile ma vero: la produzione non riteneva Cranston all'altezza di un ruolo drammatico di tale caratura poichè lo considerava buono solo per interpretare "il padre di Malcolm". Fu una maestosa opera di convincimento di Gilligan, che aveva lavorato con lui in X-Files, a far cambiare idea alla Amc. E per fortuna! Riuscireste a immaginare Walter White interpretato da uno qualsiasi che non sia il grande Bryan?
Per uno così non basterebbe tutta la carta del mondo a elencare i momenti memorabili che ci ha regalato. Già solo tenendo conto del suo operato in Malcolm, senza neanche voler scomodare Breaking Bad, avremmo già un elenco infinito. Ragion per cui questa lista comprenderà momenti sul set su cui non possiamo transigere e altri al di fuori delle scene in cui ha dimostrato tutta la sua memorabilità.
# #
Naturalmente è bene tenere presente che, se non avete visto prodotti in cui Bryan Cranston ha recitato, potreste incappare in qualche spoiler. Tuttavia, essendo ogni momento contrassegnato dall'apposito titolo, se così fosse, non ragioniam di lor, ma guarda e passa. E ora, bando alle ciance, andiamo a scoprire alcuni dei momenti in cui questo magnifico attore è entrato nei nostri cuori.
1. BREAKING BAD 4×06 – "I AM THE DANGER"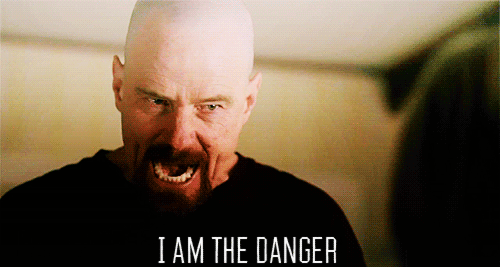 Spariamoci subito una delle cartucce più pregiate. Una fase cruciale della trasformazione in Heisenberg è il momento in cui Walt riconosce, per la prima volta a voce alta, ciò che lui è diventato. A farne le spese è un'attonita Skyler che ha solamente "osato" preoccuparsi per lui. Ne esce fuori una delle scene cult di Breaking Bad, una di quelle che rivediamo almeno 10 volte in loop.
"I am not in danger, Skyler. I am the danger! A guy opens his door and gets shot and you think that of me? No. I am the one who knocks!"
La mimica facciale di Bryan Cranston in questa circostanza è qualcosa di meraviglioso. I brividi – al solo sentore di tutta quella rabbia sputata in faccia alla moglie – sono qualcosa che non proviamo ogni giorno. Il geniale protagonista di Breaking Bad stava, in quel momento, scrivendo la storia della serialità e non è un caso che in quegli anni ha praticamente monopolizzato il premio come miglior attore agli Emmys.