Kidding è una serie televisiva statunitense trasmessa dal 9 settembre 2018 su Showtime.
La prima stagione, composta da 10 episodi (trasmessi anche in Italia dal 7 novembre su Sky Atlantic), sancisce il ritorno del grande Jim Carrey in tv.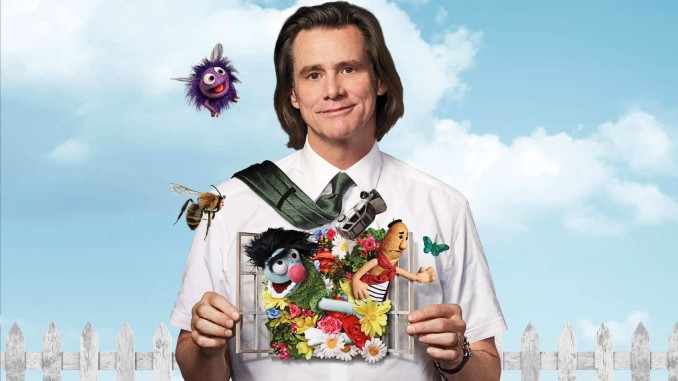 L'attore, dopo quattordici anni dal meraviglioso film Eternal Sunshine of the Spotless Mind (tradotto barbaramente in italiano con l'orrendo titolo Se mi lasci ti cancello), torna a lavorare con il regista Michel Gondry e il risultato è un piccolo capolavoro, per pochi intenditori… come spesso accade! L'attore e il regista, come solo loro possono fare, raccontano una fiaba tremendamente umana e tremendamente dolorosa.
La serie racconta la storia del protagonista Jeff Piccirillo, conosciuto con il nome del suo alterego Mr. Pickles, star di un popolare e amatissimo show per bambini. L'uomo, con l'aiuto di pupazzi e marionette, è ormai diventato, per gli spettatori, un modello educativo pieno di virtù, tanto da diventare un brand multimilionario.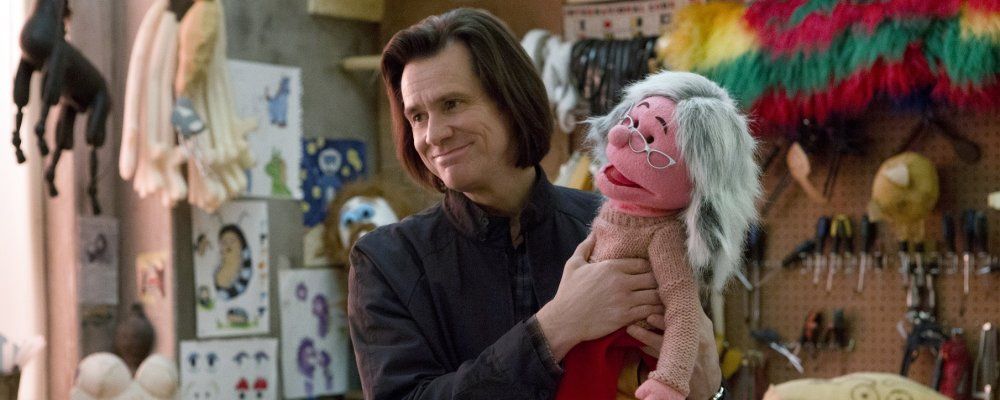 Un sogno, una favola che viene dissolta dalla vita reale quando Jeff viene colpito dalla morte di uno dei suoi due figli.
Dopo un anno dal grave lutto, tutti intorno al nostro protagonista cercano di superare il dolore, di vivere (anche sbagliando) come il loro cuore gli suggerisce. Tutti cercano di voltare pagina, tranne Jeff che è rimasto intrappolato nella realizzazione di un personaggio che, ormai, non riesce quasi più a portare in scena. È una maschera, per il nostro Piccirillo, sempre più ingombrante, sempre più soffocante, soprattutto grazie a Seb, il produttore del programma, nonché suo padre (interpretato da Frank Langella) che cerca di tutelare solo il loro franchise da 112 milioni di dollari.
Ma, a dispetto del suo produttore, il confine tra Jeff e Mr Pickles è sottilissimo e a nulla valgono gli ammonimenti di Seb:
"Non sei una persona reale, sei l'uomo dentro al televisore: sei un brand consolidato".
Ora come ora Jeff desidera solo far cadere la maschera e spiegare, all'interno del proprio show, che i sentimenti, le emozioni possono lasciarci senza fiato, possono paralizzarci, ed è per questo che vuole insegnare ai piccoli spettatori che, in qualche modo, bisogna affrontare il concetto della morte:
"I bambini sanno che il cielo è blu, ma devono anche sapere cosa fare se gli crolla addosso".
Ed è ancora una volta Seb ha tarpagli le ali per paura che l'ormai ingestibile Mr Pickles faccia crollare i guadagni e chiudere lo show.
Ma la candida marionetta non esiste più: Jeff si trova a fare i conti con la realtà, con il dolore che appartiene alla vita, una vita in cui le favole non esistono, una vita in cui nessun pupazzo può aiutarlo a superare la propria crisi interiore.
Jeff, lentamente, lascerà scivolare via dalle dita la propria sanità mentale alternando momenti esilaranti a momenti di straziante dolore.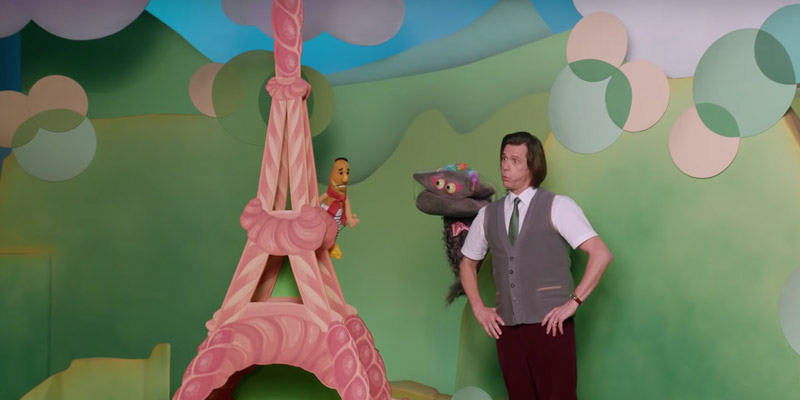 Guardando ogni scena non si può fare a meno di sentire una forte empatia con l'inadeguatezza di Jeff: Mr Pickles è ancora un uomo candido, puro, innocente come un bambino, un bambino che, tuttavia, racchiude dentro le sue viscere un uomo che, a causa del Dio denaro, non può esternare e affrontare il dolore per la propria perdita.
E se è vero che tutti gli altri personaggi della serie tendono a vivere in totale isolamento il dolore, Piccirillo è l'unico che deve affrontare il peso delle aspettative di chi lo circonda, rendendo allegro e gioviale il suo alter ego. Ma ormai il personaggio del suo show per bambini è una maschera malinconica con stampato sulla faccia un falso sorriso e la morte nel cuore.
Nella serie possiamo ammirare un Jim Carrey eccezionale! In questa performance, l'attore, riesce a far convivere tante emozioni in un unica scena: il sorriso sulle labbra e le lacrime agli occhi sono un marchio di fabbrica, un sorriso che via via si trasforma in una smorfia, nel disperato tentativo di mantenere, ancora una volta, un briciolo di dignità, una parvenza di controllo sulle proprie emozioni.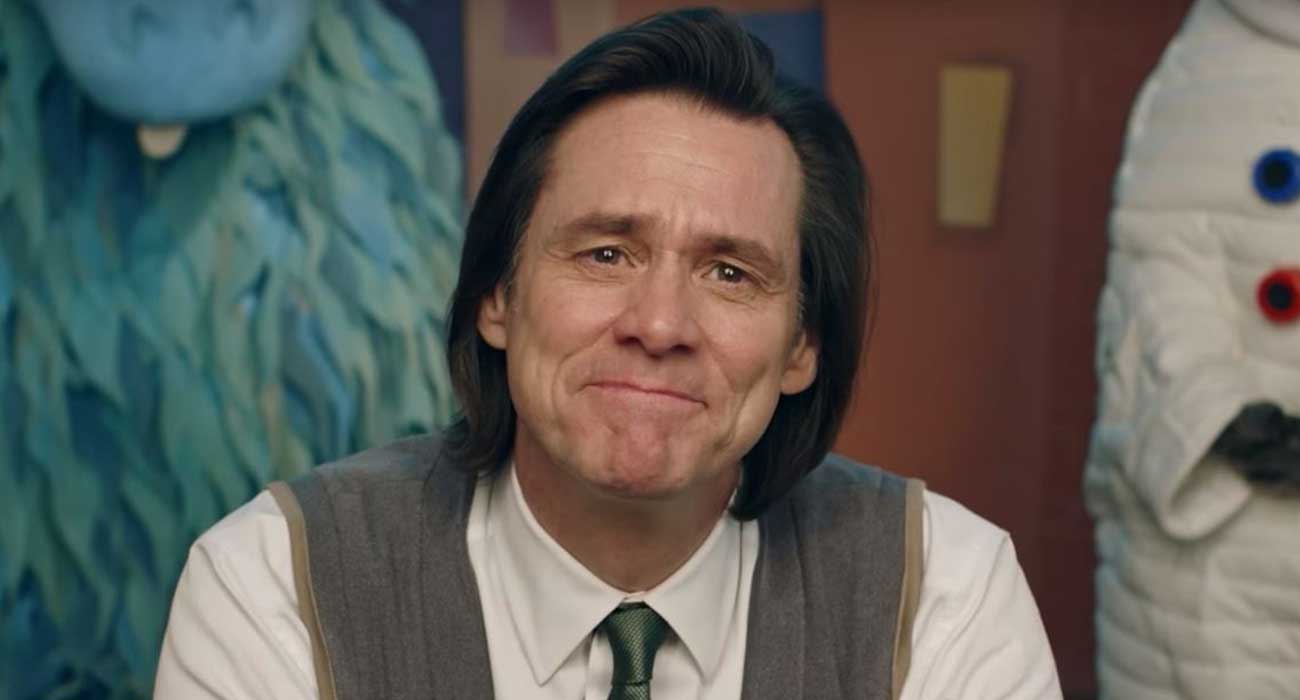 Kidding, in soli trenta minuti, ci parla della morte, della difficoltà sull'accettarla e dell'importanza della famiglia. La serie racconta la vita in modo universale, affiancando i momenti di dolore ai sorrisi perché è questo che fa la vita, è così che funziona ogni giorno.
Ed è proprio per questo che Kidding è, semplicemente, qualcosa che non è mai approdata prima sul piccolo schermo.
Kidding è ancorato ai problemi della realtà e sorprende proprio per questo: non ha bisogno di inventare mostri o fantasmi, non mette in scena crimini irrisolvibili o magici mondi da esplorare: è semplice e pura realtà e davanti alla realtà, alla verità della vita, si rimane sempre affascinati, un po' come i bambini a cui parla, nello show, Mr. Pickles.
In sostanza, Jeff Piccirillo è un antieroe che prova a vincere il dolore della morte, che cerca di resistere, tanto da portare il suo spettatore alla riflessione. Guardare Kidding è un viaggio nei sentimenti: emozioni che tutti, per un motivo o per un altro, stiamo vivendo.
Una serie delicata ma non pienamente apprezzata, visti i bassi ascolti ottenuti su Showtime.
Tuttavia Kidding è stato, fortunatamente, rinnovato e quindi vi consiglio di dare una chance alla serie anche solo per ammirare, ancora una volta, quello strabiliante attore che è Jim Carrey.
Ne varrà la pena!