Inizia I Am Not Okay with This. Una ragazza dai capelli corti con indosso un vestito bianco cammina per una strada deserta, ma non sono né il taglio né l'abito la prima cosa che notiamo di lei. Ciò che notiamo, piuttosto, è il copioso sangue che la ricopre dal capo alle ginocchia.
Ecco l'incipit di I Am Not Okay with This, la nuova serie Netflix che non ha ancora smesso di far parlare di sé dalla data del suo esordio.
Un ibrido tra Stranger Things e The End of the F***ing World che vede la produzione del primo e la sceneggiatura del secondo in quello che si preannunciava essere un successo assicurato…siamo proprio sicuri che lo sia?
'Caro diaro, vai a fare in c**o'
Sydney è una ragazza 'bianca e noiosa' di diciassette anni, o almeno così è come si definisce lei. Come si può intuire, però, fin dalla prima puntata, in realtà Syd è molto più di tutto questo.
Un problema di gestione di rabbia è la prima informazione che la protagonista di I Am Not Okay with This ci dà su lei stessa: dalla morte del padre, infatti, niente è stato più come prima.
Un carattere introverso stravolto da una morte drammatica, una cotta per la migliore amica, una famiglia strampalata e un vicino di casa altrettanto strano ma inaspettatamente complice: nonostante ci siano tutte le carte in regola per tirare fuori un teen drama di successo, qualcosa sembra non aver funzionato.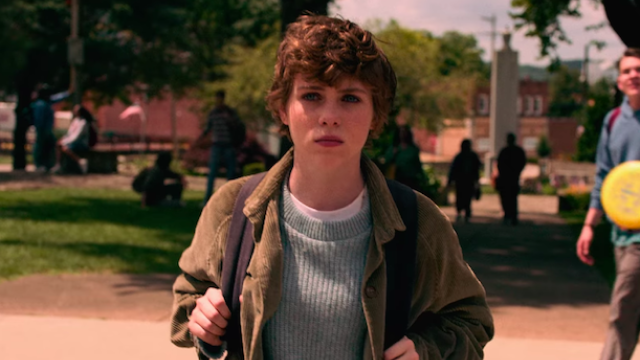 Una vita tranquilla in una cittadina sperduta della Pennsylvania che viene ben presto stravolta dai poteri psichici che la protagonista scopre di possedere e di cui non riesce a capacitarsi.
Nonostante gli autori stessi abbiano ammesso che la prima stagione altro non è che preparatoria alla seconda, le cose si muovono fin troppo in fretta.
Basato sull'omonima graphic novel di Charles Forsman, già autore di The End of the F***ing World, I Am not Okay with This percorre un tempo indefinito non dandoci la reale consapevolezza se quello che stiamo vedendo siano solo gli essential di qualche mese o la narrazione di qualche giorno soltanto.
La trama corre e corre senza darci neanche il tempo di empatizzare con i suoi stralunati protagonisti. Syd è stravolta dalla morte del padre, che ben presto scoprirà trattarsi di un suicidio, e come negli anime d'oltreoceano basta che la rabbia la pervada per un secondo per renderla capace di distruggere una foresta intera, come un Super Saiyan.
Pugni chiusi e un urlo disperato verso il cielo ed ecco che vediamo crollare un' intera biblioteca come se si trattasse di risme di carta o poco più. Il dolore è concreto ma non riusciamo ad entrarci in contatto diretto. La vediamo ma non la sentiamo.
È tutto un assaggio di quello che potremmo vedere, uno tuffo profondissimo nella vita di Sydney Novak che non ci dà neanche il tempo di approfondire la nostra conoscenza che già ci tocca risalire a galla, e pure in fretta. Un assaggio corposo che ci toglie addirittura la fame. Abbiamo visto tante, troppe cose, ma ancora non sappiamo cosa provino i nostri protagonisti, e forse neanche ci interessa più a questo punto.
Syd è arrabbiata, è furiosa per le troppe cose che non sa e per quelle emozioni e quell'adolescenza che non riesce a gestire; tutto sembra fuggirle dalle mani lasciandola senza alcun controllo su sé stessa e sulla sua vita. Queste fonti di frustrazione però vengono mostrate solo in relazione alle sue esplosioni di incontrollabile ira, non regalandoci quel giusto e atteso spessore che vorremmo invece ricevere da un personaggio complesso come quello interpretato da Sophia Lillis.
Dina e il carismatico Stan – i due migliori amici di Syd – appaiono solo sullo sfondo sfocato e appena accennato dell'esistenza della protagonista, due personaggi essenziali che la sceneggiatura ci mostra come appena ricorrenti, giusto il tempo per far capire a Sydney qualcosa sui suoi desideri e su quegli strani poteri. Niente di più che due comparse delle quali avremmo voluto apprendere molto altro ancora.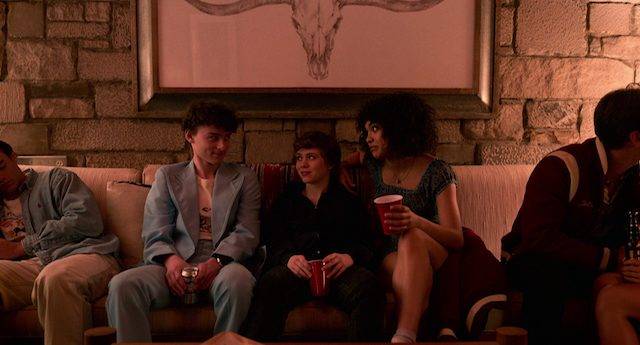 D'altronde, come hanno ammesso gli stessi autori 'questa prima stagione sancisce un esordio al quale ancora non sappiamo se vi sarà un seguito', indi per cui, la scelta di mettere così tanta carne al fuoco in un così breve tempo potrebbe rivelarsi una mossa vincente nella speranza di un acclamato rinnovo.
Se a questo punto trovate una giustificazione plausibile alla velocità della serie, tanto da arrivare a pensare che tutto sommato non abbia intaccato la sua forza comunicativa, allora vorrei proporvi di fare un tuffo nel passato, all'esordio di The End of the F***ing World, stessa brevità ma diciamolo apertamente: tutt'altro coinvolgimento.
Nonostante non ci fosse stato apertamente esplicitato, dopo la sola prima stagione siamo stati in grado di capire dolori ed emozioni di Alyssa e James, siamo davvero sicuri di poter dire lo stesso di Sydney?
Caro diario,sto per abbassare la testa. Non fare niente, non dire niente: è il modo per essere sicura di non fare male a nessuno. Devo mescolarmi alla c***o di folla.
I colori, la musica, l'abbigliamento e quelle atmosfere senza tempo, tardivamente anni '90, ci riportano a un mondo che già abbiamo saputo apprezzare nella sopra citata – e più nota– opera del regista Jonathan Entwistle.
Il paragone con I Am Not Okay with This si fa a questo punto inevitabile rendendo la distanza tra le due serie assordante.
Un libro non va giudicato dalla copertina, ma diverso è giudicare una serie tv dal suo esordio. Chi ben comincia ben finisce, ma siamo sicuri che riusciremo a vederla la fine?