House of Cards ci aveva lasciati con quel 'My Turn' di Claire Underwood che lasciava presagire una guerra tra marito e moglie nella sesta stagione. Poi il caos molestie che ha coinvolto anche Kevin Spacey (e che di fatto, per ora, ha posto fine alla sua carriera da attore) e tutto è cambiato. Spacey è stato licenziato dalla sua serie, oltre che dai film che già aveva in programma (si veda la sua sostituzione in quattro e quattr'otto per Tutti i Soldi del Mondo). La stagione finale che Willimon aveva in mente era andata a puttane, avendo perso il mattatore assoluto di una serie tv che a suo modo aveva scritto la storia della televisione recente.
Ma se la storia così come lo showrunner l'aveva concepita era andata allegramente a farsi benedire, lo stesso non vale per House of Cards, dato che Netflix – agendo forse più con il cuore, trattandosi dell'original che ha conferito popolarità alla piattaforma – non se l'è sentita di troncarla. E cosa fai quando vuoi a tutti i costi regalare un finale a una serie il cui protagonista, processo o meno, è diventato una figura scomoda sul piano dell'opinione pubblica? Licenzi lui, fai morire il suo personaggio off-screen e concludi la serie sperando (pregando!) che i rimanenti personaggi abbiano forza a sufficienza per far reggere la baracca. Spoiler: non ce l'hanno, non possono averla.
Ma veniamo al succo del discorso: come finisce House of Cards?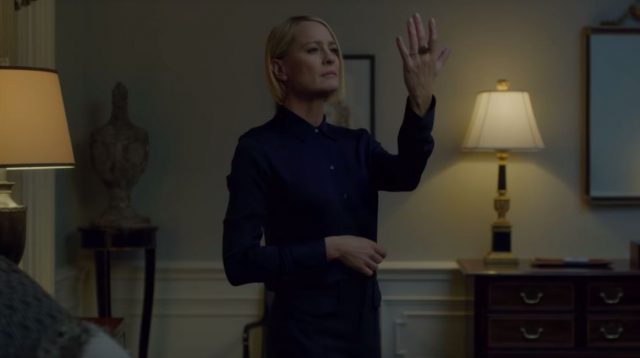 Già, perchè che la serie non potesse vivere senza il suo protagonista – se il protagonista è uno con il carisma di Kevin Spacey, coadiuvato da una scrittura eccellente soprattutto nelle prime stagioni – era abbastanza prevedibile. Così sono in molti ad aver ignorato bellamente l'ultima stagione, costruendosi il proprio finale ideale nella propria soggettività. E infatti gli ascolti parlano da sè. Un tracollo di pubblico che sa un po' di protesta ideologica per il trattamento riservato a Spacey e un po' di disillusione per una serie che in ogni caso il meglio lo aveva già dato e che si stava comunque privando della ragione principale per continuare a vederlo. Detto ciò, pur non volendo sprecare 8 ore della propria esistenza, la curiosità di sapere quale sia il finale di una serie che abbiamo amato davvero c'è. E allora eccovi accontentati. Chiaramente SPOILER ALERT per chi volesse comunque guardare la sesta stagione.
Come accennato poc'anzi, com'è risaputo da circa un anno, Frank Underwood sarebbe stato ucciso off-screen. La serie inizia proprio mostrando come i personaggi hanno assorbito questo evento. Claire Underwood, il 47* presidente degli USA, succeduta al marito già nella passata stagione, mostra in pubblico tutto il suo (finto) dolore, nel mentre è alle prese con le beghe del paese. Doug Stemper si autoaccusa di aver ucciso Frank e viene rinchiuso in manicomio, anche se ne esce quasi subito e prepara la controffensiva ai danni di Claire. Nel frattempo, l'insidia maggiore per la Casa Bianca è rappresentata dai personaggi introdotti in questa stagione, la famiglia Shepherd, i quali finora non-viene-spiegato-come sarebbero stati una sorta di deus ex machina della presidenza Underwood: Annette (Diane Lane), suo fratello Bill (Greg Kinnear) e il figlio di Annette, Duncan (Cody Fern).
In tutto questo aleggia il fantasma di Frank Underwood, la cui morte non verrà spiegata fino all'ultimo episodio.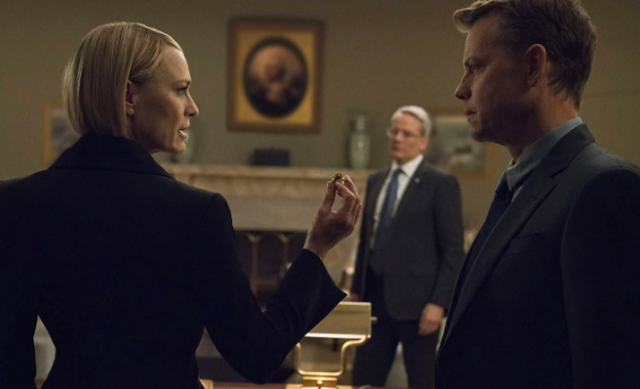 E già, Frank Underwood è una presenza costante pur non essendo mai mostrato. Nei suoi anelli, fatti recapitare a Claire per spaventarla; nel suo testamento, occultato da Claire stessa in quanto egli ha lasciato tutto a Doug; nel suo legame con gli Shepherd, mai accennati prima, eppure diventati improvvisamente importantissimi; nelle indagini di Tom Hammerschmidt sulle sue malefatte passate (resta in sospeso il ritrovo del corpo di Rachel Posner, uccisa da Doug a fine terza stagione); nel suo tentato omicidio del segretario di stato Cathy Durant. Tutto lascia pensare che il vero avversario di Claire sia proprio Frank, che muove i fili della sua vendetta contro la moglie dall'oltretomba.
Col passare delle puntate il lettore è sempre più portato a credere questo ed è costretto ad assistere a una sequela di twist al limite del patetico, solo per arrivare alla resa dei conti finale. In ordine sparso abbiamo avuto: il diario segreto di Frank; Doug che minaccia Claire; Cathy Durant che inscena la sua morte ma viene comunque uccisa, insieme a Jane Davis e a Tom Hammerschmidt, un paio di puntate dopo nel repulisti generale di Claire; la sottotrama di Duncan che non è il vero figlio di Annette, ma che non va a parare da nessuna parte (e in fondo non frega a nessuno perchè chi li ha mai visti questi?); Doug che minaccia Claire; il cadavere di Tom Yates; flashback inutili sul passato di Claire; consiglio dei Ministri interamente deposto per fare spazio a un consiglio fatto di sole donne; Doug che minaccia Claire; tentate cospirazioni ai danni di Claire da parte di Mark Usher e degli Shepherd; Doug che rompe la quarta parete.
E infine, dato che il fondo era stato abbondantemente raschiato, ecco l'intervento divino: Claire è incinta.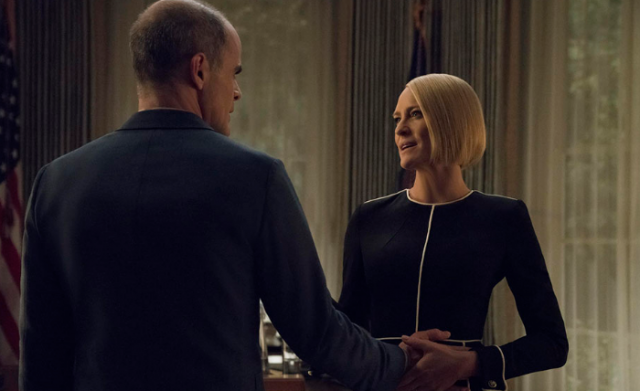 Claire. Incinta. Nessun contesto, si lascia presumere che il padre sia Tom Yates, ma non vengono fornite altre indicazioni. Lei strumentalizza la cosa per ottenere consensi e via, proiettati sul finale. Perchè in fondo siamo masochisti e non ne avevamo ancora abbastanza. In fondo questo decantato piano di Doug o quello degli Shepherd avrebbe portato da qualche parte. In fondo tutta questa stagione doveva avere un senso e l'avrebbe trovato dal finale. E invece il finale, in virtù di quanto mostrato in questa stagione, è la cosa più grottesca mai vista. Anche più dell'immacolata concezione di un paio di puntate prima.
Doug svetta l'attentato ordito dagli Shepherd ai danni di Claire e poi si reca nella sala ovale. Vuole ucciderla lui? Probabilmente, visto che non ha fatto altro che minacciarla tutta la stagione. E invece una volta lì, confessa di essere stato lui a uccidere Frank per evitare che quest'ultimo, nella sua furia cieca, si compromettesse da solo. E poi minaccia Claire con il fermacarte, intimandola di non infangare ulteriormente l'ex marito. Claire approfitta della sua esitazione e lo pugnala con lo stesso fermacarte, uccidendolo. Claire uccide Doug, esclama "no more pain" e via di titoli di coda. Questo è il finale di House of Cards. Non c'è altro.
A questo punto avrebbero potuto davvero rimpiazzare Kevin Spacey con Claudio Amendola.