Ormai lo abbiamo sentito e risentito: Kevin Spacey non sarà presente nella sesta e ultima stagione di House of Cards. Ultima visto che Netflix ha deciso di cancellarla. Il motivo per cui l'azienda ha preso queste decisioni risiede nelle accuse di molestie rivolte a Kevin Spacey (ne abbiamo parlato qui!).
Visto che il volto di Frank Underwood non sarà più presente in House of Cards, i fan credono che la soluzione più papabile sia quella di farlo morire. Alcuni però rifiutano questa fine. Non può essere l'unica possibile, no? Basta trovare qualcuno in grado di sostituire Kevin Spacey nel ruolo di Frank Underwood. In fondo, Hollywood è piena di attori talentuosi! Alcuni fan hanno già proposto qualche nome, attivando anche una petizione su Change.org. Questi sostengono la sostituzione di Kevin Spacey con Kevin James (ne abbiamo parlato qui!).
Ma perchè guardare sempre a Hollywood, quando anche l'Italia gode di attori di prestigio? Una petizione, sempre su Change.org, propone Claudio Amendola come unico erede di Kevin Spacey!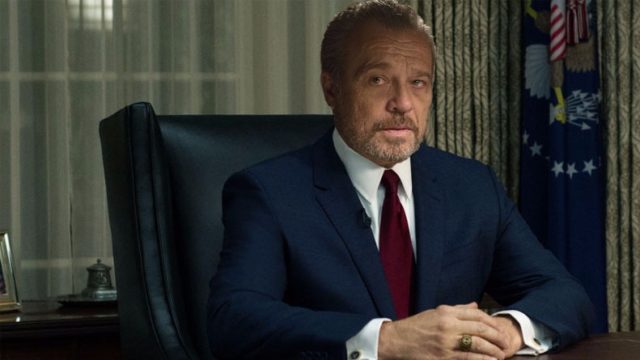 La petizione ha già raccolto oltre 2000 firme (qualcuno ha firmato seriamente, qualcuno sorridendo). Claudio Amendola è apparso in Suburra, quindi l'attore è stato notato anche dal pubblico americano. Qualora Netflix decidesse di produrre i nuovi episodi, anche i fan americani potrebbero unirsi al coro! In fondo, non è forse Claudio Amendola the best Italian actor of the entire galaxy? Con questo titolo, diventare Presidente degli Stati Unbiti è un attimo!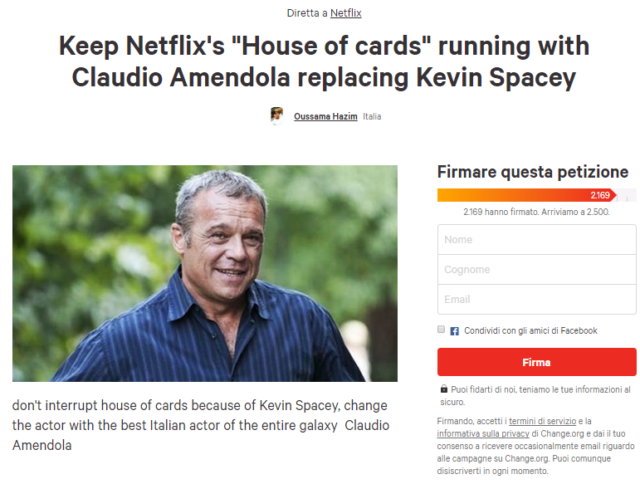 Netflix non ha ancora rilasciato alcuna dichiarazione ufficiale in merito alla sesta stagione di House of Cards. Al momento infatti la produzione è ferma. Quello che tutti vogliamo sapere è: che fine farà Frank Underwood? Chissà, magari lo sentiremo pronunciare queste parole…
So er Presidente degli Stati Uniti! Li mortacci vostri!