A Claire Underwood sono bastati uno sguardo e due parole. E sono stati proprio quello sguardo e quelle due parole a determinare il crollo dello status quo, che non eravamo ancora pronti ad abbandonare: Frank Underwood non è più Presidente, House of Cards cambia padrone.
"My turn". Due parole e uno sguardo rivolto verso di noi, ad accettare quella rottura della quarta parete che finora aveva sempre respinto. E che rappresenta il più logico passaggio di consegne, l'eredità più preziosa che gli ha lasciato Francis. A proposito, Francis: ha provato a lottare con tutte le sue forze, ma è stato sconfitto (nella finzione e, purtroppo, anche nella realtà).
Lo stratega per eccellenza ha sottovalutato il potere di un'altra stratega, che da lui ha imparato i trucchi del mestiere: sua moglie. E, nel momento della resa dei conti, una chiamata rifiutata, uno sguardo e due parole: "My turn".
Ma cosa rappresentano, quelle parole, per un fittizio popolo americano e per noi spettatori?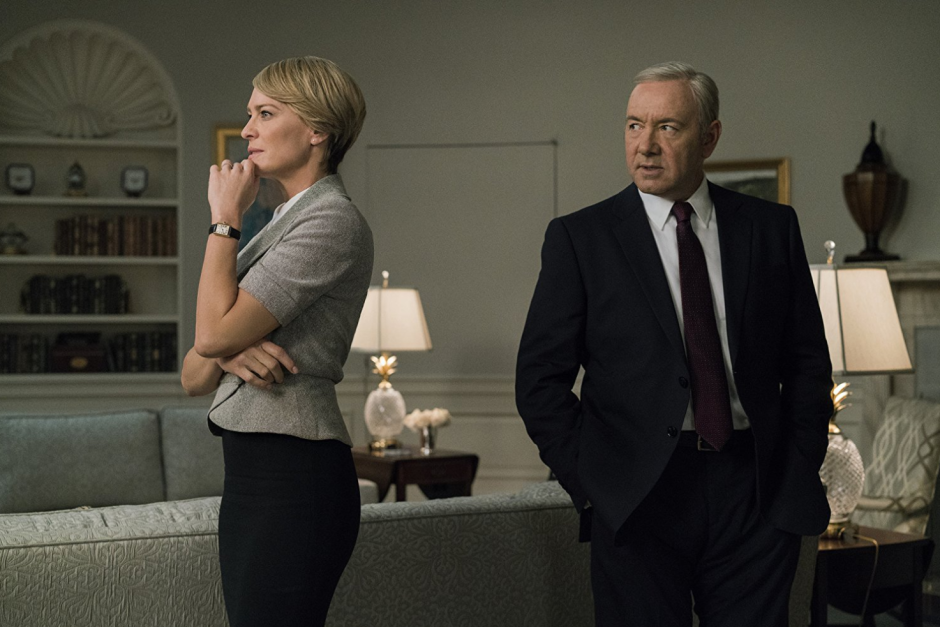 Libertà? Rivalsa? Un nuovo inizio? Sarà sicuramente un nuovo inizio per la Serie, in quanto, dopo lo scandalo sulle molestie sessuali che ha coinvolto anche Kevin Spacey, Netflix ha licenziato l'attore dal cast di House of Cards, lasciando a Robin Wright, ovvero Claire Underwood, il timone. Si può notare, infatti, come il passaggio di potere da Frank a Claire si sia rivelato un avvenimento profetico per quanto riguarda le sorti degli attori che interpretano i due personaggi: una svolta che i produttori della Serie non avevano affatto previsto intenzionalmente, ma che si è avverata con buona pace di tutti.
È decisamente passato del tempo da quando abbiamo smesso di considerare gli Underwood come due metà, dove una completava l'altra; con il susseguirsi delle stagioni, abbiamo iniziato a vedere come anche ogni minuscolo evento li abbia trasformati inesorabilmente in due esseri uguali in tutto e per tutto, facendo perdere loro quella complicità che li teneva in equilibrio. Li abbiamo visti evolversi, cambiare in funzione l'uno dell'altro e alla fine scontrarsi a causa di svariati conflitti di interesse.
Claire diventa man mano sempre più dipendente dal potere: in un primo momento, lo assapora da dietro le quinte, finché non si trova a prendere sempre più parte in azioni moralmente riprovevoli solo per soddisfare questo egoistico bisogno; e all'improvviso non le basta più essere la moglie di Frank Underwood, così come non le è più bastato essere solo un'Ambasciatrice ONU o la vice-Presidente. Approfittando dei momenti di debolezza del governo del marito, riesce ad arrivare al traguardo decisivo: la Presidenza.
Claire non riesce più a vedersi al cospetto di Francis, ed è proprio questa presa di posizione che sarà l'origine dei contrasti fra i due. Claire diventa l'emblema del cambiamento di House of Cards, reggendo fra le mani un potere che, fino a quel momento, è stato un privilegio soltanto maschile. Il desiderio di potere di Claire, però, non ci viene presentato come una cieca ossessione che porta la donna a muoversi in modo istintivo. Di fatti, il suo piano di conquista richiede pazienza e strategia, e questo non le impedisce di manipolare chiunque per far arrivare "il suo turno".                                          
Ma una cosa è certa: Claire non è più la sposa di Barbablu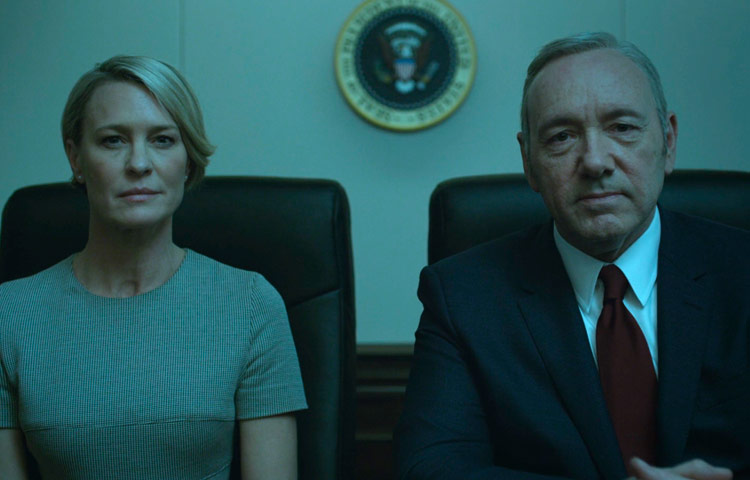 Inoltre, è innegabile il richiamo alla situazione politica del 2016, quando l'America era infervorata dalla diatriba Trump/Clinton durante le elezioni presidenziali. Sotto quest'ottica, Claire incarna quella speranza (riposta nella Clinton) di vedere finalmente una donna a capo di uno dei paesi più influenti al mondo. Purtroppo la maggior parte degli Americani ha scelto Trump, infrangendo quell'ideale di speranza che la Clinton sperava di portare, ma la somiglianza delle vicende di House of Cards con l'attuale governo americano è facilmente identificabile, nonostante la sceneggiatura della quinta stagione sia stata scritta prima dei risultati delle elezioni.
Tocca dunque alla Serie tentare laddove la realtà ha fallito.
Claire Underwood rappresenta l'ideale di eroina femminista? In parte sì. È dall'alba dei tempi che le donne hanno sempre cercato di dimostrare di essere alla pari dell'uomo, e la presa della Sala Ovale simboleggia il picco massimo del potere che può raggiungere un individuo, uomo o donna che sia. Perchè, ogni tanto vale la pena ricordarlo, 'femminismo' non vuol dire pensare di essere al di sopra dell'uomo.
Le donne non sono né al di sotto né al di sopra e, proprio per questo, non posso ambiare a qualcosa di più alto dell'uguaglianza dei diritti. D'altra parte, Claire è lontana dall'ideale di perfezione al quale vorremmo credere: la donna, come abbiamo detto in precedenza, non esita a strumentalizzare ogni vicenda a suo favore, e tutto per scopi politici. Questo non la rende così diversa da Frank o da tutti gli altri uomini corrotti presenti in politica.
La parità dei sessi in House of Cards, pertanto, esiste. Nel bene e nel male. D'altra parte, come ci ha insegnato proprio la Serie, "dietro un grande uomo c'è una grande donna con le mani sporche di sangue"