Siamo andati incontro alla perdita di qualità di molte serie tv che amiamo, lo sappiamo bene. Purtroppo alcune opere che pensavamo fossero perfette hanno subito un brusco calo soprattutto nell'ultima stagione. House of Cards, per esempio, è soltanto una delle numerose serie ad aver avuto una chiusura frettolosa.
Molte volte, purtroppo, ci si fa prendere da una sorta di "frenesia da ultima stagione", per cui gli autori si sentono in dovere di concludere rinunciando a portare avanti una trama credibile. Il vero problema è che, nella maggior parte delle occasioni, questa furia non porta a nulla di buono.
Oggi vi parliamo di alcune serie tv, oltre alla già citata House of Cards, ad aver subito un brusco calo nell'ultima stagione.
1) HOUSE OF CARDS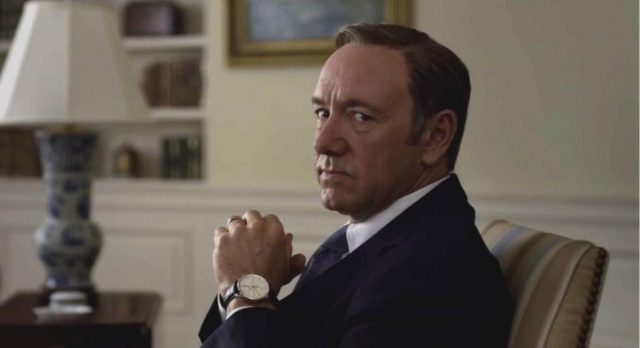 House of Cards è andata in onda dal 2013 al 2018 e conta un totale di sei stagioni. Le polemiche che hanno riguardato l'attore protagonista Kevin Spacey, tuttavia, non hanno aiutato il finale.
Il solo personaggio di Claire Underwood non poteva sopportare il peso di un'ultima stagione inevitabilmente compromessa. I twist che sono stati buttati giù (come, per esempio, un consiglio dei ministri tutto al femminile letteralmente da un momento all'altro o una gravidanza totalmente campata in aria) non hanno assolutamente retto il confronto con i risvolti di trama potenti ma equilibrati delle precedenti stagioni. Per non parlare del tragicomico finale.
Banshee, serie tv di genere poliziesco/thriller, è andata in onda dal 2013 al 2016 e ha avuto un totale di quattro stagioni. Le prime tre, come molti ricorderanno, erano di un livello nettamente superiore all'ultima.
Le storyline principali, infatti, sono passate lentamente in secondo piano per lasciare spazio alla trama che ruotava attorno ai satanisti, appesantendo un po' il tutto. Se non avessero aggiunto altra carne al fuoco, risolvendo direttamente lo scontro tra Hood e Proctor, senza prendere la tangente, probabilmente avremmo avuto una stagione finale coi fiocchi.
3) THE BRIDGE
Serie tv tra Danimarca e Svezia andata in onda fino all'anno scorso, The Bridge ha quattro stagioni che sono state distribuite a partire dal 2011.
La quarta stagione di The Bridge ha dato spazio, complessivamente, a un ottimo finale. Nonostante ciò, come ben sappiamo, la terza stagione si era conclusa con l'arresto di Saga Noren, che lasciava sperare in un approfondimento della questione, anche in relazione al rapporto con la madre.
Il tutto è stato invece liquidato in una sola puntata con un rilascio immediato e un processo che l'ha assolta off screen. Un po' affrettato, sebbene parzialmente giustificato dalla avvincente trama messa in atto.
4) PERSON OF INTEREST
Un mix tra fantascienza distopica e crime drama, Person of Interest – così come House of Cards e le altre serie tv già citate – ci ha un po' delusi con la sua ultima stagione.
Ottenuta dopo una battaglia lunga due anni con la CBS, l'ultima stagione di Person of Interest ha avuto troppo pochi episodi rispetto a quanto eravamo abituati (circa la metà). La battaglia tra La Macchina e Samaritan, conseguentemente, è stata portata avanti in maniera un po' superficiale. Nonostante ciò, dobbiamo ammettere che l'ultimissimo episodio è stato comunque fenomenale.
Intrecciando le origini di personaggi classici della letteratura horror come Victor Frankenstein, Dorian Gray o il Conte Dracula, Penny Dreadful ha dato vita a una trama innovativa e appassionante. Il finale è stato apprezzato dalla maggior parte del pubblico, ma non possiamo dire la stessa cosa per quanto riguarda l'andamento dell'ultima stagione.
Le prospettive dopo la seconda stagione, con la partenza di Ethan verso gli Stati Uniti, sembravano infatti poter estendere la storia. Con la chiusura forzata, tuttavia, hanno far dovuto far confluire tutte le storyline verso il finale sviluppando il "mostro" della terza stagione molto meno del previsto. E molto meno di quanto Dracula promettesse nei primi – bellissimi – episodi.