Finalmente, dopo un'attesa che mi è sembrata estenuante, sta per tornare Grey's Anatomy. Questa settimana possiamo tornare a goderci di nuovo i drammi e gli scandali dell'ospedale più intrigante di tutta Seattle e di tutte le Serie Tv.
Ma prima di affrontare la nuova puntata, è meglio ripercorrere assieme l'episodio precedente e ricordare dove eravamo rimasti.
Innanzitutto è bene ricordare che il Grey-Sloan Memorial ha subito un attacco informatico. Degli hacker hanno preso il controllo di tutti i macchinari elettronici della struttura, mettendoli completamente fuori uso. Adesso sta alla Bailey, capo dell'ospedale, decidere se cedere al ricatto e pagare il riscatto, o se affidarsi all'FBI e cercare di risolvere la situazione senza versare nemmeno un dollaro nelle tasche di questi criminali.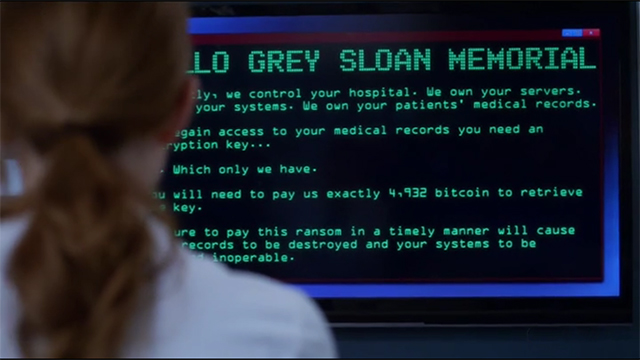 Miranda ha preso in considerazione entrambe le possibilità e – alla fine dello scorso episodio – sembrava intenzionata ad accettare il ricatto, pagare gli estorsori e riprendere in mano le redini dell'ospedale per garantire ai suoi pazienti le cure che meritano di avere. Un gesto più nobile non lo avrebbe potuto fare. Il problema è che accontentando questi criminali, potrebbe trasformare il Grey-Sloan Memorial in un obiettivo facile. Chissà, magari dopo la prima estorsione, potrebbero decidere di aumentare il prezzo, costringendo Miranda a stare al loro gioco e rischiando di portare l'ospedale in bancarotta, o Jackson che è colui che metterà effettivamente i suoi soldi a rischio.
Non vedo l'ora di sapere come si svilupperà la situazione, sperando che alla fine tutto si risolva per il meglio. E vi ricordo che con Shonda Rhimes (qui le 5 morti ad opera sua che ci hanno fatto imbestialire di più), nulla è mai certo o scontato. Il che ci porta a uno dei grandi interrogativi con cui Grey's Anatomy ci ha lasciato durante il Winter Finale, ovvero: che succederà a Jo Wilson, ma soprattutto che succederà al povero ragazzino?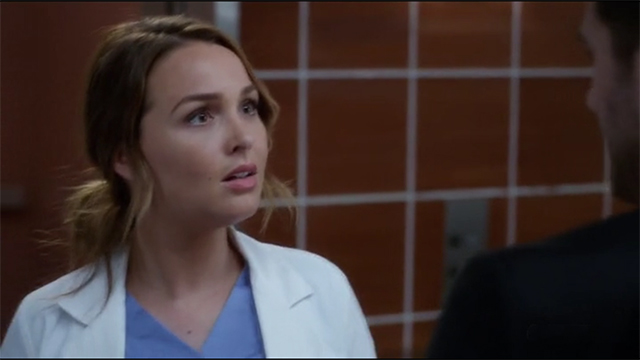 Come al solito chiudere in modo tranquillo, non era una possibilità per Shonda Rhimes, dunque, nell'ultimo episodio prima della pausa ci ha mollato una bomba così grossa e pericolosa che potrebbe causare tanti, tantissimi danni.
Chi segue le mie recensioni di Grey's Anatomy lo avrà capito molto bene, Jo Wilson non mi piace. È uno di quei personaggi che mi fanno venire le crisi  se li guardo per oltre dieci secondi. Mi fa innervosire al punto che preferirei essere stordita con del cloroformio piuttosto che assistere alle sue scene, mi snerva così tanto che vorrei stordire lei come si fa con i polipi, ovvero mordendola in mezzo agli occhi. C'è solo uno scenario che mi fa provare dispiacere per lei, solo una cosa mi porta a stare dalla sua parte, ovvero la storia con il suo ex-marito.
Per chi non lo ricordasse, Jo Wilson lasciò il marito violento che aveva, cambiò nome e ricominciò una nuova vita lontana da lui. Questa storia non mi lascia per niente indifferente e addirittura mi fa venire voglia di abbracciarla. Durante il Winter Finale, Alex e Amelia mandano la Wilson alla ricerca dell'ultimo infermiere che abbia lavorato al caso del paziente di Karev che rischia di morire. Jo porta a termine il suo compito e riesce a trovare l'ultimo infermiere del ragazzino. Quando è quasi giunta dagli strutturati a comunicare la notizia, si imbatte nel suo ex marito. E così finisce la puntata.
Io voglio sapere come abbia potuto, la signora Rhimes, lasciarci così. Non sappiamo cosa succederà e c'è di mezzo la vita di un bambino. Jo è fossilizzata in quell'ultima scena. E come darle torto. Il suo incubo più grande si è materializzato all'interno dell'ospedale in cui lavora. Adesso, gli unici che potrebbero salvare il ragazzino sono Alex e Amelia. Speriamo che abbiano l'illuminazione divina e decidano di non fargli nessuna iniezione.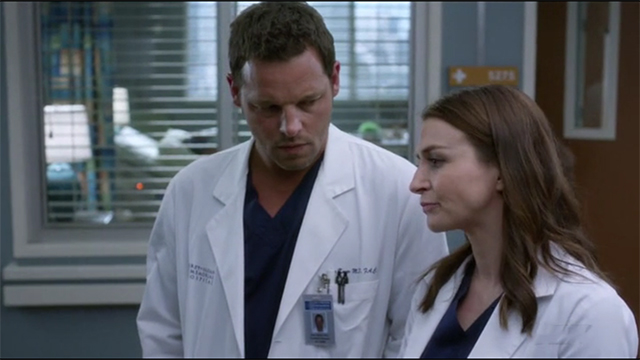 Un'altra questione in sospeso è: che succederà tra Maggie e Jackson nell'aereo? E soprattutto, precipiteranno o no? Finalmente riusciremo a sbarazzarci dell'inutile e fastidiosissima dottoressa Pierce? Riusciremo a riportare la pace al genere umano, facendo tornare assieme April e Jackson? Ce la faremo a ristabilire l'equilibrio e a riportare la speranza a tutte le Japril shippers là fuori? Chissà, chi lo sa. Io continuo imperterrita a scrivere Tweet infuriati alla signora Rhimes con la speranza che realizzi che "questo sgarro ai fan dei Japril matrimonio non s'ha da fare, né domani, né mai".
Davvero non riesco a capire come si possano shippare Maggie e Jackson che si conoscono da due minuti, non si erano nemmeno accorti di avere sentimenti l'uno per l'altro finché non glielo ha fatto notare April. Insomma, 'sti due assieme sono una barzelletta. Sono uno scempio. Spero davvero che – per quando Shonda deciderà di farli mettere assieme – avrò perduto il dono della vista o del pensiero critico.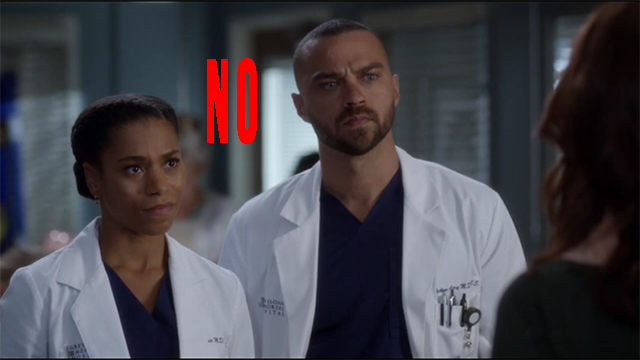 Jackson e Maggie fanno così schifo che se li vedessi darsi un bacio, probabilmente i miei occhi comincerebbero a bruciare come se ci avessi versato sopra dell'acido fluoroantimonico. Fanno così schifo che se li ascoltassi dirsi cose carine, probabilmente mi taglierei le orecchie con il coltellino del Play Doh. Jackson e Maggie fanno così schifo che preferirei sorbirmi le lamentele di Jo Wilson per l'eternità, quasi come fossero la mia punizione divina, piuttosto che guardarli assieme. Insomma, Jackson e Maggie sono un grande, grandissimo, giantigalattico (lo so che non esiste questa parola, ma fatemela passare) NO.
Ma andiamo avanti… per ora. C'è un personaggio che spero ci faccia capire, in queste puntate, che cosa vuole nella vita e questo personaggio è Carina DeLuca. Ok, l'abbiamo capito, le piace avere rapporti sessuali con chiunque le capiti a tiro e prova un piacere irrefrenabile nell'andare a letto con gli amici del fratello, o in questo caso, con i suoi superiori. Fin qui, va tutto bene. Ma ciò che mi fa innervosire è che non prenda una decisione. Prima va con la Robbins, poi va con Hunt e ora di nuovo con la Robbins? Non ha molto senso. Vorrei capire: quale deve essere la coppia canon? E poi, questo personaggio resterà in Grey's Anatomy per più di cinque minuti oppure è solo di passaggio e presto ci dimenticheremo anche della sua esistenza? Mi ci devo affezionare o no?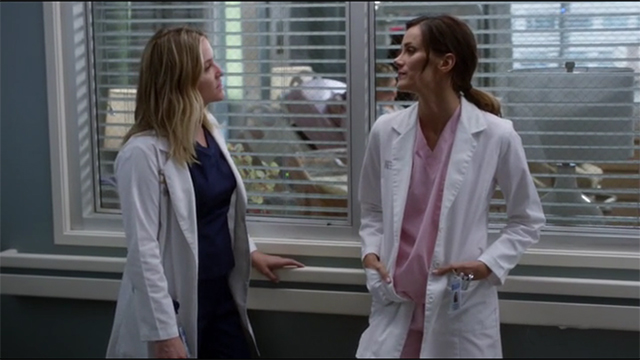 Immagino lo scopriremo tra poco. Speriamo che Shonda sia clemente e ci regali delle gioie. Non vedo l'ora di sapere cosa succederà nel nono episodio, che andrà in onda giovedì 18 negli Stati Uniti. Teniamo le dita incrociate e preghiamo il dio delle Serie Tv perché renda possibile l'idea di un crossover tra Grey's Anatomy e un'altra Serie firmata Shondaland come sta accadendo tra Scandal e How To Get Away With Murder (qui tutti i dettagli).