Matrimonio a prima vista, edizione serie tv
Sposarsi con uno sconosciuto è come un salto nel vuoto. Decidere di affidarsi al fato e a tre sedicenti scienziati per trovare il partner ideale per la vita è decisamente da pazzi. In questo esperimento una coppia formata dalla scienza dovrà avere a che fare con un sacco di problemi, lacrime, amore. Dopo circa la durata di un episodio di Game of Thrones, dovranno decidere se continuare la loro relazione o abbandonare definitivamente le speranze per tornare nelle rispettive serie tv. In questa puntata conosceremo la storia della coppia composta da Daenerys Targaryen e Sheldon Cooper di The Big Bang Theory. Questo è Matrimonio a Prima Vista, edizione Serie Tv.
Noi scienziati dell'amore, data la nostra fama a livello mondiale, ci siamo presi la libertà di comporre questa coppia, ritenendo i due particolarmente compatibili. Abbiamo notato una certa predisposizione a essere leader in entrambe le parti coinvolte, ma siamo sicuri che con un po' di lavoro, Daenerys e Sheldon riusciranno a mettere da parte il loro orgoglio. La profonda intelligenza di lui e l'attaccamento saldo alla famiglia di lei possono creare una buona base per un futuro roseo. Non abbiamo alcun dubbio che questa coppia riuscirà ad affrontare qualsiasi difficoltà grazie alla loro forza d'animo e alla loro magnanimità nei confronti del prossimo.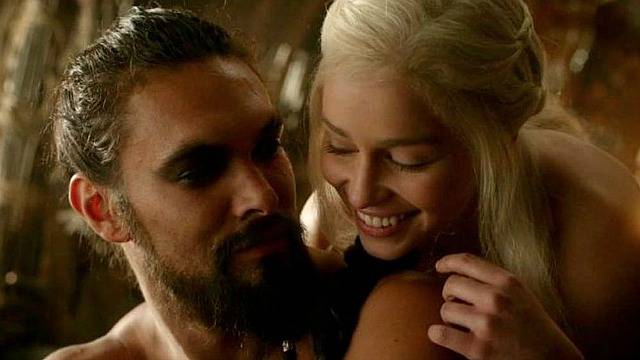 Abbiamo avuto molto lavoro da fare per accontentare le richieste della sposa che per il giorno del suo matrimonio voleva che il suo futuro marito si inginocchiasse davanti a lei. Una richiesta un po' bizzarra ma ogni ragazza ha una visione precisa del suo matrimonio dei sogni; chi siamo noi per non accontentarla? Dopo la cerimonia in cui visibilmente si vedevano le scintille tra i due (il drago che sorvolava la location non c'entrava niente), finalmente Daenerys e Sheldon sono rimasti soli per la prima volta e hanno avuto occasione di scambiarsi le prime impressioni.
Sheldon di The Big Bang Theory e Daenerys di Game of Thrones, presentatevi e parlate della vostra avventura.
Sheldon: Presentarmi? Ma voi avete il file con tutte le informazioni che mi riguardano, sarebbe solo uno spreco di tempo. Ciò non toglie che gli spettatori a casa potrebbero non conoscermi, e non sapere che si trovino in presenza di un genio. Ebbene, io sono il Dr. Sheldon Cooper e ho vinto il Premio Nobel per la scienza, onorificenza ottenuta per la teoria della super asimmetria che ho sviluppato con la Dottoressa Amy Farrah Fowler, mia moglie. Posso capire che le vostre menti siano confuse sul motivo della mia presenza qui. Dovete sapere che Amy ha deciso di analizzare i processi scientifici che entrano in gioco in una relazione creata al computer. Qualcuno doveva pur prestarsi a questo esperimento e sappiamo tutti che io sarei stato quello più semplice da accoppiare.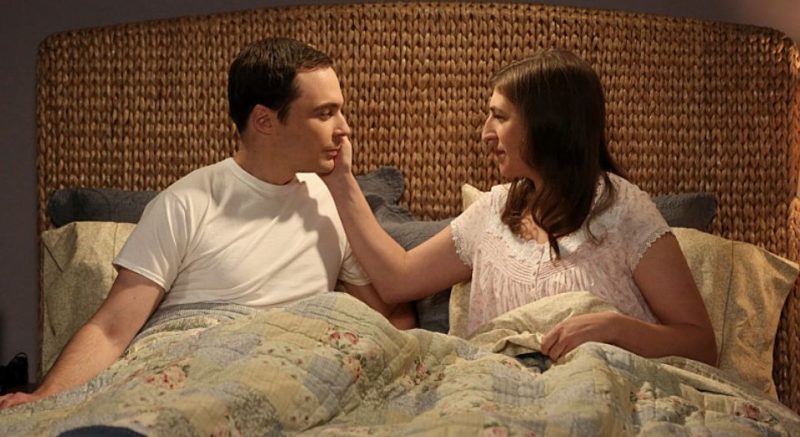 Daenerys: Il mio nome è Daenerys Targaryen, nata dalla tempesta, regina degli Andali e dei Primi Uomini, protettrice dei Sette Regni, Khaleesi del grande mare d'erba, distruttrice di catene e madre dei draghi. Sono venuta qui perché non credo nell'amore. Le mie precedenti relazioni mi hanno portato a pensare che gli uomini non servano a nulla, non quando hai dei draghi. Io ho provato in tutti i modi a dire a quel trovatello di Jon Snow di inginocchiarsi davanti a me e a giurare fedeltà alla sua regina, ma lui non mi ha dato ascolto; ha perfino finto di essere mio nipote pur di chiudere con me. Patetico! Sono qui per trovare un compagno che possa farmi guadagnare la fiducia dei più scettici (tra le 8 persone che sono rimaste ad Approdo del Re).
Cosa ne pensate del vostro partner?
Sheldon: Beh, durante tutta l'esperienza ho trovato Daenerys molto fredda. Sembrava si trattasse di un accordo politico per lei. Qualsiasi cosa facessimo, lei voleva avere il controllo della situazione e io non ero libero di parlare del mio lavoro. Continuava a blaterare qualcosa sul fatto che il sole sorga a ovest, fatto scientificamente sbagliato. E poi a lei non piace cucinare, si è sempre fatta servire. Beh, era giovedì e il giovedì io mangio la pizza! Lei non la voleva, mi ha costretto al digiuno quando si è fatta preparare una bistecca di cavallo.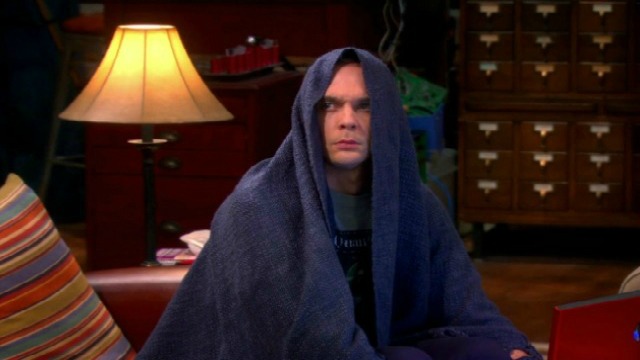 Daenerys: Non sono del tutto convinta che le sue intenzioni siano pure, il mio istinto dice che sta mentendo, ma dopotutto come posso fidarmi ancora di qualcuno dopo quello che è successo con il mio ultimo ragazzo? Non ha la stoffa del leader e questo è un punto a suo favore, lui dovrebbe solo stare in disparte a guardare. Ne va del futuro del mio popolo o comunque delle poche persone che sono riuscite a salvarsi, dimostrando di essere le più degne di vivere sotto la mia custodia.
Avete intenzione di continuare questa avventura e rimanere sposati, o divorzierete?
Sheldon: Beh, è stato divertente, questo sì. Più divertente di quando Leonard ha sbagliato quella moltiplicazione, ma non credo di poter continuare questa relazione. Ho un limite massimo di persone che posso considerare amiche e non credo di voler far uscire qualcuno dal gruppo. All'inizio avevo pensato a Howard, ma poi mi sarei sentito in colpa per Bernadette. Tutta colpa dell'empatia che ho cominciato a provare. Stavo meglio quando vivevo in un mondo senza sentimenti. Accidenti a te, Spock.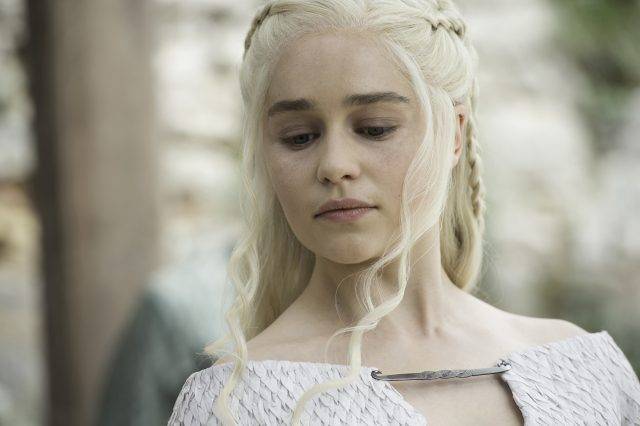 Daenerys: Come regina degli Andali e dei Primi Uomini, protettrice dei Sette Regni, Khaleesi del grande mare d'erba, distruttrice di catene e madre dei draghi, non posso mostrare debolezza. Nessuno riuscirà mai più a rendermi succube. Se Sheldon non si inginocchierà davanti alla sua regina, questa storia potrebbe non andare avanti. Penso che una delle sue doti migliori sia l'intelletto, solo uno stupido non si inginocchierebbe. Perciò sì, un pretendente vale l'altro per me.
Si conclude così la prima puntata di Matrimonio a Prima Vista con Sheldon Cooper di The Big Bang Theory e Daenerys Targaryen di Game of Thrones. Nessuno di noi ha ancora avuto il coraggio di dire a Daenerys che è stata lasciata di nuovo. Qualcosa, sul drago che si porta dietro, continua a non convincerci.