Bene, Game of Thrones è finito, con buona pace di tutti noi.
L'ultima puntata è andata in onda ormai da più di una settimana e molti di noi (quasi tutti) stanno ancora facendo i conti con la realtà dei fatti. C'è chi ha amato il finale, chi l'ha trovato un po' deludente e chi, invece, l'ha odiato così tanto da aver aperto una petizione per rigirare l'intera ottava stagione da capo.
E chi si aspettava Bran the Broken sul trono (a proposito, con quale terribile soprannome infausto verrà ricordato nei libri di storia? E in italiano è ancora peggio: Bran lo Spezzato, che crudeltà)?
Beh, io no di certo.
C'è qualcosa che però mi ha fatta restare con l'amaro in bocca. E no, non perché alla fine Sansa Stark ha avuto il trono del Nord e alcuni degli outfit più fashion di tutta Game of Thrones.
No, alla fine di Game of Thrones, a me è dispiaciuto per Daenerys Targaryen.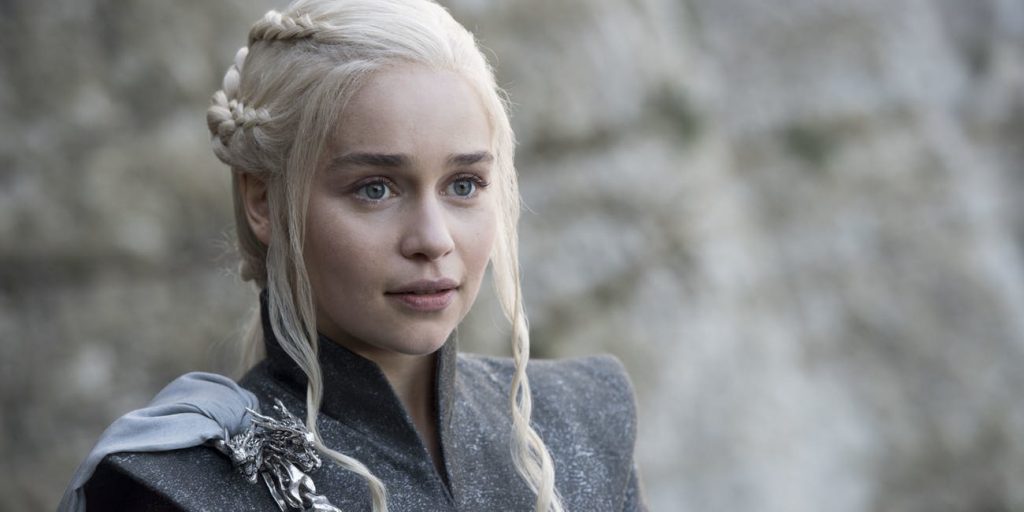 Bazzicando qua e là, leggiucchiando i commenti dei fan – cosa che, se si vuole avere una vita serena, non si dovrebbe mai fare – ho scoperto con sorpresa che Daenerys non piaceva a tutti. Dopo tutto quello che ha passato, ho dovuto sapere che alcuni la chiamano DaNana.
Drakarys.
Ora, è evidente che, accanto a Brienne di Tarth e alla stessa Sansa, la buona Daenerys farebbe una meschina figura, ma non sapete che nella botte piccola sta il vino buono?
Detto questo, e per chi ancora non lo sapesse, Daenerys muore male, uccisa dal suo "grande" amore nonché nipote Jon Snow, che, dopo aver ripetuto a pappagallo per tutta l'ottava stagione "She's my Queen", non esita poi più di tanto prima di pugnalarla al cuore.
Minuto di silenzio.
Sì, al cuore.
Tutto questo, dopo averla fatta discendere a velocità raddoppiata in un abisso di follia incontrollabile. Ha dato fuoco all'intero Approdo del Re, senza battere ciglio. Non ha ascoltato i propri consiglieri. Ha rifiutato di ragionare, di essere tutto ciò che era sempre stata prima.
Non importa che, per sette stagioni di Game of Thrones, Daenerys abbia avuto una sua integrità, un codice morale e una sensibilità derivata dalle sue infinite peripezie. Venduta, stuprata, perde il fratello, il figlio e il marito, viene ridotta in schiavitù, si rialza dalle proprie ceneri, lotta, combatte, protegge i deboli e infrange catene.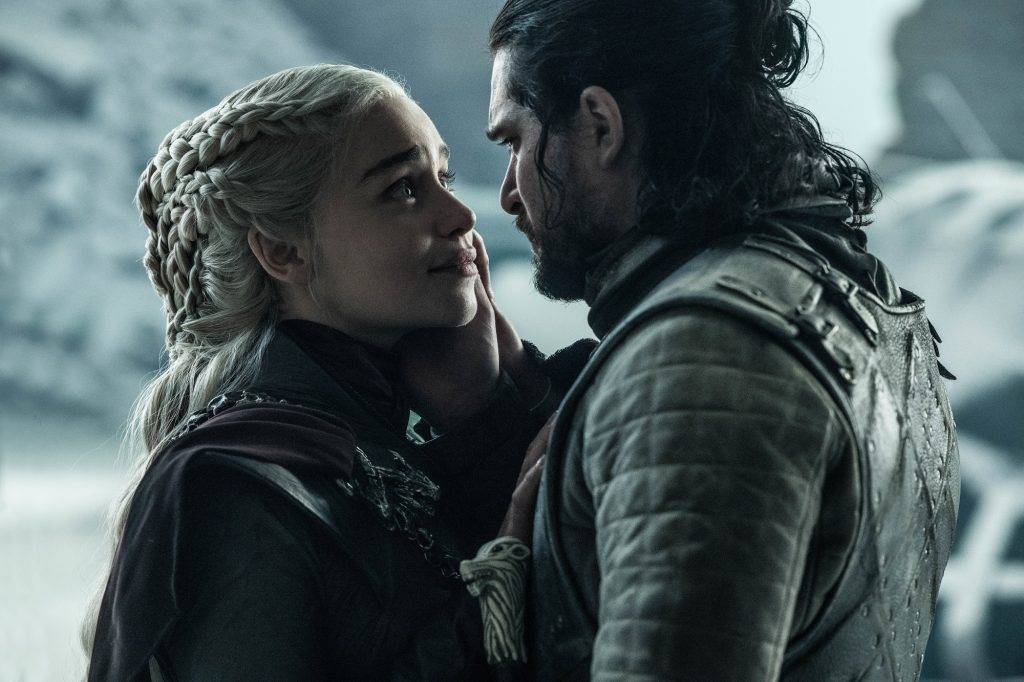 Il suo viaggio è stato un continuo susseguirsi di tragedie, roba che Sansa-mai-una-gioia deve, suo malgrado, mettersi da parte.
Come ha potuto Game of Thrones riservarle una fine così indegna?
Non solo muore, ma viene uccisa dall'unico uomo che, fino a cinque minuti prima, aveva stragiurato di non lasciarla mai. Jon Snow, sappi che non so se potrò mai perdonarti: potevi almeno lasciare l'incarico a qualcun altro.
Tipo a tua sorella, che avrebbe fatto fuori volentieri Daenerys già dai tempi di Grande Inverno.
Qualche indizio sul destino di Daenerys in Game of Thrones ci era arrivato dalle espressioni autoesplicative di Emilia Clarke, che, quando le chiedevano cosa pensasse di questa ottava stagione, tendeva ad alzare le sopracciglia nel modo che sa fare solo lei, facendo chiaramente capire che, avesse potuto parlare, avrebbe risposto, nell'ordine:
"Lasciamo perdere"
"Muoio male e il mondo fa schifo".
"Preferirei guardare l'intera stagione di The Lady pur di non dover pensare al destino del personaggio a cui ho dedicato dieci anni della mia vita".
Ma Emilia Clarke oltre a essere una brava attrice è anche una seria professionista. Invece di inveire contro il fato avverso, ha sempre abbozzato un sorriso tirato.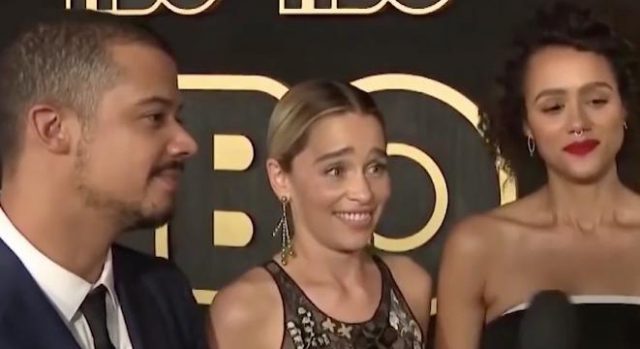 Daenerys, abbiamo detto, ne ha passate tante: ovviamente, non è la sola, perché, a ben vedere, se dovessi trovare un personaggio in Game of Thrones che abbia avuto un percorso sereno tutto gioie, carnevali di Rio e feste al Castello delle Cerimonie di Donna Imma farei davvero tanta fatica.
Ma lei era il simbolo di un cambiamento, di qualcuno che sarebbe stato in grado di sedersi sul trono di spade e regnare equamente. Non si piegava, non si spezzava, rappresentava la regina giusta che avrebbe riportato il buon senso sui Sette regni.
E invece no, perché hanno ben pensato di farla impazzire, tramutandola in un'arpia spietata, che non esita a bruciare innocenti, bambini, donne inermi. Insomma, tutto ciò che Daenerys non era stata mai prima di quel momento.
Sia chiaro: potevamo aspettarcelo, che Daenerys impazzisse ma ci voleva una discesa all'inferno molto più graduale e accettabile da parte degli spettatori. Che poi fino all'ultimo volesse Jon al proprio fianco, rende la decisione di Jon di ucciderla ancora più incomprensibile.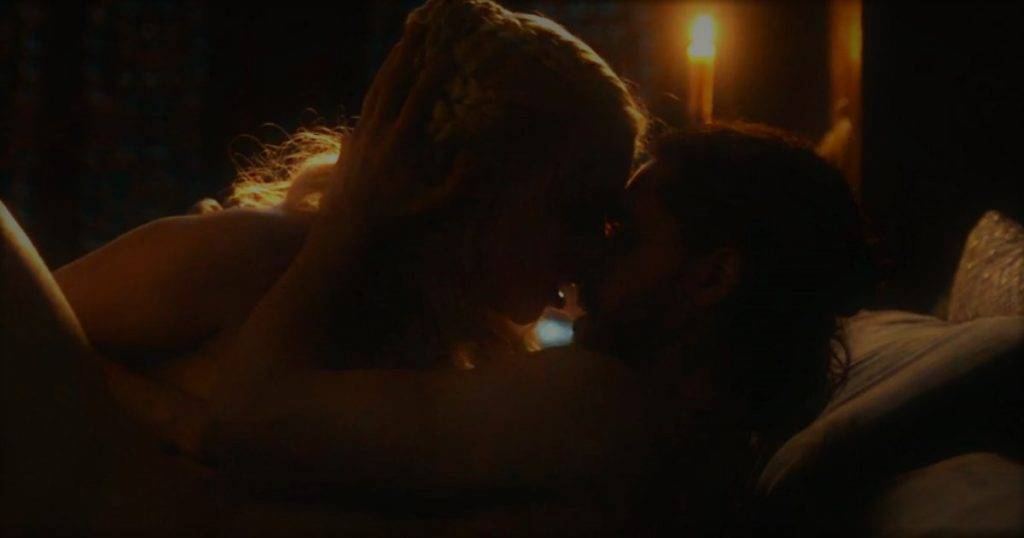 Di certo non mi aspettavo il classico lieto fine, ma nemmeno una caduta così rovinosa per un personaggio chiave di Game of Thrones…
Perfino Cersei, che ha passato sei puntate a bere vino da un balcone e brontolare perché non ha potuto giocare con gli elefanti ha la consolazione di morire tra le braccia dell'uomo che ha, discutibilmente, sempre amato. Piccola parentesi: che spreco trattare Cersei in questo modo!
Comunque, miei cari Dany-fan, vi sono vicina. Vi capisco perché, quando è calato il silenzio su Game of Thrones, ho avuto anche io il paradossale istinto di dire: "Ma non si può rifare tutto da capo, magari meglio"?
Oh, Daenerys, you deserved so much better.