ATTENZIONE: questo articolo contiene spoiler sulle prime stagioni di Game of Thrones!
Tutti conosciamo qualcuno che ha appena iniziato a vedere Game of Thrones. E il primo feedback che riceviamo è sempre lo stesso: "Il mio preferito è Ned Stark!!!". Noi non possiamo che sorridere e annuire, mentre nella nostra mente ricordiamo la testa del povero Ned staccata dal resto del corpo. Spoilerare Game of Thrones è un peccato mortale per molti: io stessa, quando l'ho iniziato tempo fa, ho cercato di evitare ogni piccola informazione o conversazione a riguardo per gustarmi la trama episodio dopo episodio.
Sembra però che la HBO non sia dello stesso parere. La campagna #ForTheThrone, relativa all'ultima stagione di Game of Thrones, fornisce ai novellini molti spoiler delle prime stagioni della serie.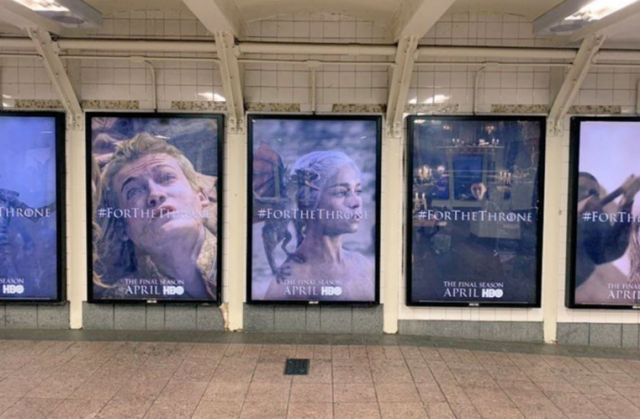 I poster della campagna, presenti alla New York City Grand Central Station, riportano alcuni dei momenti più importanti delle stagioni precedenti, tra cui la Battaglia dei Bastardi, la morte di Joffrey e l'uccisione di Ned Stark. Questi grandi momenti rappresentano degli enormi spoiler per chi ancora non ha recuperato tutta la serie e per chi solo di recente ha iniziato a vederla.
Molte persone hanno espresso diverse lamentele sui social. Qualcuno ha commentato:
Ho alcuni amici che sono solo alla seconda o quarta stagione e stanno amando la serie. É una mossa davvero stupida quella della HBO. Avrebbe potuto scegliere delle foto meno spoilerose.
Un altro fan ha scritto:
Non posso credere che stanno spoilerando gli eventi principali di ogni stagione con questi poster. Capisco che sono per i fan che lo hanno già visto, ma non pensano alle centinaia di migliaia di persone che vedranno queste immagini senza aver concluso o iniziato la serie?
Questi poster per la campagna #ForTheThrone hanno lo scopo di promuovere l'ottava stagione di Game of Thrones, ma inserire immagini contenenti spoiler sulle stagioni precedenti non ha soddisfatto diversi fan. Per niente.