In Game of Thrones la location è molto importante. Non solo quella relativa ai Sette Regni, ma anche e soprattutto quella relativa alle riprese della Serie. I luoghi in cui vengono girate le scene di Game of Thrones potrebbero infatti suggerirci dettagli importanti in merito all'ottava stagione.
La Croazia è la sede di Approdo del Re, l'Islanda ha ospitato l'epica battaglia oltre la Barriera e l'Irlanda del Nord è praticamente considerata la patria di Game of Thrones.
Insomma, ci sono numerose location per le riprese e ognuna di essere ha le sue peculiarità. In ogni luogo c'è un pezzo di storia di Westeros da scoprire. E una delle location più intriganti è Tollymore Forest a Co Down. Questo bellissimo luogo si trova nei pressi di Newcastle e offre dei panorami mozzafiato. Per quanto riguarda Game of Thrones, è stata una location molto importante per la prima stagione della Serie. Tuttavia, da allora, non ha ospitato molte altre riprese.
Tollymore Forest è dove gli Stark hanno trovato i cuccioli di metalupo. E soprattutto, è dove noi spettatori abbiamo incontrato per la prima volta gli Estranei. Un inizio di Serie difficile da dimenticare. Ricordate poi quando i Ranger dei Guardiani della Notte hanno superato la Barriera e sono stati massacrati? È successo a Tollymore Forest. E qui abbiamo anche visto questo misterioso simbolo per la prima volta.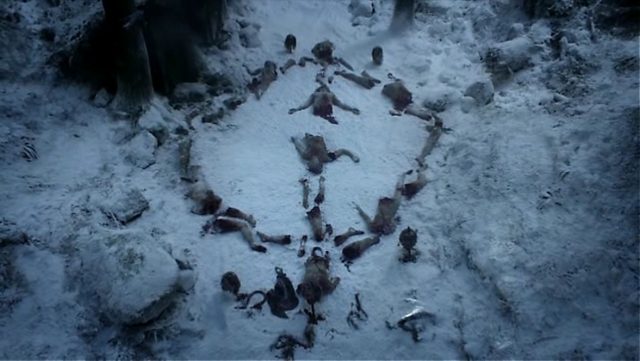 Stando a diverse indiscrezioni, sembra che parte all'ottava stagione di Game of Thrones sia stata girata proprio a Tollymore Forest.
David Benioff, showrunner di Game of Thrones, aveva ammesso l'importanza di quella scena iniziale durante la trasmissione della settima stagione della Serie. In questa stagione alcune scene sono ambientate nelle caverne di Roccia del Drago, dove vediamo gli stessi simboli circolari che rimandano al primo episodio della Serie. Ecco le parole di Benioff relativamente all'importanza di questi simboli:
È qualcosa di molto evocativo, relativo alle migliaia di anni passati dopo la prima esplorazione di quelle caverne e dopo che quei disegni sono stati realizzati. Ed è ovviamente qualcosa di molto rilevante per la storyline corrente, perché ha a che fare con il modo in cui i diversi popoli si sono uniti per combattere un nemico comune… Una cosa che abbiamo imparato da questi disegni è che gli Estranei non hanno inventato queste immagini, ma le hanno adottate dai Figli della Foresta. Questi sono infatti dei disegni che hanno un significato mistico per i Figli della Foresta. Non siamo sicuri su quale sia il loro esatto significato, ma i disegni a spirale sono importanti in diverse culture nel nostro mondo. Ha quindi senso che lo siano anche nel mondo di Game of Thrones.
Se questo ritorno alle origini da parte della produzione di Game of Thrones fosse vero, allora potremmo svelare uno dei misteri che da tempo ci ossessionano. Quale messaggio volevano lanciare gli Estranei nel corso del primo episodio?