Attenzione: evitate le lettura se non volete imbattervi in spoiler sulla settima stagione di Game of Thrones 
L'immaginazione dei fan di Game of Thrones non ha confini. Porta a valuta sempre ogni possibilità, si spinge ovunque e le suggestioni più disparate, anche se ridicole, vengono trasformate in teorie non appena trovano un indizio (spesso inconsistente) che le supporti. In fondo è questa una delle grandi magie di un racconto unico che ha creato un universo narrativo dagli infiniti scenari possibili, seppure improbabili. Sono tantissimi, talvolta troppi. Perché i voli pindarici della fantasia rasentano talvolta l'assurdo. E un limite, anche se sottile, esiste. Tuttavia, se c'è uno spunto per farsi due risate, perché tirarsi indietro? Perché non pensare, per esempio, a Tormund che seduce un'orsa e, inconsapevolmente, si rivela essere il padre della piccola Lyanna Mormont? Potrebbe essere divertente, no? Allora facciamolo. Sul serio, senza esser seri.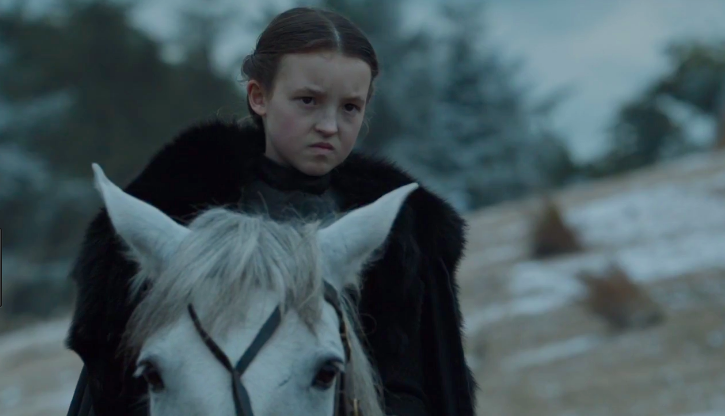 Questo delirio collettivo travestito da teoria rimbalza da un portale americano all'altro da diverso tempo, ed è arrivato il momento che ne facciate parte anche voi. Da dove ha preso spunto? Chi ha letto i libri di Martin potrebbe aver già capito (quasi) tutto, ma chi conosce solo la serie tv probabilmente sta brancolando nel buio. Quindi andiamo per gradi. Lyanna Mormont, capace di conquistarci in pochissimi minuti (e senza aver bisogno di 62 valorosi uomini), è la giovanissima Lady dell'Isola dell'Orso, ridente (?) località situata nel remoto Nord di Westeros. Cugina di primo grado di Jorah, è figlia di Maege Mormont e di padre ignoto. Ecco, ci siamo: ogni volta che c'è un mistero da scoprire nel magico mondo di Game of Thrones, si scatena la fantasia dei fan. E in questo caso si è superata.
La teoria, infatti, trova un "assist" nella presunta capacità dei Mormont di sesso femminile (probabilmente non tutte) di entrare nella mente (e di conseguenza nel corpo) degli orsi. Sarebbero infatti dei metamorfi, caratteristica che accomuna svariati uomini e donne del Nord (Bran Stark non è altro che il caso più eclatante). L'ipotesi sarebbe confermata sui libri da Alysaine Mormont, sorella maggiore di Lyanna, che a proposito della sua casata disse una volta ad Asha Greyjoy, tra il serio e il faceto, di far parte di una famiglia generata da orsi, frutto della capacità menzionata. Se a questo si aggiunge che la madre Maege, donna bassa, robusta e dai capelli grigi, è soprannominata l'Orsa, il primo cerchio si chiude. Lasciando da parte le caratteristiche fisiche della donna e la provenienza, capaci da sé di giustificare il nomignolo, proviamo a dar per vera l'ipotesi che le sembianze umane stessero strette a Maege e sia entrata, almeno una volta, nel corpo di un'orsa, ma a questo punto viene spontanea una domanda: che diavolo c'entra Tormund?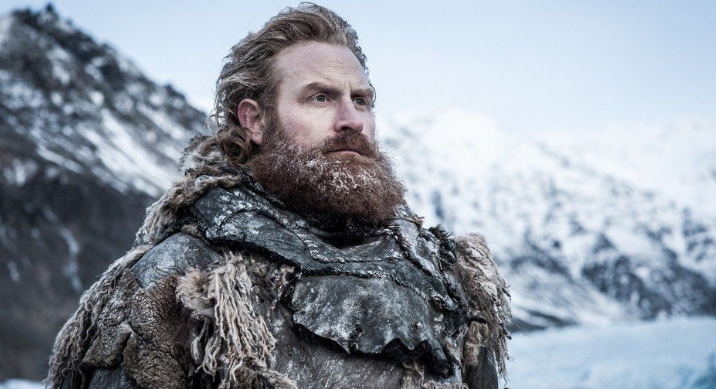 Quando si parla di lui, la risata è sempre dietro l'angolo. E una sua dichiarazione, presente anche nella serie tv, ha fatto drizzare le orecchie ai più maliziosi. Nella 4×09 di Game of Thrones (Watchers on the Wall), infatti, Tormund disse ad Ygritte di aver giaciuto una volta con un'orsa di nome Sheila. Vogliamo prenderlo sul serio? Prendiamolo sul serio come ha fatto l'autore di questa follia, e immaginiamo che questo improbabile atto d'amore abbia preso forma nel periodo degli scontri infiniti tra i Bruti e gli Uomini del Nord. Consideriamo per un attimo che il selvaggio Tormund si sia imbattuto in Maege Mormont, in quel momento dentro un'orsa, e abbia generato con lei la futura Lady dell'Isola dell'Orso. Facciamolo, ma non crediamoci troppo.
Seppure ci siano in giro delle teorie meno articolate di questo delirio, non vogliamo pensare che i cari D&D abbiano intenzione di togliere del tempo alla miriade da storyline da chiudere nell'ottava stagione per dedicarlo alle stravaganti avventure sessuali di Tormund. Ma vogliamo crederci per un secondo e a questo punto potremmo intuire che l'espressione schifata e perplessa della giovane Lyanna abbia un motivo in più per essere tale, e la scoperta dell'epico scontro che vide coinvolti Brienne e un enorme orso possa diventare il sogno erotico più ricorrente di Tormund. Quasi fosse un novello Barney Stinson alle prese con due donne che si mettono le mani addosso.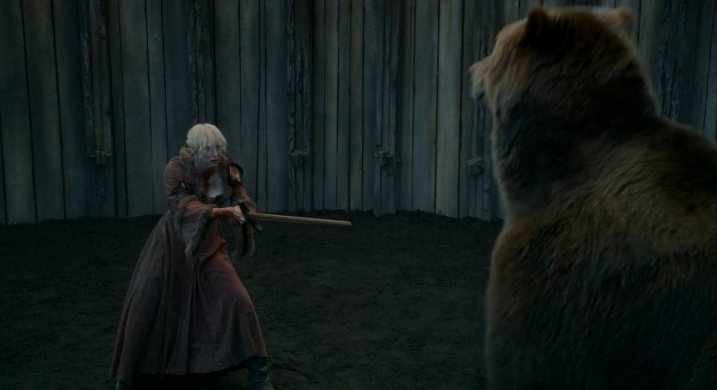 Insomma, in questa storia non c'è niente di serio, a parte un dettaglio. Se davvero i Mormont di sesso femminile (inclusa, ovviamente, Lyanna) avessero la capacità di entrare nella mente degli orsi, questo potere sarebbe molto utile nella battaglia finale che vedrà gli uomini fronteggiare gli Estranei. Conosciamo fin troppo bene il carattere battagliero della giovanissima Lady, e siamo sicuri che non si tirerebbe indietro. Vogliamo credere almeno a questo? A differenza della presunta love story di Tormund con Maege Mormont, non sarebbe poi così assurdo. E darebbe vita a nuove teorie da analizzare e all'ennesima suggestione da vivere. Con la speranza che possa essere credibile, anche se meno divertente.
Antonio Casu