I brevi teaser che la HBO ci ha mostrato relativamente all'ottava stagione di Game of Thrones anticipano l'arrivo di Daenerys a Grande Inverno. Anzi, possiamo anche dire che questo arrivo è l'unica scena dell'ultima stagione della serie che la HBO ci ha fatto vedere. Nel complesso abbiamo visto fotogrammi che riguardano gli Stark: Daenerys che incontra Sansa per la prima volta; Jon, Sansa e Arya nelle cripte della famiglia e ora anche Arya che finalmente vede i draghi.
Il sorriso che Arya rivolge ai draghi nell'ultimo teaser rilasciato da HBO non è da sottovalutare. Anzi, potrebbe essere un indizio importante in merito alla conclusione della sua storyline in Game of Thrones.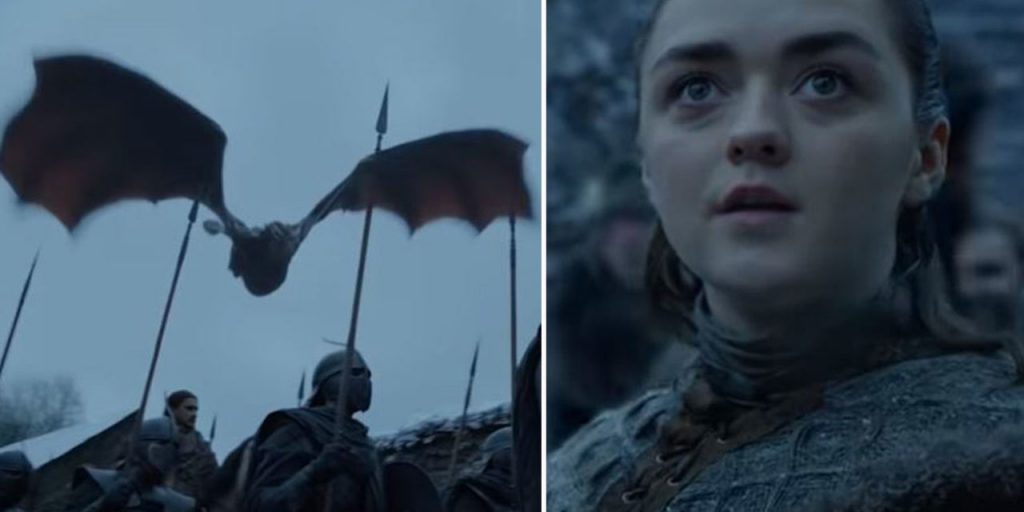 Ci siamo immersi nell'ultimo teaser di Game of Thrones attraverso gli occhi di Arya Stark. L'esercito di Daenerys Targaryen arriva nel freddo Nord, presumibilmente con l'intento di difendere i regni dagli Estranei. La marcia dei soldati è armonica e Drogon vola in cielo mostrando tutta la sua grandezza. Gli occhi degli abitanti di Grande Inverno sono increduli, quasi spaventati, e stonano con lo sguardo di Arya: uno sguardo colmo di emozioni e ammirazione di fronte al vedere per la prima volta un drago.
Perché Arya è così ammaliata dalla vista di Drogon mentre i suoi compagni ne sono spaventati? A differenza loro Arya è uscita da Grande Inverno, ha studiato e ha visto cose strane. Le ha fatte anche sue, adottando ad esempio le tecniche degli Uomini senza volto.
La riflessione che ne scaturisce è quella relativa al futuro di Arya e alla conclusione della sua storyline. Quali sono le previsioni?
Pensando alla posizione di Arya nel confronto con gli Estranei, è difficile capire che ruolo avrà la giovane Stark. Possiede un'arma forgiata con acciaio di Valyria, indispensabile per il conflitto, e questo aumenta le possibilità che Arya la possa usare contro il Re della Notte. Ma sarà davvero Arya a porre fine a questa guerra?
Piuttosto, è più probabile che Arya preferisca confrontarsi con un altro grande personaggio della serie: Cersei Lannister. Il nome della regina compare in cima alla famosa lista della giovane Stark, ma visto che spesso in Game of Thrones accade l'insospettabile, Arya potrebbe non riuscire nell'impresa di ucciderla. Anzi, potrebbe uscirne sconfitta, uccisa per volere della regina o per mano di Cersei.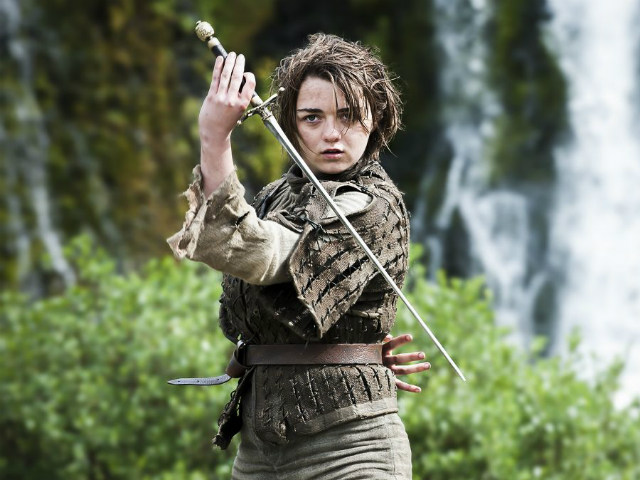 Accanto a questa previsione estrema si posiziona una piccola speranza per la giovane Stark. Nella sesta stagione Arya si chiede che cosa si trovi a occidente di Westeros. L'interesse nel viaggio e nella scoperta si estende quindi oltre i territori di Westeros ed Essos. In questi luoghi nascosti potrebbe esserci la conclusione della storyline di Arya che vede la ragazza lasciare tutto ciò che conosce per cercare nuove avventure verso l'ignoto.
L'ultimo teaser di Game of Thrones sembra confermare proprio quest'ultima ipotesi: Arya sopravviverà per impegnarsi in nuovi viaggi. I suoi occhi, alla vista di un drago, riflettono appunto lo spirito avventuroso che la giovane Stark custodisce nel suo cuore.
Che cosa si trova a ovest di Westeros? Ci sono altri draghi là fuori? Arya vorrà trovare da sola una risposta a queste domande, iniziando una nuova avventura che concluderà la sua storyline e di cui noi non sapremo l'esito.