Certi personaggi trascendono il semplice ruolo televisivo, per diventare qualcosa di altro. Fino a identificarsi con la carriera stessa degli attori. In una serie tv del calibro di Game of Thrones questo rischia di essere molto possibile e Maisie Williams ne sa qualcosa.
L'attrice, che nella serie interpreta l'agguerrita Arya Stark, sa che questo ruolo sarà croce e delizia della sua carriera (peraltro ancora agli albori), ma questo non le pesa per nulla.
La Williams, mentre era alla Birmingham City University e presentava la nuova app per social media, Daisie, ha voluto lasciare qualche parola in merito al suo personaggio. La ragazza non teme per nulla l'idea di esser associata d'ora in avanti al suo personaggio, anzi, lo ritiene quasi un onore:
Non ho alcun problema al riguardo, credo di essere in pace con l'idea di essere riconosciuta come Arya per sempre. Non provo rabbia verso questa serie, che è la cosa migliore che io abbia mai fatto. Questa è una serie grandiosa e il mio è stato un personaggio iconico. Ha cambiato le regole del gioco per la televisione ed è diversa da qualsiasi cosa che abbiamo visto prima, ha raggiunto un pubblico che questo tipo di prodotti non aveva mai raggiunto prima d'ora. Non c'erano ragazze scritte così, ma da allora ci sono stati personaggi giovani scritti in quel modo. Ora, quando leggo le sceneggiature, mi rendo conto di quanto fosse speciale. Spero di interpretare altri ruoli, ma spero di non fare mai più nulla di simile ad Arya, perché giocava in un campionato tutto suo.
Dopo ben otto stagioni, è quasi impossibile non associare Maisie ad Arya e questo l'attrice britannica lo sa bene, ma non è per nulla turbata da questo aspetto.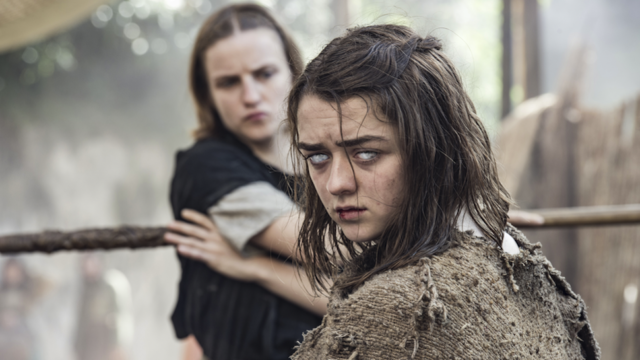 Come al solito la giovane dimostra notevole maturità. Continuando, l'attrice ha poi accennato qualcosa in merito al finale della serie:
Spero che piaccia davvero ai fan. Sono davvero orgogliosa di quello che abbiamo fatto, ma credo davvero che nessuno sia preparato per ciò che avverrà nella serie. Penso che sarà molto inaspettato.
La Williams continua a stuzzicare la nostra fantasia con le sue dichiarazioni. Infatti in una recente intervista ci avvisa che non sarà facile amare questo finale, proprio perché porterà alla conclusione di tutto.
Ricordiamo, come se ce ne fosse bisogno, Game Of Thrones debutterà il prossimo 14 aprile. Manca pochissimo!