Ci sarebbero tante e più cose da dire sul finale di Game of Thrones, soprattutto dal punto di vista di Daenerys.
Tra chi è finito in clinica post Game of Thrones (leggi qui la vicenda di Kit Harington) e chi si è portato a casa un ricordino spoiler dal set dello show (come ha fatto Sophie Turner), c'è anche chi ha dei rimpianti: Emilia Clarke.
Le ultime puntate sono state quasi interamente incentrate sul suo personaggio, quale sassolino le è rimasto nella scarpa dopo tutti quelli che sono già stati conosciuti?
Dany ha raccontato a Variety il suo più grande rimpianto.
"Non ho preso nulla, e me ne pento amaramente, e sono davvero dispiaciuta. Sto realmente sperando che gli showrunner mi diano un drago."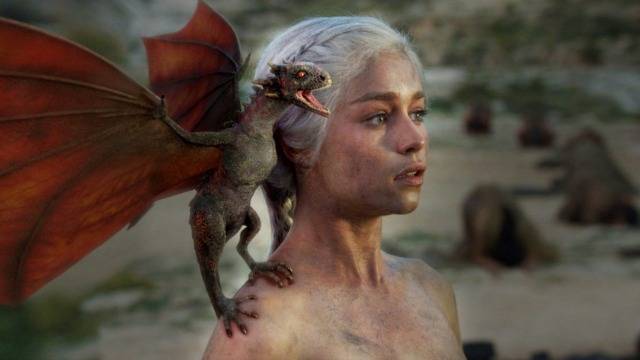 Sbadata Emilia!
Non deve essere facile lasciare indietro 10 anni della tua vita senza neanche un piccolo ricordo tangibile.
Nell'arco della stessa intervista infatti, Emilia conferma la difficoltà con cui si lascia indietro un progetto come Game of Thrones.
Ecco le sue parole:
"Essere arrivati a una conclusione è assolutamente surreale. Così tante cose sono successe nella mia vita in questi dieci anni dello show. Sono cresciuta e sono diventata una donna. Avevo solo 23 anni. È stato in post produzione per quasi un anno e mi ci è voluto altrettanto per superare il tutto. Dove sono i miei draghi? Quella battuta famosa. Dove diavolo sono i miei draghi? È stato profondamente emozionante."
Emilia ha sempre il suo umorismo e il suo sorriso a rendere tutto un po' meno malinconico.
Certo è che la fine di Game of Thrones (che ci sia piaciuta o no) è stata la chiusura di un grande capitolo nella vita del cast e dei fan.
Emilia sta rimanendo ottimista sperando che D&D le faccia recapitare a casa un bel draghetto, magari delle dimensioni di Drogon!