13) È protagonista di una delle non-morti più imbarazzanti della storia delle Serie Tv
C'è chi si salva da sotto un cassonetto e viene giustamente deriso per anni e poi c'è Jaime che si riprende senza un graffio dopo aver rischiato di finire flambé grazie a Drogon e poi mezzo morto cade nelle Rapide Nere (non esattamente il mare di Riccione) insieme a Bronn.
Quando ormai sei pronta all'addio, tac, riemerge bello e fresco come una rosa. Mio caro, non sei credibile.
14) Quella scena ai piedi del feretro del figlio…
Inutile rivangarla, perché è una delle cose più disturbanti che abbia visto negli ultimi cinque anni. Roba che, appena vista, avrei voluto scartavetrarmi le cornee.
No, non ce la posso fare.
15) Diciamolo, in confronto a Khal Drogo, ci perde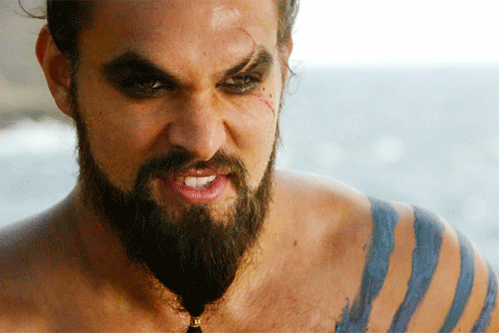 Se vogliamo proprio immolarci con un attore di Game of Thrones, nessuno mai reggerà il confronto con Khal Drogo.
Poi ci sono io. E a me piace Ramsey Bolton.
16) È fondamentalmente un personaggio positivo, quindi morirà, malissimo
Sappiamo come va a finire, in questi casi: Jaime è più buono che malvagio, quindi, per gli standard di Game of Thrones è già campato anche troppo.
Morirà, molto male e molto presto (cioè non troppo presto, dato che per vedere come andrà a finire dovremo aspettare due anni…).