Game of Thrones 8 sta dividendo gli spettatori: c'è chi ha amato quest'ultima stagione e chi ne sottolinea gli errori. Proprio questi ultimi fan, delusi dagli episodi, si stanno attivando per chiederne di nuovi.
Stanno infatti diffondendo una petizione per chiedere un remake di Game of Thrones 8 realizzato da altri sceneggiatori al posto di D.B. Weiss e David Benioff. Il titolo della petizione è proprio "Rifate l'ottava stagione di Game of Thrones con sceneggiatori competenti".
L'iniziativa è partita su Change.org dall'utente Dylan D., che l'ha diretta a HBO; al momento più di 1 milione di persone hanno già firmato.
Questa è la descrizione della petizione:
"David Benioff e D. B. Weiss si sono dimostrati degli sceneggiatori completamente incompetenti ora che non hanno alcun materiale (i libri) su cui basarsi. Questa serie tv merita una stagione finale che abbia senso".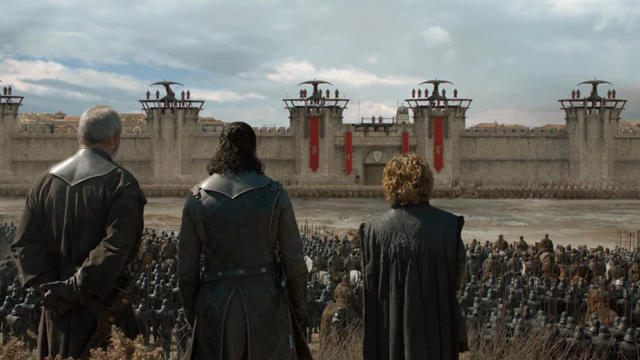 Già da qualche stagione, infatti, le trame della serie tv hanno superato gli eventi dei libri della saga da cui è tratta, Le Cronache del Ghiaccio e del Fuoco. L'ultimo libro pubblicato, La Danza dei Draghi, si conclude con la morte di Jon Snow, avvenuta nell'episodio finale della quinta stagione.
Da allora gli sceneggiatori hanno continuato la narrazione cercando di portare a termine i percorsi dei vari personaggi senza i romanzi dell'autore George R. R. Martin. Per i quali sembra che dovremo aspettare ancora: Martin ha recentemente smentito il rumour che affermava la pubblicazione dei libri in seguito alla conclusione della serie tv.
Critiche a questa stagione sono sorte a partire dall'episodio 8×03, The Long Night: molti fan non hanno apprezzato le scelte narrative, in particolar modo come è stato gestito l'atteso scontro con il Re della Notte e gli Estranei. Anche l'episodio 8×05 The Bells è stato aspramente criticato, in merito (e non solo) agli archi narrativi di Jaime Lannister (Nikolaj Coster-Waldau) e Daenerys Targaryen (Emilia Clarke).
Ci sembra improbabile che la HBO accolga questa petizione, ma certamente è un segno di come questa stagione abbia deluso molti spettatori.