ATTENZIONE: questo articolo contiene spoiler sulla settima stagione di Game of Thrones!
La settima stagione di Game of Thrones ci ha mostrato diversi momenti memorabili e senza dubbio importanti per lo svolgimento della stagione finale della serie. Tra questi ricordiamo ad esempio la morte di Baelish e l'unione di Jon e Daenerys. Uno dei momenti che però ha scatenato più dubbi tra gli spettatori è stato quando Cersei ha comunicato la sua gravidanza.
La leonessa di casa Lannister è incinta e il padre potrebbe non essere Jaime.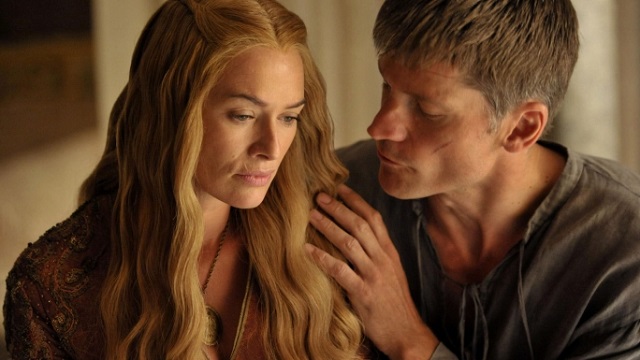 Conoscendo il personaggio di Cersei, molti fan hanno ipotizzato che la regina si sia inventata una gravidanza per manipolare i suoi fratelli. Tuttavia è stato già confermato che Cersei è incinta. Nel dicembre dello scorso anno Vanity Fair ha infatti commentato i copioni della settima stagione di Game of Thrones (visibili alla Writers Guild of America West's Library) che dimostrano la veridicità della gravidanza. Gli script dell'episodio Eastwatch descrivono così il momento in cui Cersei dà la buona novella a Jaime:
Lei annuisce, è vero… La sua felicità è contagiosa. Hanno un'altra opportunità per creare una famiglia. E questa volta senza che nessuno li intralci.
La descrizione dell'incontro tra Cersei e Tyrion è un'ulteriore conferma:
Tyrion vede ciò che sta guardando e capisce cosa significa. Fa fatica a crederci, ma sa che è vero… Lei sta in silenzio per troppo tempo, tanto da comunicare che ha ragione. E una volta che sa che lui ha capito, non può pensare ad altro da dire.
La domanda ora sorge spontanea: chi è il padre del bambino? La teoria più gettonata punta il dito contro Euron. Nel corso della settima stagione l'unico amante di Cersei è stato Jaime, almeno da quanto abbiamo potuto vedere sul piccolo schermo. Infatti non è detto che sia stato l'unico uomo ad aver dormito con la regina. Il finale della stagione ha lasciato aperte alcune questioni, come quella relativa alla possibile relazione tra Euron e Cersei. Questa ha collaborato con lui ed è possibile che durante il tempo trascorso insieme i due abbiano finito per iniziare una relazione, considerando anche la tensione nel rapporto con Jaime.
Cersei potrebbe quindi portare in grembo il figlio di Euron. Come verrà gestita questa situazione nell'ottava stagione di Game of Thrones?