Avete presente la gif famosissima tratta da Pulp Fiction in cui John Travolta si guarda intorno con l'aria di uno che è rientrato in casa dopo lavoro e non ha più trovato divano, tavolo e cucina componibile dell'Ikea? Ecco, non so voi ma io è così che mi sento un po'. Anche stavolta mi sono apprestata a guardare l'ultimo episodio di Game of Thrones (se non avete letto la nostra recensione correte! La trovate qui) con tutto l'occorrente per placare all'istante qualsiasi crisi isterica causata dalla morte brutale del mio personaggio preferito (#teamarya 4ever!), ossia: alcol, migliore amica di fianco e dito pronto e appoggiato sul tasto pausa di Sky, sia mai che senta il bisogno di defenestrarmi in preda allo sconforto.
Anche a questo giro però Tragedia Not Today. Cioè, ammetto che Daenerys che sbrocca di brutto e dà fuoco a mezza Roma senza freni è un bel "what the fuck?" importante, ma anche a questo giro pensavamo di dover scrivere epitaffi più numerosi. Cioè, le Nozze Rosse ragazzi? Ma di che stiamo parlando? Martin spiegaglielo tu a queste due matricole che lo spettatore di Game of Thrones devi farlo precipitare in un vortice di elucubrazioni pesanti se lo vuoi fare contento. Devi mandarlo a letto con lo stomaco chiuso, mica con la sensazione che il peggio deve ancora arrivare? Che poi alla fine, quando arriva, non è mai come te l'aspettavi.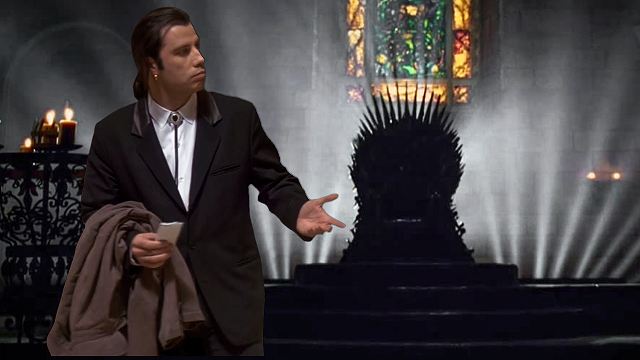 Ma deliriamo con ordine partendo come sempre dal principio!
Il primo a regalarci una tripletta di momenti indimenticabili è quella banderuola poco convinta di Jaime Lannister, imperdonabile spezzacuori che pensa ancora una volta di poter superare quatto quatto gli eserciti avversari con quattro chili d'oro addosso, ritrovandosi come sempre più avvinghiato a un palo lui di una spogliarellista del Poppea Club.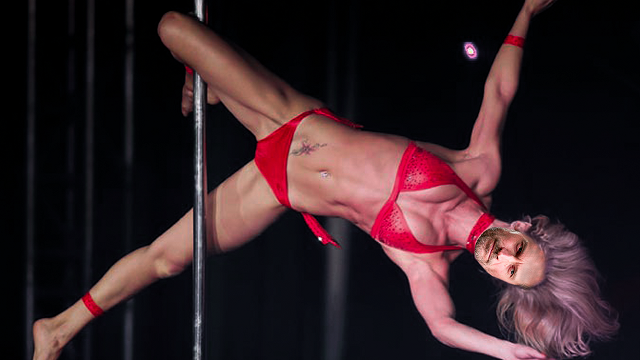 Viene liberato dal buon vecchio Tyrion, sempre più deciso a farsi fucilare senza giusto processo, e va a salvare quella pazza della regina (la Lannister intendo, mai come in questo episodio temo sia necessario aggiungere il cognome alla ricerca Regina -Bionda- Pazza su Google) vestito da Aguilar de Nerha.
Vorrei dire due parole su quella manina sventolata nell'aria quando si ritrova chiuso fuori dal vip party nel castello insieme ai poracci che non contano nulla, ma non me la sento sinceramente. Lascio tutto "IN MANO" a John (quello espressivo ovviamente!) che spiega bene a che grado di perplessità siamo arrivati.
Il biondo incestuoso Lannister, rimbalzato come se fosse la Cipriani che prova a farsi assegnare una poltrona in prima fila ai David di Donatello, prova a entrare di soppiatto dal backstage e lì becca Euron, che dopo aver borseggiato a mani basse il guardaroba di Lenny Kravitz, si leva subito il sassolino dalla scarpa e con un elegantissimo "gnè gnè mi son fatto tu sorella!" dà inizio alle danze.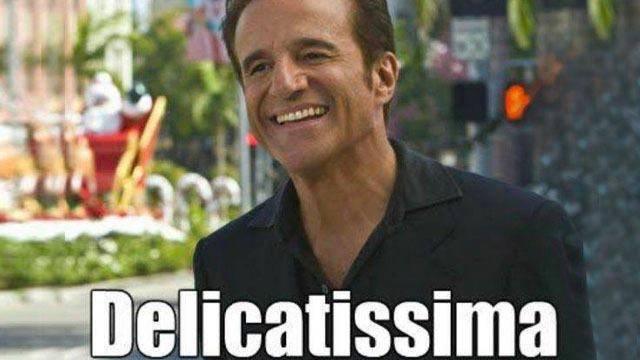 Euron tira le cuoia strappandoci un sorriso mentre ricorda a Jaime che comunque gliele ha date pure lui.
Di Arya e il Mastino versione Léon ne vogliamo parlare? Io questi due li adoro, ma di brutto proprio. Mi si spezza il cuore quando, dopo la morte del Mastino, realizzo che i miei sogni di vedere un giorno lo spin-off La vita secondo Sandor, con la realtà casalinga di Clegane e sua figlia adottiva Arya, vanno in frantumi. Ma se non altro le speranze per Tormund's Creek sono ancora altissime.
Prima o poi Brienne capitolerà e noi saremo tutti lì per vederlo.
Andiamo subito al tasto dolente, che dite? La diatriba che ha dato vita a più discussioni di quelle sulle regole di Taboo rischiando di far finire in violenza altrettante amicizie.
Cersei uccisa da un mattone!!!
Ci siamo scervellati per settimane pensando a come quella pazza sarebbe uscita di scena. Avevamo pronosticato di tutto: Daenerys che la cattura e la lascia alle calorose attenzioni di Drogon, il drago che tutto può ma solo quando pare a lui (evidente che durante la Lunga Notte non era ispirato); Arya che si mette la faccia da Joffrey e la fa strippare di brutto prima di ucciderla; Jon che la cattura e poi boh, ci pensa un attimo perché è più confuso di quello che le prende di santa ragione dopo che la madre gli ha detto "Vieni qui che non ti faccio niente"; la uccide Sansa facendola sbranare dai castori affamati del Castello Nero; Tyrion la strangola, Jaime lo ferma ma poi la strangola lui per farle pagare il cesto di corna che gli ha fatto arrivare a Grande Inverno per complimentarsi della vittoria contro gli Estranei.
Profezie, indizi, spoiler ma niente… nessuno aveva preso in considerazione l'architetto della Fortezza Rossa, probabilmente laureato nello stesso istituto dove Jon ha preso lezioni di volo e i Dothraki la laurea in diritti civili.
Quei delinquenti di Benioff e Weiss ancora una volta ci fanno alzare gli occhi al cielo e sentire la mancanza di quell'uomo senza cuore che non si faceva problemi a trucidare una donna incinta a un matrimonio.
Spezzo una lancia in favore dei due mattacchioni però che hanno saputo infilare dell'ironia di un certo livello durante lo scontro tra i Clegane Brothers, quando Cersei capisce che non è il caso di insistere ulteriormente sulla disubbidienza della Montagna.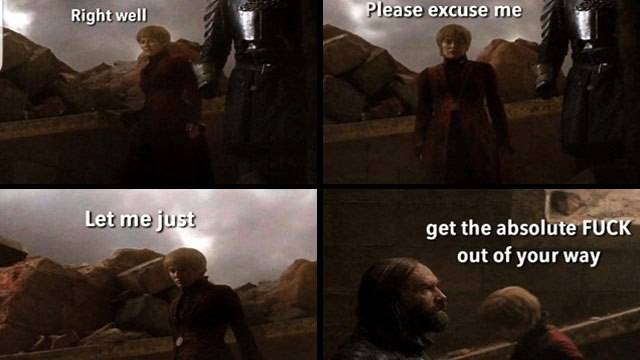 Manca solo un episodio comunque. E per quanto possiamo sentirci delusi, oppure soddisfatti del risultato di questa ultima stagione, dobbiamo riconoscere che, a una puntata dalla parola fine, non abbiamo idea di chi diavolo si siederà sul quel maledetto trono, e almeno in questo quella coppia di debosciati ci ha colti di sorpresa.
Lasciatemi sognare.