Game of Thrones 8 a detti di molti è scarna di colpi di scena, ma sono rimaste ancora due puntate e tutto potrebbe cambiare. Le anticipazioni del quinto episodio permettono di farci un'idea su quello che potrebbe succedere. Ecco quindi un'analisi ragionata del trailer e un aggiornamento sulle ultime teorie. Spoiler alert.
Daenerys, che abbiamo visto molto isolata nella scena del banchetto, ha appena perso la sua unica, vera amica: Missandei. Dopo aver detto addio a un altro figlio, Raeghal, prova un sentimento che va oltre la feroce rabbia. Forse ripeterà gli errori del padre. Varys è stato chiaro: la sua fedeltà va agli indifesi, non importa quale sia il prezzo da pagare – riferendosi alla minaccia di Dany: "Se mi tradirai ti brucerò vivo". La Regina dei Draghi sembra essere decisa a sconfiggere Cersei anche facendo una strage di innocenti. Ciò la rende molto simile al Re Folle e molto diversa dalla se stessa della scorsa stagione: "Non voglio essere la regina delle ceneri". La visione nella Casa degli Eterni in realtà sembrava mostrarla proprio in quelle vesti: quella che sinora abbiamo scambiato per neve potrebbe essere cenere.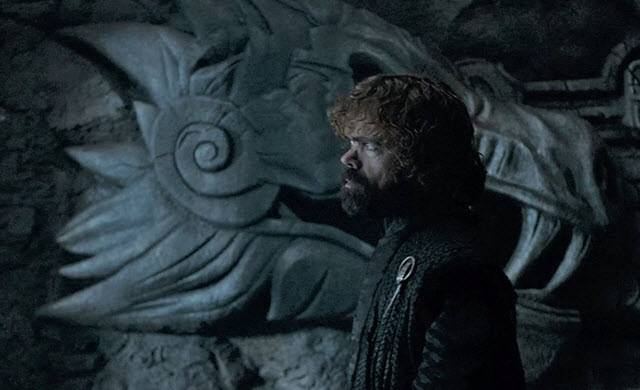 Il trailer si apre a Roccia del Drago con Tyrion cammina lentamente, quasi spaventato, verso Daenerys assorta. Dalle immagini diffuse dalla HBO, possiamo notare che Dany porta i capelli sciolti, in parte scompigliati, eccezion fatta per poche piccole trecce. Possiamo ipotizzare che fino a quel momento sia stata Missandei a occuparsi delle sue elaborate acconciature, e che questo testimoni anche lo stato interiore della donna.
Le trecce sono un'usanza Dothraki che ha ereditato da Drogo. Esse indicano potere: ma ora Dany si sente sconfitta, debole, sola.
Nella scena successiva vediamo Cersei nello stesso abito rosso ma senza i dettagli metallici, segno che è in tenuta "comoda" e non deve intimidire nessuno. Durante l'attacco potrebbe raggiungere un posto più sicuro della Fortezza Rossa, mentre i cittadini di Approdo del Re verranno falciati dalle forze avversarie – alla faccia della protezione. Anzi lo sguardo mefistofelico che lancia verso la città ricorda molto quello del finale della sesta stagione, quando dette alle fiamme il tempio di Behlor. Uno dei pregi di Cersei – oltre all'amore per i figli e gli zigomi (come disse Tyrion) – è la sua resilienza e un certo amore per i jolly. Qualcosa mi dice che ha progettato qualcosa di inedito, come dice Qyburn a Bronn a inizio stagione:
La Regina ha in serbo altri piani per Daenerys…
Nella sequenza successiva del trailer vediamo Jon in prima linea, con Tyrion e Ser Davos di fronte alle mura di Approdo del Re.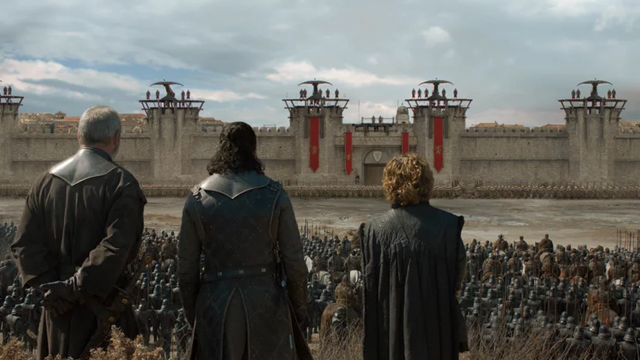 Gli sceneggiatori di Game of Thrones 8 parlano di migliaia di balestre antidrago, e sappiamo che le fila della Compagnia Dorata superano quelle guidate da Jon, per giunta provate dalla Grande Guerra.
In più, Euron è al comando della Iron Fleet e ciò significa che può portare rifornimenti dal mare alla città rovinando in partenza il piano di assedio di Jon. Se lo scontro si svolgesse in mare, solo Yara potrebbe fronteggiare una battaglia navale. E non dimentichiamoci che Dorne ha un nuovo principe, quale sarà il suo ruolo in tutto questo?
Nuovamente vediamo Tyrion osservare con aria preoccupata Dany, accanto a un'altra figura non ben illuminata. Potrebbe trattasi di Jaime, che ha abbandonato Brienne per redimere se stesso. Dilaniato da ciò che era, messo a confronto con lo stato di Bran e soppesate altre azioni commesse solo per compiacere Cersei, egli è il principale candidato al ruolo di Valonqar. Potrebbe aver quindi raggiunto il fratello e Daenerys a Roccia del Drago allo scopo di decidere sul da farsi. Magari capire come raggiungere di nascosto Approdo del Re, riconquistare la fiducia della sorella per porre fine alla sua vita a tradimento. Vediamo infatti una figura incappucciata entrare nella capitale proprio mentre la Compagnia Dorata marcia verso le mura esterne. In tal caso, mi auguro per lui che durante il viaggio intercetti Arya e Il Mastino per unire le forze e abbattere la Montagna.
Una balestra antidrago viene caricata dai soldati Lannister, mentre la sequenza successiva ci mostra Euron che guarda in alto, cercando l'origine di un suono a noi molto familiare. Il cielo è parzialmente coperto ed Euron sembra cercare, come noi, dove sia il drago. Eppure il suo sguardo, tra il sorpreso e lo spaventato, potrebbe suggerire l'arrivo di una minaccia totalmente inaspettata.
A proposito di questo, una nuova teoria si è diffusa velocemente nel fandom. E se Daenerys avesse trovato nuovi draghi?
Emilia Clarke in una recente intervista ha dichiarato che nella quinta puntata si sarebbe svolta la battaglia più grande. Se quanto detto fosse puramente riferito al suo personaggio, possiamo davvero aspettarci più draghi nel prossimo episodio.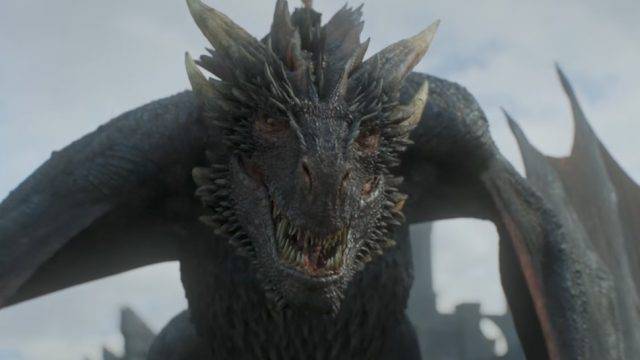 Roccia del Drago potrebbe nascondere altre uova di drago – d'altronde quelle che vennero regalate a Dany come dono di nozze non abbiamo idea da dove provengano, né come i draghi si riproducano. A ben pensarci potrebbero aver lasciato dei pargoli in giro per il mondo tutte le volte che si allontanavano dalla Non-Bruciata. Questa ipotesi non è da sottovalutare poiché di tali aspetti si è parlato davvero poco nella serie.
Voi cosa ne pensate di tutto ciò?