Game of Thrones 8 è già giunta alla metà della stagione: l'ultima stagione della serie tv nata dai romanzi di George R. R. Martin sta andando in onda su HBO negli Stati Uniti e su Sky Atlantic in Italia.
Cersei Lannister ci ha avvisato nella prima stagione: "Al gioco del trono o si vince o si muore". Già molti personaggi ci hanno lasciato nel corso di sette stagioni e anche quest'ultima non sarà da meno.
Attenzione: seguono spoiler sull'ottava stagione
In queste settimane la nostra community su Facebook, Hall of Series – Comunità di recupero (serie tv), si è sbizzarrita con il gioco a tema Game of Thrones 8 che abbiamo ideato.
Il gioco è il classico toto-morti: quali personaggi moriranno e quali riusciranno ad arrivare intatti alla fine della stagione?
Tramite sondaggi abbiamo chiesto agli utenti della nostra community di indicare se un dato personaggio "Vive" o "Muore". Tra i tanti ne abbiamo scelti alcuni; ecco qual è stato il responso (i dati sono aggiornati al 6/05/2019):
Jon Snow – VIVE: Con 394 voti "Vive" contro 187 "Muore", Jon Snow, colui che non sa niente, sopravviverà alla stagione finale.
Cersei Lannister – MUORE: Il destino della leonessa dei Lannister è segnato: 282 voti "Muore" contro 33 voti "Vive". Dovrà temere il valonqar?
Sansa Stark – VIVE: Per la lady degli Stark il futuro è roseo, con 234 voti "Vive" e 47 "Muore".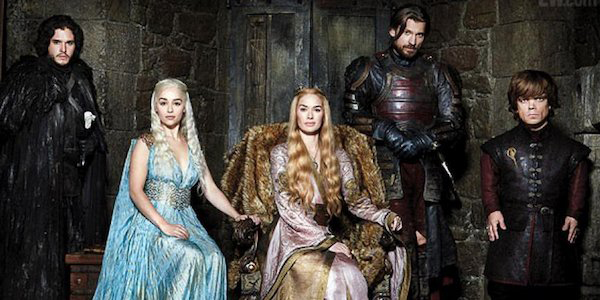 Jaime Lannister – VIVE: La fine di Jaime è incerta per i nostri utenti: alcuni pensano vivrà (151 voti "Vive"), altri che morirà (137 voti "Muore").
Arya Stark – VIVE: La differenza tra chi ritiene che Arya vivrà e chi pensa morirà è schiacciante: 666 voti "Vive" e 156 voti "Muore".
Bran Stark – MUORE: Che fine farà il Corvo con tre occhi? I 266 voti "Muore" lo vedono spacciato, mentre i 221 voti "Vive" sono clementi con lui.
Daenerys Targaryen – MUORE: La Madre dei Draghi ha davanti a sé un triste destino: secondo i nostri utenti morirà (463 voti "Muore" contro 213 voti "Vive").
Varys – MUORE: Anche Varys ci lascerà: 179 voti "Muore" hanno decretato la sua fine, contro 90 voti "Vive".
Ser Davos – VIVE: Sopravvissuto alla battaglia delle Acque Nere, alla battaglia dei Bastardi e alla battaglia di Grande Inverno, Ser Davos sopravvivrà anche al finale di serie: 172 voti "Vive" contro 117 voti "Muore".
La battaglia di Grande Inverno contro gli Estranei ci ha portato a salutare alcuni personaggi, tra cui Ser Jorah Mormont (Iain Glen), Melisandre (Carice van Houten) e Theon Greyjoy (Alfie Allen). La guerra non è finita: i nostri protagonisti stanno affrontando la guerra per il Trono di Spade.
I personaggi del nostro toto-morto avranno il destino "deciso" per loro dai nostri utenti? Lo scopriremo solo guardando gli ultimi tre episodi rimasti.