Durante questi otto lunghi anni di Game of Thrones, abbiamo visto di tutto. Abbiamo assistito a parti inquietanti, in cui dalla vagina di una donna usciva un'ombra assassina. Abbiamo visto persone morire con una facilità disarmante e altre impossibili da uccidere, pur circondate dai nemici. Osservato i draghi compiere traversate continentali alla velocità di un Boeing. Siamo stati abituati a questo e a ben altro, la nostra incredulità è stata messa a dura prova da quel patto ancestrale che si crea tra chi racconta e chi assiste.
Ma proprio perché abbiamo visto di tutto, quello a cui abbiamo assistito domenica notte ha fatto "sbottare" in molti.
Questa non è una recensione della terza puntata dell'ottava e ultima stagione di Game of Thrones. Questa è la lettera di un fan ferito. Dall'ennesimo tranello teso a chi, col cuore in gola e in mano, da anni attende pazientemente questi momenti.
Cosa non convince nella battaglia di Grande Inverno? Cominciamo premettendo che la bellezza di questa puntata, nonostante i difetti che andremo ad analizzare, è la portata emotiva immensa. Non puoi non stare sulle spine, contorcerti sul divano, mentre scorrono le prime immagini. Non puoi arrestare il tuo cuore che batte così forte da sentirlo distintamente, mentre tutti si preparano. Tu sei su quelle mura, tu sei davanti alla notte senza fine.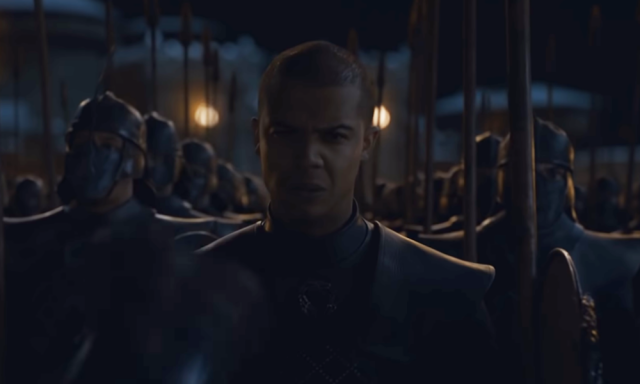 Per questo, quando arriva il momento, tu ti lanci alla carica con loro. E sul momento non le vedi.
Non vedi le incongruenze, i buchi di trama, le assolute follie di una sceneggiatura scritta in maniera inspiegabilmente approssimativa. Cominciamo con l'apparizione di Melisandre, che si dimostrerà più avanti l'ennesimo deus ex machina di Game of Thrones, e che per ora ci appare solo come un personaggio completamente decontestualizzato. Doveva essere molto lontano da lì, un intero continente a separarla dalla battaglia, ma riappare, a cavallo, incolume, dalle linee nemiche. Ci ricorda Benjen Stark, dato per disperso per intere stagioni e ripescato dal toto morti giusto in tempo per assolvere la sua funzione di burattino salva personaggi.
Melisandre dà modo ai Dothraki, la cavalleria anarchica, selvaggia, del singolare esercito che vediamo qui schierato, di andare all'attacco con un'arma in più. Peccato che, come ogni film di guerra insegna, la cavalleria sia lo strumento più prezioso, che non va sprecato in un frontale suicida contro nemici invisibili e sconosciuti.
E qui apriamo una breve parentesi, utile a chi ha già iniziato a storcere il naso.
Lo sappiamo, Game of Thrones è una storia fantasy. Il fantasy, per definizione, non deve rispondere alla logica del mondo reale. Ciò non significa però che coloro che obiettano alle critiche sulla grossolana applicazione delle tattiche militari in questa puntata con la frase "è un fantasy" abbiano ragione. Se tu, sceneggiatore, scegli di ambientare la tua storia in un mondo in cui esistono i draghi e la magia, ma esistono pure le catapulte, la cavalleria, i ramponi, il petrolio (insomma tutte le armi da guerra tipiche del mondo antico) la tua storia deve rispondere alle logiche del mondo antico.
E nessun generale, o almeno nessun generale stratega, avrebbe fatto gli errori che vediamo compiere in questa battaglia. Primo, sprecare la cavalleria così. Secondo, non utilizzare gli arcieri a terra a smaltire le fila nemiche prima dell'assalto della cavalleria. Terzo, sparare con le catapulte durante la cavalcata dei tuoi stessi uomini, col rischio di fare più morti fra loro che nelle file nemiche. Posto che loro sono già morti comunque.
Quarto, costruire un fossato così poco profondo, con le palizzate a proteggerlo, certo. Ma, quinto, disporre gli Immacolati al di là delle palizzate, col rischio di venire impalati dai loro stessi pali.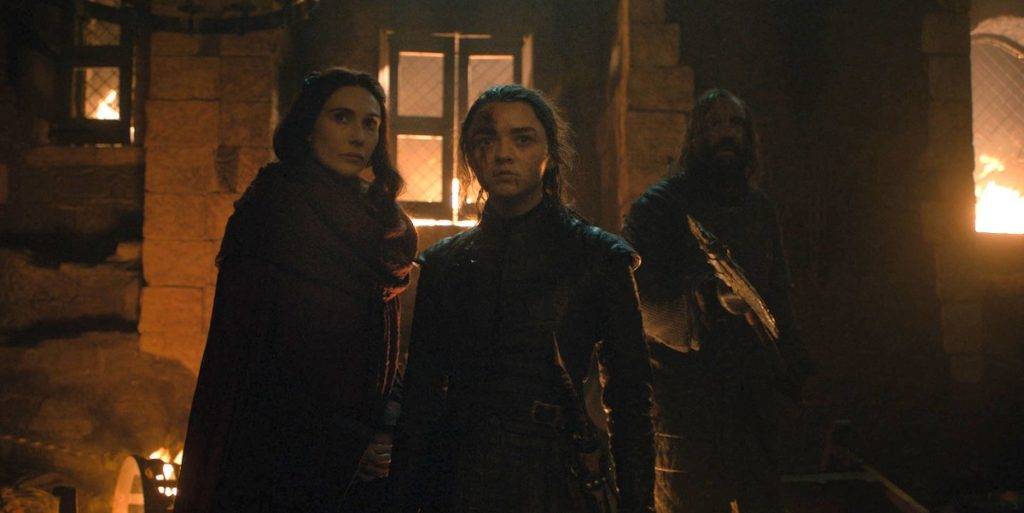 Per quanto riguarda i tecnicismi sulla strategia militare, il paragone voluto dagli stessi autori con la mitica battaglia del Fosso di Helm non regge e, anzi, fa apparire Game of Thrones come una maldestra copia. Inoltre, se Tolkien era un esperto di storia e di tattiche militari antiche, gli sceneggiatori di Game of Thrones lavorano con la logica della spettacolarità, non certo del realismo. Realismo che, come abbiamo già detto, non deve per forza mancare in un fantasy.
Durante queste lunghe scene, l'adrenalina dello spettatore sale a livelli critici. La tachicardia, l'ansia e la presa d'acciaio alle budella non lo lasciano, e non gli consentono di notare alcune maldestre licenze nella sceneggiatura. Jon, Jaime, Jorah, Daenerys, Verme Grigio, sono solo alcuni dei personaggi per cui gli sceneggiatori hanno pensato bene di applicare l'assunto contrario al Valar Morghulis. Ovvero, nessuno deve morire. Nemmeno se si trova in una condizione così disperata che solo un miracolo potrebbe salvarli. Perché gli sceneggiatori di Game of Thrones hanno in serbo anche i miracoli.
Ebbene sì, la serie che non si faceva scrupoli a uccidere i suoi protagonisti fa i salti mortali per salvare tutti i personaggi da situazioni senza via d'uscita.
Come Jon, che si ritrova accerchiato da centinaia di nemici, salvandosi inspiegabilmente grazie al fuoco selettivo di Drogon. Come Daenerys, che pur non avendo mai tenuto una spada in mano ha la classica fortuna del principiante. Abbiamo la sensazione che ormai Game of Thrones abbia abbandonato la strada della logica per votarsi completamente alla soddisfazione dei piaceri più illogici dei fan.
Come nel suo finale, repentino e spiazzante, che consegna alla storia delle serie tv la più grande mossa Kansas City della storia. Sciocchi noi, che da sette stagioni pensiamo che non ci sia minaccia più grande della morte stessa. Sciocchi noi, che non abbiamo capito che la vera colonna portante di Game of Thrones è la guerra di Daenerys per il trono, e che il più temibile nemico è una donna squilibrata.
La risoluzione di una trama che fin dal primo episodio ci ha ricordato che la vera guerra sarebbe presto arrivata a spazzare via ogni piccola, meschina lotta per il trono, è quanto di più deludente potessimo immaginare. Con l'espediente di una battuta di Melisandre vecchia di anni, si giustifica una scena che sarebbe potuta apparire più credibile con solo qualche sforzo narrativo in più.
Fino a questa scena, questa puntata di Game of Thrones, nonostante i suoi difetti, aveva una portata emotiva tale da cancellare ogni riserva. Ma questa ennesima sbavatura su un copione una volta perfetto, denso, profondo, ci fa sprofondare nello sconforto. Il male inestirpabile, insito nella natura stessa dell'umanità, incarnato dal Re della Notte, liquidato con una noncuranza imperdonabile. Un personaggio che assumeva il ruolo inquietante e irrisolvibile della peste, delle catastrofi climatiche che da secoli sono lo spettro che si aggira nella storia dell'uomo. Un personaggio che, certo, poteva morire, così come l'umanità si è sempre rialzata dai suoi drammi.
Ma non così. L'uomo che vince sui suoi demoni non trionfa. Geme e si dibatte, chi ha visto l'abisso e ne è uscito. Non vincitore, ma sopravvissuto.
Il mondo si divide, da domenica, in due gruppi: quelli che hanno amato questa puntata, e quelli che sono arrivati alla fine di questo articolo senza smorfie. Non voglio far cambiare idea ai primi, voglio solo invitarli a riflettere su un semplice concetto. Se ora la minaccia implacabile della lunga notte è venuta meno, se Nessuno ha ucciso chi non può morire, ha ancora senso dire Valar Morghulis?