Fear The Walking Dead è tornata, con due episodi che ci hanno lasciato letteralmente con il fiato sospeso. Il calo di ascolti, le lamentele, la Serie Tv si è circondata di un alone di critiche da cui deve riuscire ad emergere.
"Aveva ragione riguardo a noi. Roviniamo tutto". Le puntate 2×08 e 2×09 di Fear The Walking Dead ripartono esattamente da dove ci eravamo interrotti (qua le recensione della puntata 2×07). Il Paradiso di Celia ha cambiato volto ed è diventato un luogo dove l'essere umano in quanto detentore di umanità non è più ben accetto. Non c'è spazio, in questo nuovo mondo, per le persone che non sanno accettare la realtà come Celia. Non c'è spazio per chi non riesce a combattere i propri demoni come Daniel, non c'è spazio per chi ancora non ha chiaro quale sia il suo posto come Nick e non c'è spazio per chi non riesce a discernere il bene dal male come Chris.
Mentre la canzone di sottofondo sottolinea quanto Nick sia solo nel suo viaggio, il ragazzo prosegue nel suo cammino. Vestiti logori, usurati, sudati e macchiati di sangue. Ormai, si può dire, quell'abbigliamento è davvero lo specchio della sua anima. Nei minuti iniziali vengono analizzati vari processi mentali del ragazzo. I suoi sentimenti e le sue opinioni nascoste sul padre, la sua voglia di realizzazione, il suo amore per la famiglia e per qualcosa che non riesce a trovare.
La sua decisione di viaggiare in solitaria è tanto sbagliata quanto stupida e infondata. Le sue difficoltà ad uscire vivo da ogni situazione sono la più chiara testimonianza di quanto una persona non possa pretendere di cavarsela da sola nel mondo di Fear The Walking Dead.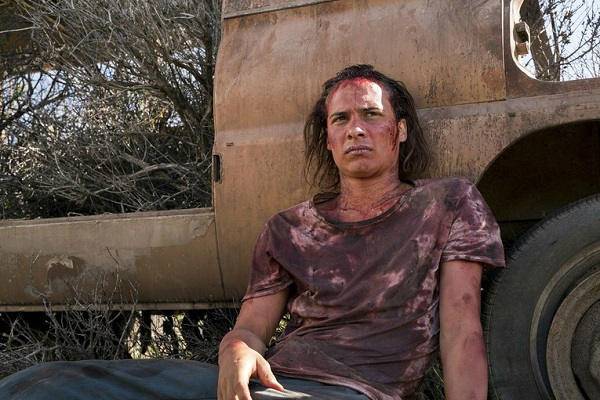 L'incontro con i cani, ennesimo parallelismo con la serie madre, e il nutrirsi di loro, il bere la propria urina, il sentire gli zombie sussurrare frasi compiute e il camminare insieme a loro fronteggiando uomini armati rappresentano insieme la bassezza della condizione di Nick. Lo stesso Nick che quando sta per morire prega e china il capo, ma che poi è pronto a rialzarlo e a pavoneggiarsi quando in qualche modo riesce a salvarsi.
"Non si deve temere la morte, ma non la si deve nemmeno cercare. C'è una bella differenza.
Poi però la sua tenacia viene ricompensata. Quello in cui si sveglia è un posto rumoroso, ma non per via di grida di dolore o versi assordanti di zombie. E' un posto in cui la gente vive apparentemente libera e non sotto dettami di assurde idee come con Celia, dove alcuni bambini hanno ancora la palla e alcuni uomini e donne sorridono per strada. E' un posto dove, forse, Nick può trovare quello che cerca davvero.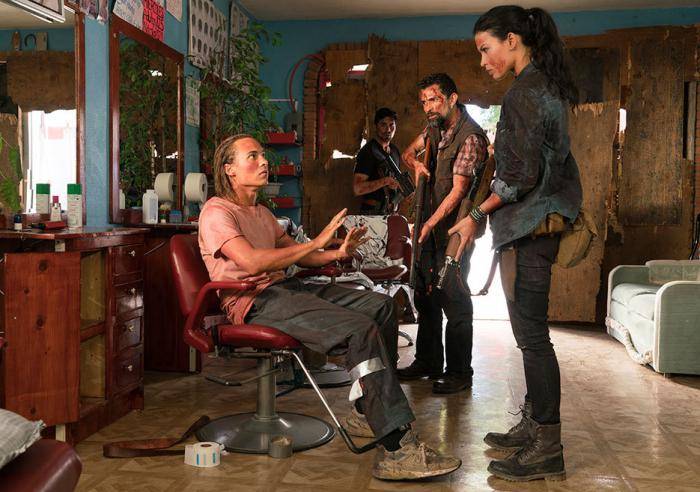 "Perchè hai fatto tutta questa strada? Voglio stare dove i morti non sono mostri"
Noi spettatori lo sappiamo ormai meglio dei protagonisti: inutile farsi illusioni. Nick sembrava averlo capito con la frase "noi distruggiamo tutto, non c'è un posto per noi". Se allarghiamo il significato della sua affermazione e lo portiamo a tutta l'umanità invece che restringerlo alla sua famiglia, allora il concetto di tutto il mondo di Fear The Walking Dead emerge. Non c'è un posto in cui l'uomo può vivere ancora. Il mondo è invaso dagli zombie. L'uomo non può convivere nemmeno con i suoi simili, quindi come può sperare di farlo con qualcosa di quella portata? 
Al suo risveglio Nick ha l'ennesima prova delle sue convinzioni. Il paesino che fino alla sera prima poteva sembrargli un Paradiso, ora appare per quello che è davvero. Appare come un posto in cui la gente si riunisce per osservare un persona che si butta in pasto agli zombie. E' civiltà quella? E' umanità? C'è posto per chi compie gesti simili nel mondo? C'è spazio per l'innocenza di una bambina? Per una preghiera senza senso e morale?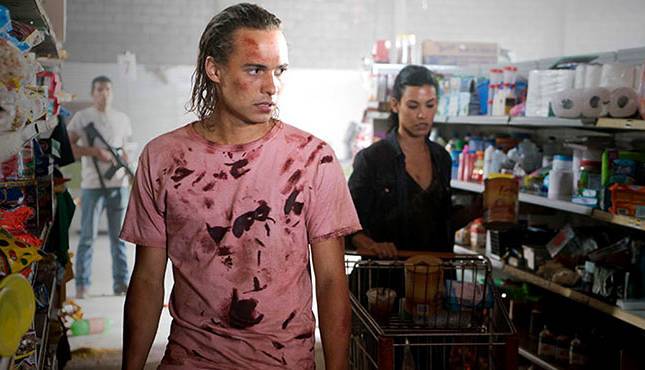 Mentre Madison, Alicia, Strand e Ofelia cercano in qualche modo Travis, un riparo, del cibo e dell'acqua, il percorso di Nick prosegue. E' interessante vedere come le parole della sua mentore "nessuno sentirà la sua mancanza" rispecchino la realtà. Nessuno nomina Nick. E Nick non nomina nessuno. Neanche un breve accenno di Madison al figlio, di Alicia al fratello, di Nick alla sua famiglia. Zero.
Fino a che non entra in gioco l'alcool e allora ci si può lasciare andare ai segreti e alle affermazioni che non si possono dire perchè spaventano e aumentano la malinconia. Fino a che, come in un teen drama qualsiasi, non si rischia di morire per un flirt finito male, per un'ingenuità o perchè si è così spensierati da dimenticare che i morti sono tornati in vita per uccidere i vivi.
"Il passato ti farà solo stare male" afferma Strand, dispensando consigli per tutti.
Poi però lo stesso Strand sprona Madison a parlarne alludendo al suo passato e alle sue origini. Così scopriamo qualche interessante retroscena mentre Ofelia e Alicia fanno il lavoro sporco. L'ennesima contraddizione di questo episodio sta nel fatto che Madison rimpianga di aver lasciato andare Nick, rimpianga il passato con il suo ex marito, rimpianga tutto ciò che ha perso. Il punto è che, però, non fa nulla per proteggere quello che ha e che dovrebbe custodire come il tesoro più prezioso al mondo.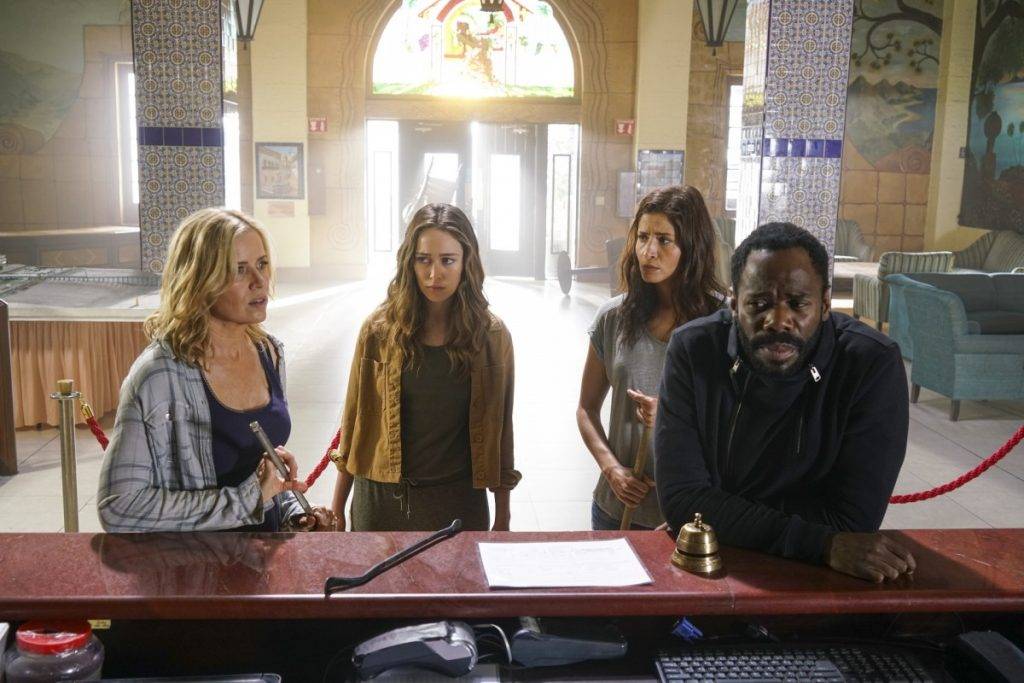 "Non ci si stanca di sopravvivere. Si va avanti..si deve. La speranza è tutto ciò che abbiamo. Se la perdiamo, siamo morti."
L'unica capace di guardare obiettivamente la realtà per quella che è davvero sembra Alicia. Ragiona razionalmente, prende decisioni difficili, indossa i panni di tutrice di sua madre e di Ofelia, pensa alla sopravvivenza aggrappandosi alla sua parte più fredda che è comunque quella più colma di speranza.
Le premesse per fare bene ci sono. Fear The Walking Dead ci ha lasciato all'attesa per un decimo episodio importante, magari capace anche di risollevare le sorti di questa seconda stagione partita un po' in bilico.
Un saluto alle pagina  Fear The Walking Dead Italia e The Walking Dead ITA !