Nessuno ha iniziato a vedere Fear the Walking Dead con l'animo meglio predisposto del mio: amo la "Fear", amo The Walking Dead, mi sono sempre chiesta come si sia diffusa l'epidemia. I presupposti c'erano, eccome.
E, diciamo, le prime tre, quattro puntate non sono state proprio inaccettabili. A parte una protagonista, Maddie, che fa saltare i nervi per quanto inadatta alla recitazione.
L'odioso alter-ego di Carl Grimes, Chris Manawa, uno youtuber in erba, un rompiscatole di proporzioni bibliche, uno che desidera diventare un serial killer senza porsi tanti problemi, anzi, smania per esserlo. Il giovane tossico strampalato, Nick Clark, interpretato dall'attore, probabilmente, più talentuoso del cast, lo stralunato Frank Dillane. La bella e tosta Alycia Debnam-Carey, che interpreta Alicia Clark: passa in scioltezza da The 100 a Fear The Walking Dead e le riesce anche abbastanza bene.
Travis Manawa, il papà, il marito, il patrigno, l'amico, il prof. che tutti vorremmo: Travis buono, paziente, ma che, se gli tocchi la famiglia, si trasforma in una crasi tra Hulk e Iron Man – Hulkon Man – e piglia tutti a mazzate.
Qui finiscono gli aspetti positivi.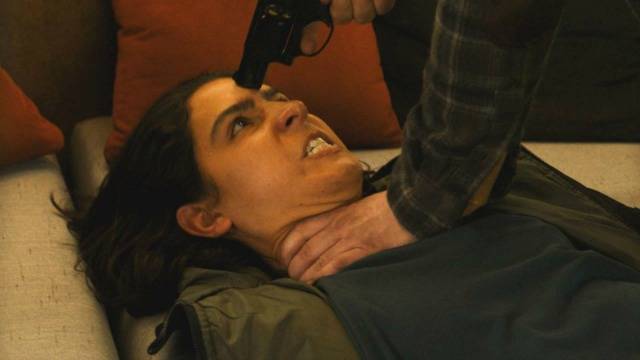 Perché Fear the Walking Dead è stata una sonora presa in giro.
Ecco quello che mi aspettavo: una lotta estrema e continua contro gli zombie, il trauma, lo choc di ritrovarsi in un mondo che fino al giorno prima era un habitat naturale e ora diventa ostile. Volevo vedere la lotta per la sopravvivenza e, soprattutto, ancora un briciolo di umanità. Mi spiego: avrei voluto vedere un briciolo di speranza nel genere umano, ma in Fear the Walking Dead i sopravvissuti imparano in fretta a diventare cinici.
Voglio dire, nella Serie madre ci mettono un po', prima di diventare delle macchine da guerra, qui sembrano tutti nati per sopravvivere. A mio modo di vedere, hanno tentato di mettere troppa carne al fuoco, troppe storie concentrate in (relativi) pochi episodi, la vacanza in Messico poteva avere del potenziale, ma non è stata sfruttata a dovere: troppe storie, troppe comunità, troppe porte aperte che non vengono chiuse come si deve.
La città, il quartiere sotto presidio militare, la barca, la comunità di Celia, l'hotel, la Colonia, il campo di soldati dediti agli esperimenti scientifici, la fattoria di Patron Otto e i suoi figli-disagio: troppe location in pochissime stagioni. Siamo solo a metà della terza e i nostri hanno già levato le tende troppe volte.
Capisco non volersi fossilizzare su una stessa location per troppo tempo, ma qui ci stiamo muovendo troppo in fretta. C'è chi si è stanziato alla prigione per quasi due stagioni e c'è stato più che bene.
È tutto troppo affastellato, confuso, come se non esistesse una vera trama, ma se si inventassero gli episodi il giorno prima di andare sul set, sull'onda del sensazionalismo.
Questi sopravvissuti si muovono come mossi dal mero istinto: non c'è una logica, non c'è un senso o un progetto. Non sembrano voler stanziarsi da qualche parte in modo definitivo per ricostruire una società, che è poi il primario obiettivo dell'essere umano.
E ancora le morti clamorose: hanno ucciso due dei personaggi più interessanti della serie. Come giustamente ha imprecato una delle mie amiche più care: cavolo, una stirpe di maori fatta fuori in questo modo?? Sono guerrieri, cribbio! Non posso che darle ragione. Le morti di Chris e Travis sono ingiustificabili da qualsiasi punto di vista, non tanto perché improvvise, ma proprio perché stupide e mal gestite.
Chris aveva un potenziale allucinante, poteva sul serio diventare il nuovo Carl, perché era fastidioso e psicopatico: cioè, parliamo di qualcuno che non ha esitato un secondo prima di gettare mamma a mare come un secchio di pesce avariato.
Travis era un guerriero e la bussola morale del gruppo: era sempre retto e giusto e, per certi versi, mi ricordava Glenn, perché conservava sempre un barlume di umanità anche nelle situazioni più allucinanti, pur commettendo azioni brutali.
Ma non è il fatto che siano morti che mi disturba. È il modo. Due morti più sceme e ridicole non le potevano trovare, uno che viene fatto fuori senza neanche il pathos di vedere la scena "in diretta (li sto ancora odiando) l'altro morto per un proiettile vagante.
No, Maria, io non lo accetto.
Anche perché adesso restiamo con un'Alicia che non si capisce quale direzione voglia prendere, un Nick interpretato da un attore che, evidentemente, non crede più molto in quello che sta facendo (ed è un peccato perché Frank Dillane potrebbe dare ancora tantissimo), Strand che, per quanto ci provi, non riesce ad incuriosirmi e lei, Maddie.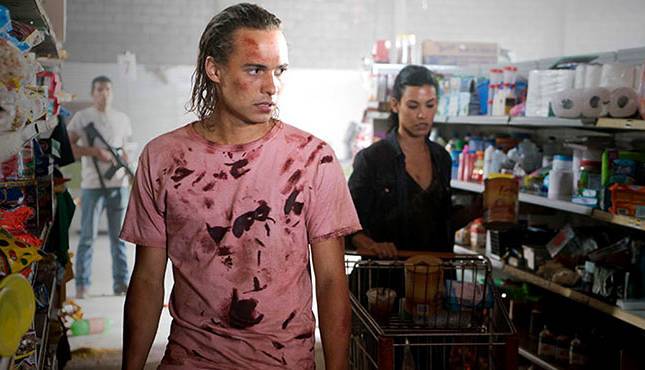 Madison Clark, sulla carta destinata a diventare la nuova Rick Grimes, ma priva del carisma, della gestualità (ci potete anche ridere su, ma lo sguardo psicopatico e la testa reclinata di Rick prima di spararti in testa è un tratto distintivo del suo personaggio), dell'appeal dell'originale.
Io ci provo, ma non riesco in nessun modo ad appassionarmi a Fear The Walking Dead, tanto che continuo a guardarla per inerzia.
E se non è riuscita a convincere me, che sono terreno fertile per trama e interessi, non credo che possa attrarre i non fanatici.
Ho letto di recente varie teorie in base alle quali Madison potrebbe essere, in alternativa, o la sorella di Rick (nel fumetto Rick ha un fratello che vive a Barcellona, ma di cui si sa poco o nulla), o la famigerata Alpha, capogruppo dei Sussurratori.
Sì, le piacerebbe…
Chiaramente non so se sia vero o fattibile, Kirkman ha già smentito la possibilità di un crossover tra le due Serie (non che quello che dice Kirkman abbia mai un senso o un peso), ma solo un estremo colpo di scena potrebbe ravvivare il mio interesse nei confronti di Fear The Walking Dead che continuo a guardare distrattamente, mentre lavo i piatti o stendo, o controllo le e-mail o mi bevo una tisana.
Male, molto, molto male.