Alexandra Daddario, l'indimenticabile Lisa Tragnetti di True Detective, è nata a New York il 16 marzo del 1986 da una famiglia di avvocati e politici da cui però, parlando di carriera, ha deciso di emanciparsi molto presto. La futura star delle Serie Tv e del cinema ha infatti scoperto la sua passione per la recitazione da giovanissima, a soli undici anni. Cresciuta nella New York patinata dall'Upper East Side, Alexandra ha frequentato le migliori scuole, come la Brearley School e il Marymount Manhattan College, e per anni ha studiato recitazione seguendo la tecnica Meisner. Questo metodo, il migliore per molti attori, spinge lo studente ad allontanarsi da sé, a non considerare soltanto i propri bisogni, e a dare maggiore attenzione al partner in scena. Cerca di stimolare l'empatia non solo lavorando sui copioni ma anche con esercizi di improvvisazione.
Il primo ruolo di Alexandra sul piccolo schermo arriva nel 2003 quando ottiene una parte nella soap opera La valle dei pini. Risale a due anni dopo l'esordio nel cinema con un piccolo ruolo in Il calamaro e la balena di Noah Baumbach.

Per gli amanti delle Serie Tv, la sua popolarità esplode nel 2014 con il ruolo di Lisa Tragnetti, amante di Woody Harrelson in True Detective.
In questa Serie lei colpisce gli spettatori non solo per le sue doti di attrice ma anche per il fisico prorompente che viene mostrato in tutta la sua bellezza in un'indimenticabile scena di nudo. In realtà la Daddario prima di quel ruolo era già apparsa in altre Serie di spessore, come I Soprano e Life on Mars, ma senza lasciare particolarmente il segno. I più attenti possono ricordarla per il ruolo di Kate Moreau in White Collar, come interesse amoroso di Neal Caffrey. Ancora più bravi quelli che l'hanno riconosciuta in Parenthood nel ruolo di Rachel, un personaggio ricorrente.
Se la fama televisiva arriva nel 2014, quella cinematografica raggiunge le stelle nel 2010 quando Alexandra Daddario ottiene il ruolo di Annabeth nella serie di film di Percy Jackson e gli dei dell'Olimpo. Al fianco di Logan Lerman, la Daddario ottiene la fama ma non resta imprigionata nel ruolo di attrice da film per adolescenti. Altre pellicole che hanno arricchito la sua carriera da protagonista sono l'horror Bereavement, Non aprite quella porta e Burying the Ex. Quest'ultimo film l'ha addirittura portata al Festival di Venezia nel 2014.
Recentemente è anche apparsa con piccoli ruoli nelle Serie New Girl e The Last Man on Earth ma, come spesso accade per attori che sono consacrati da parti televisive apparentemente secondarie, l'attrice sta ricevendo maggiori soddisfazioni grazie al cinema.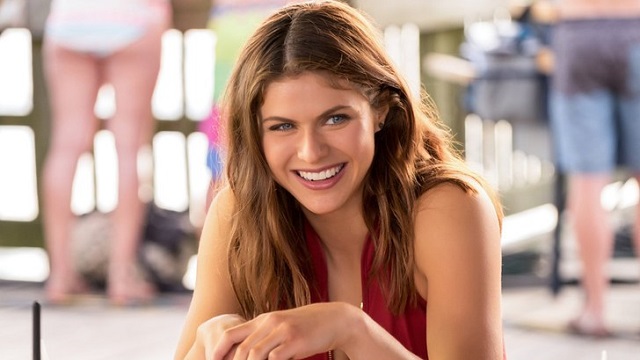 L'anno scorso l'abbiamo vista in Baywatch, adattamento cinematografico della famosissima Serie Tv anni Novanta, e in The Layover, film diretto da William H. Macy, il nostro amato Frank Gallagher. Nel 2018 ha anche recitato nella commedia romantica di Netflix When We First Met nel ruolo di Avery Martin.
Ma non è tutto! Alexandra Daddario ha ancora tanto da offrirci: la lista di ruoli che interpreterà è lunga!
Sarà presto una delle protagoniste di The Choice. Nel film, adattamento di un romanzo di Nicholas Sparks, Alexandra recita accanto a Maggie Grace e Teresa Palmer. Reciterà inoltre nel film diretto da Stacie Passon We Have Always Lived in the Castle. Anche questo è un adattamento di un romanzo, questa volta di un thriller di Shirley Jackson. L'attrice è stata anche scelta per il thriller psicologico Nomis e il film drammatico I Am Not a Bird. Dotata come attrice ma curiosa di esplorare altri ruoli, la Daddario sarà produttrice esecutiva e protagonista del film Sai tenere un segreto? basato sul romanzo di Sophie Kinsella.
Questi film sono ancora in lavorazione, ma nel frattempo possiamo consolarci facendo un rewatch delle sue apparizioni televisive (riguardare True Detective è ovviamente sempre un piacere), o seguirla sulle pagine dei tabloid. Pare infatti sia stata pizzicata a cena (con tanto di bacio) con il conduttore della MSNBC Ari Melber. Dopo Baywatch si mormorava di un interesse per Zac Efron, ma evidentemente era solo gossip!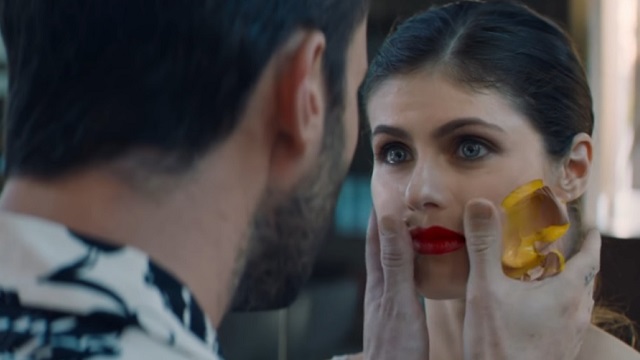 Se però i pettegolezzi non fanno per voi e volete vederla in scena, potete godervela anche nei video musicali Radioactive degli Imagine Dragons e Wait dei Maroon 5!
In questo articolo avevamo visto che anche Olivia Wilde oltre a cinema e tv ha partecipato a dei video musicali. Bellissima anche Misha Barton nel video di Goodbye My Lover di James Blunt. Cos'hanno in comune queste attrici? Sicuramente la volontà di mettersi in gioco in ambiti diversi, lontani dalla recitazione vera e propria. Uscendo dalla loro comfort zone queste artiste hanno evitato di essere ricordate per un unico ruolo, dimostrando di saperci fare sul serio.
Proprio per questo ci auguriamo che presto la Daddario possa tornare sul piccolo schermo, magari con un ruolo da protagonista. Se l'attrice è piaciuta tanto al pubblico comparendo qua e là in pochi episodi di Serie Tv famose, cosa pensate potrebbe fare in una Serie tutta per lei?
Noi ci aspettiamo grandi cose!