Cala il sipario su una delle più belle, se non addirittura la più bella, serie tv Marvel che sia stata prodotta. Daredevil convince, conferma le aspettative e alza il tiro tanto da distanziarsi nettamente da qualsiasi prodotto della casa delle idee, non soltanto dagli altri tre personaggi sviluppati da Netflix (Jessica Jones, Iron Fist e Luke Cage). Quest'ultima puntata chiude una stagione che aveva dato aspettative molto alte ai fan, ma nessuno attendeva tale enorme successo che rasenta quasi la perfezione.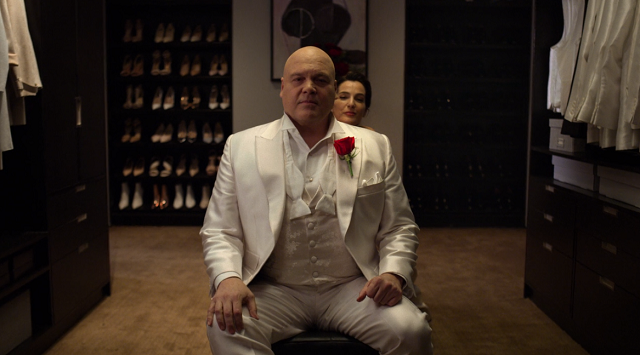 Ogni punto viene collegato dal filo cremisi grondante di sangue. Non vi sono stati sconti in questa stagione: morti innocenti, pestaggi al limite della sopportazione e manipolazioni in tutte le sue forme. Il tutto riuscendo a essere incastrato in un'ambientazione reale. Scordiamoci gli eventi un po' "sovrannaturali" di The Defenders. Nessuno resuscita qui, nessuno ha strani poteri nei pugni.
Si torna così maledettamente con i piedi per terra da far male. Il dolore di Matt è così percettibile che lo senti tuo. Le botte, la fede persa, le speranze annullate da qualsiasi parte si guardi. Sei lì a terra con il personaggio principale che a stento riuscirà ad alzarsi.
Un particolare sconcertante, che ricorre in varie scene, è l'adrenalina che fai tua: i piani sequenza, i combattimenti, la regia fluida rendono il tutto così vivido da farti saltare dalla sedia per entrare nello schermo a combattere con Matt. Se dovessi scegliere i momenti più belli di questa stagione, al primo posto ci sarebbe sicuramente la scena di Matt in carcere. Un crescendo che non lascia spazio al fiato. 
Ma una delle scene più belle, stilisticamente parlando, è la scelta di raccontare il passato di Dex in bianco in nero, con Fisk che lo studia. Una narrazione particolare, innovativa, che non stona e ci avvicina al modo di pensare di Kingpin, il suo modo di analizzare la prossima mossa.
And I have shown him… that a man without hope is a man without fear.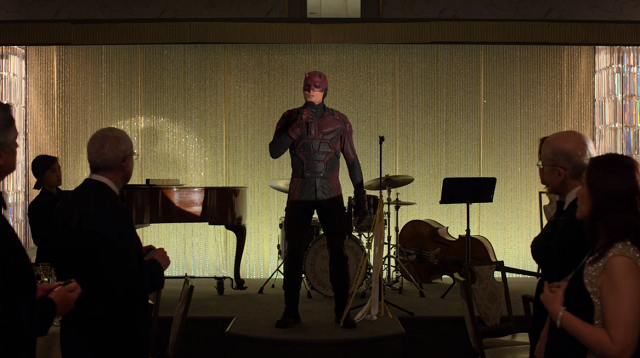 C'è poco da dire riguardo a Kingpin: un potere fondato sulla corruzione per riuscire ad avere la donna che ama. Un uomo bestiale (con un'ingenuità infantile) che vacilla nel momento in cui si intacca la sicurezza di Vanessa. Potrà sembrare macchinoso come epilogo di Daredevil, ma in fondo è quello che ci si aspettava. E in questo momento, l'attesa non è noiosa: se Matt avesse ceduto all'oscurità, tutto il percorso intrapreso in questa stagione sarebbe stato vano.
L'integrità di Karen, la fede cieca nella giustizia da parte di Foggy, la morale rispolverata da suor Maggie, il perdono come lascito di padre Lantom. I temi principali che hanno dato vita a una storia concreta che ha caratterizzato in maniera ottima i personaggi. Questo lo si nota soprattutto in quelli nuovi presentati in questa stagione: Ben Poindexter e Ray Nadeem. Quest'ultimo, il meglio riuscito, ha fatto comprendere le due anime della corruzione. Se Dex è scivolato quasi in maniera naturale tra le fila di Fisk, Nadeem ne è stato inghiottito senza accorgersene. La sua natura da "buono" ha fatto comprendere che anche i migliori possono cadere. Ma non per questo devono arrendersi.
Il video finale con la sua testimonianza è uno spiraglio di luce in mezzo all'oscurità, ma ahimè pagato con la vita.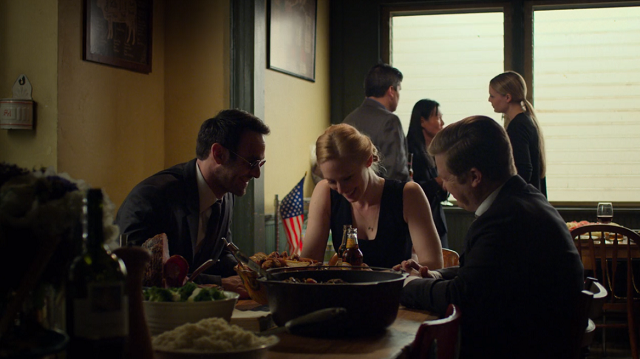 Hai un cuore generoso, Matthew. Riesci a vedere del buono in tanto dolore.
Nella seconda stagione, la netta distinzione tra Daredevil e The Punisher era quella riguardante l'assassinio. Non è importante quanto male ha provocato un boss mafioso o i suoi scagnozzi, se ti arrendi all'oscurità non sei degno di considerarti diverso da loro. L'etica e la morale perduta agli inizi trovano la strada di casa nell'ultimo episodio. Matt Murdock è tornato se stesso dopo un viaggio di sofferenza non semplice. Ha toccato il fondo per poter rinascere. Ha visto l'oscurità stessa, ma ha scelto la luce.
E anche se non è esattamente la perfezione, questa stagione è stata una vera rinascita per Daredevil. Che forse sia lo spiraglio di luce per gli altri prodotti Marvel televisivi?