Quando abbiamo saputo che ci sarebbe stata una "nuova" Sabrina eravamo entusiasti, ma anche molto incuriositi. Kiernan Shipka in Chilling Adventures of Sabrina ha dato vita a una streghetta molto diversa da quella a cui eravamo abituati da bambini, ma l'abbiamo amata ugualmente.
Chilling Adventures of Sabrina, infatti, pur essendo molto diversa dalla più classica Sabrina, Vita da Strega ci ha tenuti con gli occhi incollati allo schermo.
Un mix perfetto tra fantasy, horror e drama che ci ha fatti rimanere di stucco in più di un'occasione. La Sabrina che ricordavamo noi, infatti, era molto meno inquietante e dark!
Oggi, tuttavia, non vogliamo parlarvi della serie tv. La maggior parte di noi conosce la bella Melissa Joan Hart, la "prima" Sabrina, ma chi è invece Kiernan Shipka? Scopriamolo insieme!
1) È ALLERGICA AI GATTI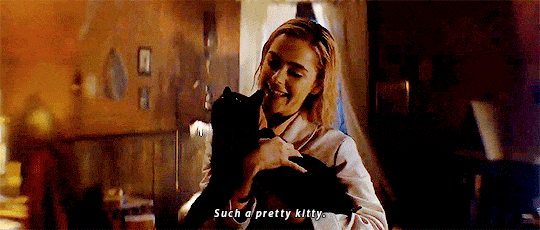 Sabrina Spellman allergica ai gatti? Ebbene sì! Kiernan Shipka ha ammesso di essere allergica al pelo dei gatti. Girare Chilling Adventures of Sabrina, infatti, è stato piuttosto difficile. Tra Salem e i pollini di Vancouver (città in cui è stata girata la serie tv) ha avuto non pochi problemi alla pelle. L'attrice stessa ha dichiarato:
Penso che anche la mancanza di sonno e lo stress fisico e mentale di intraprendere questo gigantesco lavoro abbiano fatto 'arrabbiare la mia pelle'