# #
Con l'esplosione della mania per le Serie Tv le sigle hanno iniziato ad avere un ruolo sempre maggiore. Non sono parte integrante della narrazione ma aiutano lo spettatore a capire (leggi qui) e a entrare nel mood di quella serie. Ci sono opening che riassumono in pochi secondi il tema e l'atmosfera, per esempio la scritta sbiadita e disturbante di Lost o i fumi chimici di Breaking Bad.
Ci sono poi sigle che raccontano la vicenda: una su tutte la sigla di Game of Thrones, in cui i luoghi meccanizzati di Westeros ed Essos variano con l'avanzare della storia. Questa seconda tipologia di sigla altro non è che una narrazione a parte, un approfondimento della vicenda non narrativo ma altamente schematico. La sigla di Big Little Lies, serie targata HBO la cui seconda stagione è prevista per il 2019 (leggi qui la notizia), ne è un esempio emblematico, un minuto e trenta di elementi che vogliono introdurci alla storia e a ciò che la caratterizza.
# #
La musica
Il brano che accompagna la sigla di Big Little Lies è "Cold Little Heart" dell'artista londinese Michael Kiwanuka, tratto dall'album "Love & Hate". Il testo è una supplica alla persona amata, una richiesta di verità e onestà per salvare una storia ormai logorata. Basta teatrini, basta bugie, non si può continuare a mentire né a se stessi né all'altro. Un tema che ricalca pienamente la vicenda di Big Little Lies e le storie personali delle protagoniste.
Did you ever notice I've been ashamed?
All my life I've been playing games
We can try and hide it, it's all the same.
I've been losing you one day at a time.
Bleeding, I'm bleeding!
My cold little heart…
Oh I… I can't stand myself.
Prima parte: le mamme
La sigla di Big Little Lies si apre con un focus sulle protagoniste. I nomi delle tre attrici principali – Reese Whiterspoon, Nicole Kidman, Shailene Woodley – si alternano ai loro volti presi di spalle e di sbieco mentre sono intente a guidare. Segue per ciascuna un primo piano sul proprio pargolo seduto sul sedile posteriore. Il loro viso non è perfettamente visibile ma è possibile intuire per tutte e tre un'espressione un po' annoiata ma decisa. Sono tre donne diverse ma la prima parte della sigla ne sottolinea il tratto comune: il loro essere madre.
# #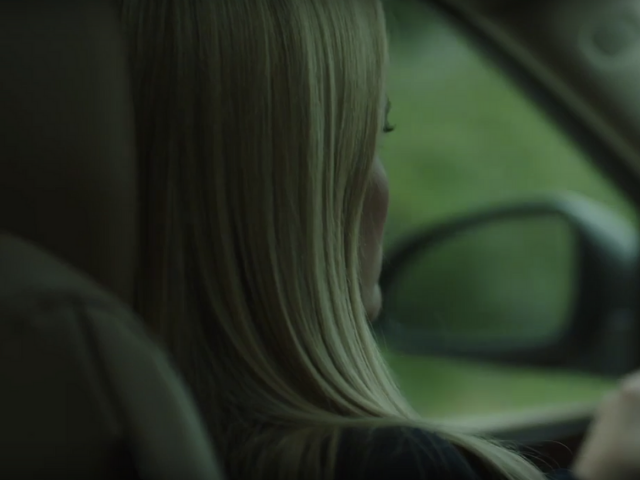 Seconda parte: il mare
Dal secondo 0:17 al secondo 0:42 si passa agli attori comprimari – tra cui figurano le due protagoniste "aggiuntive" Laura Dern e Zoe Kravitz, anche loro individuate da una inquadratura di sbieco – e si arriva al tacito personaggio principale di tutta la vicenda: il mare. Nell'arco dei sette episodi sono innumerevoli le scene in cui le onde si infrangono sugli scogli, ma non solo. Quasi tutte le donne hanno una casa con balcone vista mare sul quale fermarsi a riflettere guardando l'orizzonte.
La mamma single Jane/Shailene Woodley cammina sotto choc sulla riva subito dopo aver subito una violenza sessuale. Sempre Jane, dopo una crisi di pianto, immagina di correre e buttarsi da una scogliera. Per concludere, la scena finale dell'ultimo episodio con le cinque donne che giocano in riva al mare insieme ai loro figli, quando finalmente si è dipanato il bandolo della matassa e vittima e omicida sono stati rivelati.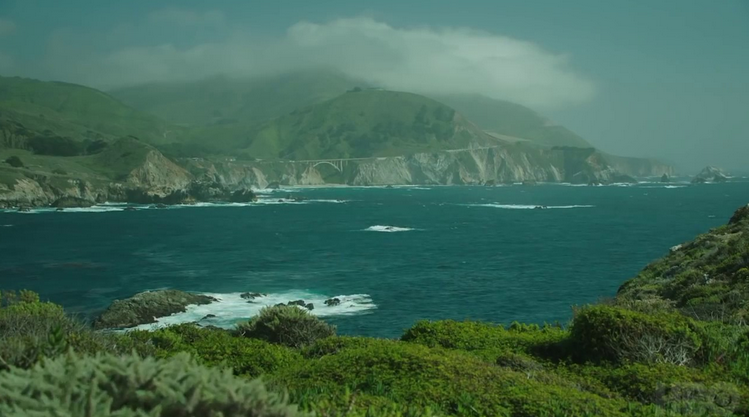 Terza parte: i bambini
Dal minuto 0:42 al minuto 0:53 c'è la causa scatenante di tutta la vicenda: gli adorabili bambini. È infatti da un litigio tra compagni di scuola che ha inizio la storia. Senza quello scontro non ci sarebbe stata la crisi che ha poi portato agli schieramenti tra mamme, alla rivelazione di traumi passati e alla nascita di drammi personali. Tutti elementi che hanno concorso alla risoluzione drammatica della vicenda. È divertente vederli saltellare incontro alla telecamera e pensare a come una innocente storia tra bambini abbia poi portato a tutti i momenti di tensione che conosciamo.

Quarta parte: gli elementi del dramma
Dallo 0:53 al 1:12 si alternano e sovrappongono immagini di onde contro gli scogli ed elementi che caratterizzano tutta la narrazione. Il sesso e la passione (rappresentati da dei corpi avvinghiati), l'omicidio (la pistola), il dramma personale (un breve frame di Madeline/Reese Whiterspoon che si passa una mano tra i capelli al secodo 0:55 in un gesto di esasperazione). In questa parte il brano di Kiwanuka subisce un climax: è il ritornello.
And I know in my heart, in this cold heart
I can live or I can die, I believe if I just try…
You believe in you and I…

Quinta parte: la serata finale
La quinta parte si apre con le cinque protagoniste femminili che ricalcano le movenze dei bambini di poco prima e si avvicinano ammiccando alla telecamera, indossando degli outfit ispirati ai film di Audrey Hepburn. Sono gli outfit della serata finale, quella in cui, tra un'esibizione canora e un drink di troppo, ci scappa il morto. È interessante la scelta di inserire nella parte finale della sigla proprio in riferimento al momento di chiusura della vicenda, alla rivelazione finale e alla risoluzione, quasi a sottolineare il fatto che la struttura stessa della serie ruota attorno a quell'unica, folle serata.