C'era una volta un quartiere residenziale, o una cittadina in riva al mare, c'erano villette a schiera e splendide case sulla spiaggia, c'erano matrimoni apparentemente felici e figli ingannevolmente amorevoli. C'erano una volta delle facciate e dietro di loro, nascoste, c'erano loro: le donne. Le vite in apparenza perfette delle donne, madri e mogli devote, stavano per spogliarsi della loro parvenza illusoria e svelarsi per quello che erano davvero. Era il 3 ottobre 2004 e su ABC andava in onda il primo episodio di Desperate Housewives, la serie tv che per otto stagioni avrebbe mostrato al mondo a che recita continua potessero ridursi le esistenze delle protagoniste.
La prima crepa nella facciata costruita dalle quattro casalinghe è costituita dal suicidio dell'amica e vicina Mary Alice Young (Brenda Strong) nell'episodio pilota della serie. Una morte improvvisa che rappresenta un duplice attentato alla tanto ricercata perfezione esteriore della vita di Bree (Marcia Cross), Gabrielle (Eva Longoria), Lynette (Felicity Huffman) e Susan (Teri Hatcher), perché da una parte svela che la dolce Mary Alice serbava segreti tanto grandi quanto inaspettati, dall'altra obbliga le quattro a fare i conti con quello che invece sono loro a nascondere.
Ognuna delle donne al centro della narrazione è riconducibile a una rappresentazione abbastanza stereotipata dei personaggi femminili (non diversamente da quanto accadeva in Sex and the City), ma lo stereotipo viene sezionato, indagato e quindi mostrato per ciò che è: una maschera che le protagoniste indossano per impedire agli altri di vederle per quello che sono, ossia delle casalinghe disperate (da cui il titolo Desperate Housewives).
Bree Van de Kamp è la perfetta donna di casa, dotata di maniere impeccabili e invidiata da tutte le residenti di Wisteria Lane (la via fittizia in cui è ambientata la serie), ma il suo matrimonio è al capolinea e i suoi figli non fanno mistero del loro disprezzo per la madre. Lynette Scavo è la donna in carriera che si è vista costretta a rimanere a casa per crescere i quattro figli (tutti sotto i sei anni all'inizio della serie), una scelta che rimpiange in ogni istante e che la rende profondamente infelice. Gabrielle Solis è la femme fatale ricca e bellissima, alla quale il marito non dedica alcuna attenzione e che quindi si consola intrattenendo una relazione extraconiugale con il giardiniere minorenne. Susan Mayer è la donna della porta accanto, l'unica delle quattro che all'inizio della prima stagione ha già rinunciato a mantenere un'apparenza di vita perfetta, illusione crollata dopo che il marito la lascia per la segretaria.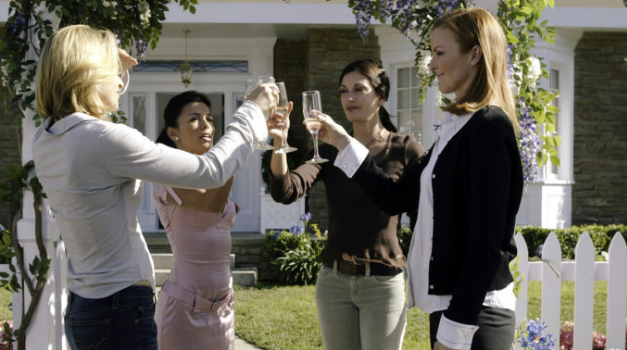 Il suicidio di Mary Alice è per le quattro un campanello d'allarme che risuona forte per ricordare loro quali conseguenze estreme comporti nascondersi dietro una maschera. Bree, Gabrielle, Lynette e Susan vivono in gabbie più o meno dorate, imprigionate dalle bugie che raccontano a se stesse ancora prima che agli altri. Quella nella gabbia è una vita solitaria, fatta di apparenze pronte a sciogliersi come neve al sole se solo le casalinghe disperate abbassano la guardia per un secondo. Non c'è spazio per gli errori e a volte nemmeno per le emozioni, non possono uscire dal personaggio o la loro imperfezione verrebbe scoperta, il trucco svelato.
La grande novità rappresentata da Desperate Housewives, che la rende una serie per certi aspetti unica nel suo genere, è quella di aver esplorato le conseguenze della finzione, della pressione che le donne sentono per essere impeccabili come madri, mogli e amiche e come questa possa portarle a mentire a se stesse. Nel corso delle otto stagioni le quattro protagoniste imparano a mostrarsi per quello che sono, smettono di cercare di ricostruire l'apparenza di una vita perfetta e cedono alle loro debolezze, svelano la loro umanità e quindi fallibilità. Eppure questo svelamento non è mai totale o definitivo, tanto che i segreti si fanno via via più scottanti, più importanti da difendere, fino a diventare letteralmente un corpo da seppellire, un crimine da occultare.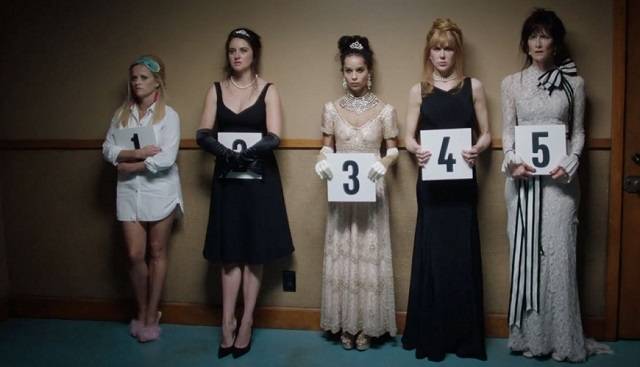 Non sono molto diversi i segreti che nascondono le Monterey 5, le protagoniste di Big Little Lies, serie HBO andata in onda tra il 2017 e il 2019 (e che non è escluso ritorni per una terza stagione).
Inizialmente concepita come miniserie, il successo travolgente di Big Little Lies ha comportato un suo ritorno per la seconda stagione, che include nel cast ben quattro premi Oscar: Reese Witherspoon, Nicole Kidman, Laura Dern e persino la regina di Hollywood Meryl Streep.
La serie HBO è ambientata nella cittadina californiana di Monterey, nella quale si trasferisce Jane (Shailene Woodley), ragazza madre single tormentata da un passato che non le dà tregua, perché lo vede costantemente nel volto di suo figlio. L'arrivo di Jane mette in moto una catena di eventi che porterà a tragiche conseguenze, esponendo alla luce la rete di segreti e finzioni che caratterizza la città. Protagoniste di Big Little Lies sono, oltre a Jane, Celeste, Madeline, Renata e Bonnie (Zoe Kravitz), cinque donne diversissime continuamente sotto scrutinio nel loro ruolo di madri, ciascuna a suo modo impegnata a mantenere le apparenze e seppellire i propri scheletri nell'armadio.
Rispetto a Desperate Housewives, che fa ampio uso di elementi tipici della commedia e della telenovela, Big Little Lies ha toni più apertamente drammatici.
Non potendo fare ricorso alla commedia per ribaltare gli stereotipi e mostrare ironicamente tutte le contraddizioni tra l'immagine che le protagoniste mostrano di sé e la realtà, Big Little Lies evidenzia la tipizzazione delle cinque donne in modelli precostituiti di femminilità dando maggiore attenzione al contrasto tra di loro (soprattutto nella prima stagione). Madeline ha scelto di stare a casa per essere una madre a tempo pieno e che non ha mai superato la vergogna di essere stata lasciata dal primo marito, perciò passa le sue giornate a cercare di dimostrare a tutti che madre perfetta è denigrando chi a differenza sua non ha rinunciato alla carriera.
Ecco allora che Renata diventa il bersaglio prediletto delle critiche di Madeline, lei che è una business woman di successo che cerca di fare ammenda per la sua mancanza di attenzioni nei confronti della figlia organizzandole feste e riempiendola di regali, impegnandosi per dimostrare che ha tutto sotto controllo anche quando è a pezzi. Bonnie è giovane e bellissima, ma ha commesso il terribile errore di sposare l'ex marito di Madeline e dargli una figlia, perciò a Monterey è vista come una paria, costretta a mantenere una facciata di gentilezza e tranquillità quando invece vorrebbe solo sentirsi accettata. Infine vi sono Celeste e Jane, i cui segreti sono più oscuri e dolorosi. Le due sono madri amorevoli, un amore che vuole nascondere la realtà della violenza di cui Jane è stata vittima e di cui Celeste non riesce a liberarsi, intrappolata in una relazione abusiva con un marito agli occhi del mondo impeccabile.
Le Monterey 5, come vengono soprannominate le protagoniste di Big Little Lies, vivono nella finzione. La loro è una finzione più consapevole rispetto a quella delle quattro desperate housewives, prodotto di un lavoro costante di mistificazione della realtà per se stesse e per gli altri, che costa loro fatica e le imprigiona dietro maschere opprimenti. Proprio come in Desperate Housewives, la serie HBO indaga le conseguenze della finzione, a livello psicologico e non solo, conseguenze che per quanto estreme possano sembrare sulla carta si dispiegano nel corso della serie con una naturalezza tale da apparire inevitabili.
Il fascino senza tempo della vita segreta delle protagoniste di Desperate Housewives e Big Little Lies sta nello svelare ciò che siamo consapevoli si celi dietro la facciata che chi incontriamo ci mostra, quell'identità che spesso dimentichiamo di indagare.
Guardare queste serie è un promemoria, ci ricorda di scavare a fondo e non fidarci mai delle apparenze.
LEGGI ANCHE – Desperate Housewives: ma quanto ci manca?