Episodio finale di terza stagione: due ragazzi in una tenda ascoltano una storia. Il più grande la racconta al minore e lo rassicura sul buon esito della fiaba. É questa l'immagine d'apertura della 3×10 di Better Call Saul. L'immagine dell'amore fraterno di Chuck e Jim, della loro unione, del sostegno reciproco. The Adventures of Mabel, opera di Harry Thurston Peck, è l'espressione dell'infanzia condivisa. Dell'età dorata in cui tutto è più semplice e il lieto fine scontato.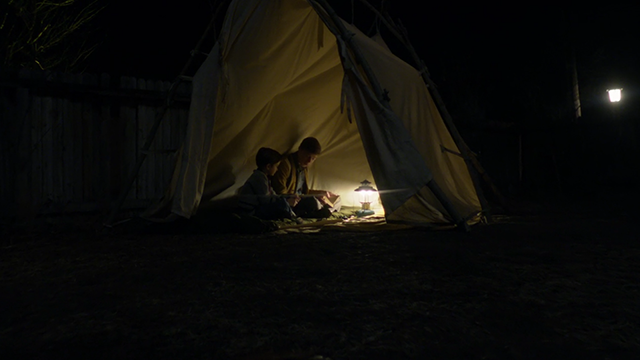 Il rimando è all'episodio di apertura di questa stagione di Better Call Saul, intitolato per l'appunto Mabel.
In quell'occasione, nelle primissime scene, Chuck ricorda a Jim di quando gli leggeva quei racconti. Ma ribadisce subito che non lo perdonerà per quello che ha fatto. Che dovrà pagare. La distanza tra i due momenti -infanzia ed età adulta- è già allora irreversibile. La chiusura del cerchio nella 3×10 non può perciò che restituirci la stessa frattura insanabile acuitasi in tutta questa stagione.
Mabel, la dolce bimba protagonista dei racconti di Peck, si è smarrita nel bosco. Tutto le appare diversissimo e non riesce a decidere da che parte andare. È la condizione dei due fratelli: persi, disorientati e impauriti. Divisi. Gilligan ci ricorda che la vita non è una favola. Nella vita per uscire dal bosco bisogna andare nella giusta direzione. La traduzione italiana rende incomprensibilmente "she heard the howl again" come "Ecco di nuovo il gufo" con un clamoroso errore. "Howl" è ululato. "Owl" gufo. Così facendo si perde completamente il senso del racconto.
Quell'ululato richiama infatti il grido di battaglia di Slippin' Jimmy nella famosa truffa del portafoglio (1×04).
E soprattutto rievoca la frase che segnò il cambio di direzione nell'infanzia del futuro Saul. L'abbiamo ricordata più volte lungo questa stagione perché riveste un'importanza unica. "Al mondo ci sono lupi e pecore, ragazzo. Lupi e pecore. Decidi tu cosa vuoi diventare" (2×07). Sono le parole che il piccolo Jim sente pronunciare da un truffatore che approfitta della bontà del padre, proprietario di un piccolo market. Da quel momento inizieranno i furtarelli di Jimmy alla cassa del negozio.
James McGill ha scelto una sua strada. Ha scelto di essere un lupo. Di non accettare che i prepotenti l'abbiano vinta, di combattere con tutti i mezzi per affermarsi e imporsi. Ha scelto di azzannare la vita e il prossimo costruendosi una morale punitiva di cui lui rappresenta giudice e boia. Punisce con i suoi raggiri chiunque ritenga meritevole della condanna.
Eppure nello scorso episodio qualcosa è cambiato. Saul è venuto meno a questa sua logica, ha fatto del male alla povera Irene solo per tornaconto. Ha colpito un'innocente.
Nella favola di Mabel all'ululato seguirà l'incontro con il lupo. Un lupo dal volto gentile che la guiderà verso casa. Un lupo che sarà suo amico. La bambina ricongiuntasi con la nonna chiederà: "Non penso che un lupo farebbe del male a una bambina, vero nonna?". La risposta non ammetterà repliche: "Il lupo è il peggior animale al mondo! […] Ti mangerebbe tutta, ogni tua parte!". Ma Mabel (come non riconoscere l'avvocatessa Kim in lei?) sorriderà, sapendo in cuor suo quanto l'anziana sia in errore.
In quella nonna rivediamo Chuck. Rivediamo la sicurezza affranta di chi non è disposto a concedere il beneficio del dubbio. Non lo ha mai concesso a Jim. Non ha mai creduto davvero in lui, nel suo cambiamento.
"Tu continuerai a fare del male. Jimmy, è nella tua natura! Fai soffrire le persone, le offendi, le inganni, le umili. E poi metti in scena questo teatrino. So bene che per te non lo è [un teatrino]. Non ho dubbi sulla tua buonafede. Ma a che serve ora mangiarsi le mani o rattristarsi. Se non cambierai il tuo modo di essere -e non lo farai mai- perché non evitare di sana pianta questa inutile pratica? Tanto alla fine farai del male a chi ti sta attorno. È inevitabile."
Per Chuck il lupo perde il pelo ma non il vizio. La sua esperienza lo ha portato a questa conclusione. Ritiene che il fratello provi un sincero pentimento ma sa che a questo pentimento non seguirà mai una conversione totale. Questa convinzione non può che pesare su Jim, non può che portarlo a credere lui stesso nell'impossibilità di un cambiamento. Chuck dall'alto del suo morboso attaccamento al "diritto positivo" non si è mai reso conto che al fratello non è mai servita una punizione rigida. È sempre e solo servito l'appoggio di una guida che credesse in lui e nel suo cambiamento. Ma quella guida non può essere Chuck. E a questo punto non può essere nessuno.
Nella storia di Mabel al lupo buono si affianca anche un lupo cattivo che rinfaccerà al primo di venire meno alla sua natura più profonda facendo amicizia con la bimba e con gli altri animali.
Sono le due anime di Jim. Le due personalità della sua morale. Da un lato l'istintuale propensione all'inganno ("Non sono bravo a costruire. Sai, io sono un eccellente guastatore", rivela a Kim), dall'altro la bontà di chi vuole solo fare la cosa migliore. Questo tormento tutto interiore lo domina sempre. Lo fa soprattutto in questo episodio di Better Call Saul in cui cerca di rimediare alla situazione di Irene. E alla fine ci riesce, sacrificando se stesso.
Se nella 3×09 avevamo avuto l'impressione di una "conversione al male" di Saul, ora lo vediamo nuovamente tornare sui suoi passi. Ci sono due lupi in Saul, due anime. E nessuna è ancora riuscita a imporsi sull'altra. Solo quando perderà quel senso di rimorso e quella volontà di "fare la cosa giusta", solo allora emergerà il Saul Goodman di Breaking Bad. Ma forse quel Saul non è mai esistito. Forse è solo la facciata di un uomo troppo complesso per essere racchiuso in uno stereotipo di bus-bench laywer, avvocato "alla buona".
Uno spazio importante in questa recensione di Better Call Saul va riservato anche e soprattutto a Chuck.
Howard ha sintetizzato al meglio l'evoluzione di questo uomo, integerrimo ma ormai dilaniato da vendette personali e egoismi mai risolti. C'è qualcosa di radicato in lui, qualcosa che lo ha accompagnato per tutta la sua vita: quell'invidia per il fratello, quel bisogno di giustizia a tutti i costi, quell'urgenza di affermazione personale. In questa stagione tutte le sue fisime non hanno fatto altro che acuirsi di pari passo con la sua malattia.
Un problema psicologico, acuto e irrisolto che si accentua di fronte alle grandi incertezze della sua vita. La mancanza di rapporti umani autentici, l'appoggio incondizionato di qualcuno che lo ami, il riconoscimento sincero del suo valore. Non ha mai avuto pienamente nessuna di queste cose. Il suo senso rigido e intransigente di giustizia lo ha allontanato da tutti. E continua a farlo anche in questo episodio di Better Call Saul. Rifiuta la riconciliazione col fratello, mette alle strette Howard e lo studio legale. Quella HHM che ha aiutato a tirare su dal nulla e per la quale avrebbe fatto di tutto in passato.
Howard si dimostra risoluto e disposto a tutto pur di preservare il suo studio. Ci rimette personalmente e prova a Chuck che il suo non è un capriccio ma una decisione irreversibile. Il giovane ma esperto avvocato si è accorto che l'anziano membro dello studio legale non è più in condizioni di lavorare senza nuocere al bene della HHM. E per questo lo allontana.
Chuck si ritrova privato anche di quest'ultimo appiglio, di quel campo da battaglia che per lui era il dibattimento in aula. L'unico luogo in cui vedeva riconosciuto se stesso gli è ora interdetto. Ha perso tutto.
La malattia, tenuta sotto controllo egregiamente con esercizi specifici, non è mai stata sconfitta. Le sue cause sono profonde e psicologiche, difficilmente superabili perché investono la sua intera esistenza. Non è un caso allora che si ripresenti acutizzandosi in forme incontrollate molto prossime alla psicosi proprio in questo momento. Ha rifiutato il perdono di Jimmy, è stato abbandonato dalla HHM. È solo. Distrugge casa in cerca del congegno elettronico che fa girare il contatore. Non lo trova.
È in uno stato molto simile al coma auto-indotto della 1×05. Quanto volontario è il suo nevrotico battere sul tavolo? Non siamo in grado di dirlo. Ma è inevitabile pensare che qualcosa in lui, più o meno cosciente, lo abbia indotto al finale auto-annientamento. La casa giace tappezzata da buchi in ogni dove, espressione di quei gorghi oscuri che si annidano nella sua mente. Il fuoco avvolge tutto.
Sulle trame secondarie abbiamo viste confermate le supposizioni brillantemente avanzate in questo articolo anticipatore. La storia di Mike può dirsi conclusa ormai assoldato da Gus. Così come quella di Hector, colpito dall'infarto tanto atteso.
Rimane comunque da analizzare il rapporto tra Kim e Jim, la futura evoluzione del protagonista di Better Call Saul verso l'immagine che abbiamo restituita in Breaking Bad e, perché no, conoscere il futuro di Nacho e le avventure di Mike. Insomma, parole di Gould a parte, noi tutti ci auguriamo che Better Call Saul non ci lasci proprio ora. Anche se concludere adesso vorrebbe dire farlo da vincitori assoluti. Chapeau.