Anne with an E (in italiano Chiamatemi Anna), in onda su Netflix in collaborazione con l'emittente canadese CBC Television, si è conclusa questo gennaio con la terza e ultima stagione. La cancellazione dello show, ispirato alla serie di romanzi Anna dai capelli rossi di Lucy Maud Montgomery, ha generato un gran malcontento tra i fan più affezionati, che si sono subito lanciati in petizioni nella speranza di salvare la loro serie tv del cuore (qui ve ne parliamo meglio).
Per fortuna Anne with an E non è terminata con un cliffhanger, nonostante la conclusione non fosse stata prevista.
La serie ci ha invece lasciato con un sorriso dolceamaro sulle labbra e con un finale aperto sul futuro dei giovani protagonisti che possiamo immaginarci anche fuori dallo schermo.
Poteva andarci peggio, quindi, ma, forse proprio per colpa di questa cancellazione inaspettata (tra l'altro annunciata prima ancora che la terza stagione andasse in onda su Netflix), l'ultima stagione di Anne with an E ha lasciato qualche questione in sospeso. Ecco quindi cinque domande sulle quali lo show non ci ha dato alcuna risposta.
1) Quali altre donne di Avonlea faranno parte del Consiglio insieme a Mrs Lynde?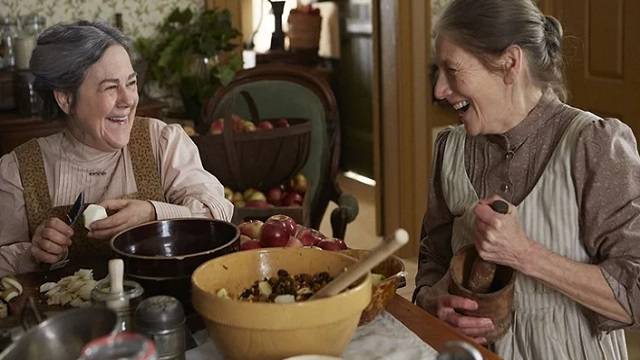 Come sappiamo dalle stagioni precedenti, Mrs Lynde è l'unica donna a far parte del Consiglio di Avonlea, insieme al parroco della città e ad altri tre uomini. Nel corso della terza stagione, gli uomini del consiglio si scagliano contro il giornalino della scuola, a causa di un articolo particolarmente tagliente di Anne sul ruolo della donna, rubando la macchina da stampa e dando fuoco per errore all'edificio.
Mrs Lynde però, grazie all'aiuto di Marilla, riesce a vendicarsi, convincendoli ad aggiungere tre donne al Consiglio, in modo che ci sia equità di genere tra i membri. A malincuore, i gentiluomini accettano, ma non sapremo mai quali sono le tre donne che faranno parte del Consiglio di Avonlea. Un'ovvia scelta sarebbe sicuramente Marilla, non solo per il suo rapporto con Mrs Lynde, ma anche per la grande evoluzione che la donna ha compiuto, grazie anche all'influenza di Anne, mettendo in discussione molte delle sue credenze. Un'altra probabile componente potrebbe essere proprio Miss Stacy, che ha portato ad Avonlea una ventata d'aria fresca, sia come insegnante che come componente della comunità. Infine, un posto potrebbe spettare a una delle "madri progressiste", per esempio la madre di Diana. Ma sono solo ipotesi.