Mingherlina, brillante, dagli iconici capelli rossi e dalle mille lentiggini. Anne Shirley è il cuore pulsante del delizioso Anne with an E, l'ultima rivisitazione del classico di L.M. Montgomery. La prima volta che la incontriamo, l'entusiasta protagonista è pronta per il suo futuro a Prince Edward Island. Una location dalla bellezza talmente suggestiva da farle assumere un ruolo integrante nella storia: prati fioriti, scogliere rugginose, oceani di fiordalisi e alberi in fiore. Un luogo rigoglioso e terapeutico, esattamente come la serie che ci risolleva grazie a una storia di arguzia e tenerezza.
In un mondo dello spettacolo in cui l'azione e i super poteri stanno prendendo il sopravvento, Anne with an E è una boccata d'aria fresca. Nella sua semplicità, lo show riesce a scaldare il cuore dando valore ai piccoli gesti, alle relazioni e alla necessità di accettarsi. Le fantasie dei personaggi non ci alienano mai dalla realtà che ci viene raccontata. Ci spingono invece ad analizzarla e a capirne le complessità, così come le gioie. Quello di Anne è un mondo in cui leggerezza e umorismo si alternano a dramma e tensione, senza mai cadere nell'esagerazione. Se si considera poi il tocco di modernità, ai pregi della serie possiamo aggiungere anche l'attualità.
Ogni elemento è impeccabile e risuona nello spettatore, grazie a un adattamento orchestrato alla perfezione da Moira Walley-Beckett.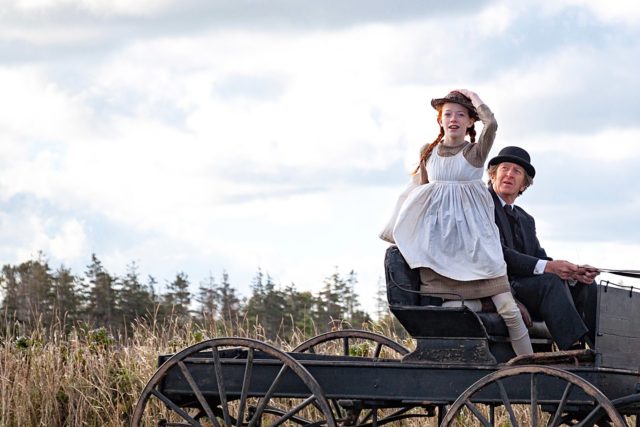 La pace pastorale di Green Gables fa da sfondo all'avvincente storia dell'audace, fantasiosa Anne. Logorroica e dall'animo romantico, la protagonista risplende di luce propria. Il suo entusiasmo è contagioso, la sua immaginazione un'adorabile stranezza. Ma sotto le lentiggini si nasconde anche qualcos'altro. Per quanto positiva ed energica, la protagonista ha un passato difficile alle spalle. Maltrattata e sminuita in orfanotrofio, Anne soffre e ha frequenti flashback che ci mostrano quanto sia ancora tormentata dai traumi passati. Ed è così che diventa chiaro quanto quella fantasia irrinunciabile sia anche un meccanismo di difesa e sopravvivenza.
Preferisco immaginare che ricordare. I ricordi brutti però sono molto insistenti
L'angoscia che caratterizza Anne possiamo ritrovarla anche nel ritratto dell'ambientazione di fine '800: la fame, gli abusi verbali, le difficoltà economiche e la cultura agricola. Disagi reali che ogni personaggio, chi più chi meno, dovrà affrontare nel corso della storia. Ma nonostante l'oscurità, la serie non perde mai la sua essenziale tenerezza, incarnata alla perfezione dal rapporto fra Anne e i Cuthbert. I due fratelli, introversi e vicini alla vecchiaia, torneranno alla vita grazie all'incontro fortuito con la piccola Shirley.
Anne with an E è molto più divertente e audace rispetto al libro originale.
Walley-Beckett rompe gli schemi e trova una formula con cui riproporre con freschezza una storia che già conosciamo. La narrazione vibrante e dal passo sicuro ci guida verso nuove avventure e personaggi. Alle peripezie dal respiro sempre più grande seguono preziose lezioni, affrontate con umorismo e leggerezza: l'importanza delle buone azioni, la celebrazione della vita, il rispetto della natura. Ma lo show non si ferma qui, spingendoci verso argomenti ancora più attuali.
Il bullismo, l'accettazione e l'inclusività sono temi che vengono trattati con immediata franchezza. Basti pensare alla storyline di Sebastian. Di origini afro-caraibiche, è il primo personaggio di colore che incontriamo nella serie. Attraverso la sua introduzione, lo show affronta di petto il tema del razzismo e delle ingiustizie razziali, pur caratterizzando Bash anche al di là della sua etnia. Lo stesso stratagemma viene utilizzato con Zia Josephine e Cole. La loro storia offre la possibilità di parlare di ruoli di genere, identità sessuale e auto-accettazione.
Tutto ciò ci viene raccontato attraverso gli occhi della protagonista, caratterizzata da un'apertura mentale ed empatia assoluta. Essendo stata rigettata e giudicata durante l'infanzia, non può che sentirsi vicina agli emarginati dell'universo di Anne with an E.
Con il suo sedicesimo compleanno, la serie si tinge di un senso di maggiore maturità. La protagonista è sulla cuspide dell'età adulta e si sta preparando per il futuro al college. Forte delle proprie convinzioni e principi, Anne si fa portavoce del diritto di stampa e dei diritti delle donne. Per quanto sembri voler proiettare la serie nel 21° secolo, questa storyline funziona perfettamente. Conoscendo la protagonista e le cause che le stanno a cuore, le nuove tematiche affrontante si allineano con la storia che già conosciamo.
Le ragazze possono fare le stesse cose che fa un maschio e anche di più!
Continuando la tradizione di modernizzazione, la serie introduce un personaggio tanto dolce quanto sventurato: Ka'kwet, una ragazzina indigena con cui Anne lega subito. La new entry sarà fondamentale per portare alla luce la questione dei nativi in Canada e il genocidio culturale al quale furono sottoposti.
I sogni accademici e le nuove amicizie s'intrecciano poi con i primi tumulti del cuore. La chimica fra Anne e Gilbert è innegabile, così come la dolcezza e genuinità del loro rapporto. L'amore, da sempre uno dei punti focali della serie, sarà la forza motrice di Anne che, ormai pronta per il futuro, sente la necessità di comprendere il proprio passato. La ricerca delle sue origini non è priva di ostacoli, ma il momento in cui Anne scopre il proprio retaggio vale più di qualsiasi sofferenza. Il legame con il mondo naturale e quello accademico sono sempre state nel suo sangue. Con questa nuova consapevolezza, la ragazza può andare avanti con la pace nel cuore. Così come gli spettatori.
Caro Gilbert, assomiglio a mia madre
La ragazzina emarginata senza meta si trasforma in una donna amata e di successo. Anne cresce e sboccia, ma non perde quell'immaginazione necessaria per conservare la leggerezza dell'infanzia.
La storia di Anne è semplice, sì. Ma anche incredibilmente umana.
Per tre stagioni, i colori caldi dello show si sono diffusi attraverso i nostri display, regalandoci la stessa sensazione di una tazza di tè caldo o di un buon libro. Una rarità, ad essere sinceri. Sono pochi i prodotti in grado di sprigionare un calore così appagante negli spettatori. Questa meravigliosa serie vi permetterà di rifugiarvi in un mondo intimo e accogliente, dove poter trovare un racconto universale sull'amore, la famiglia e l'amicizia. E, per quanto ridotto ai confini di uno schermo, quel racconto avrà comunque il sapore di casa.