Ally McBeal e Sex and the City sono due diversi approcci al tentativo di raccontare l'universo femminile. Abbiamo parlato più volte della potenza rivoluzionaria di una serie come Sex and the City in termini di racconto dell'emancipazione femminile. Ci siamo confrontati su quanto la serie HBO, ideata da Darren Star, abbia modificato profondamente i canoni entro i quali venivano raccontate le donne in televisione. Prima del 1998, anno di uscita della prima stagione di Sex and the City, le donne non si erano mai sentite protagoniste di una serie che le mostrasse assolutamente affrancate da stereotipi e tabù.
Dopo Sex and the City molte donne hanno iniziato a parlare di sesso. Non più solo in via strettamente confidenziale all'amica di una vita, ma a tutto il mondo, se qualcuno avesse voluto ascoltare. Il Cosmopolitan è diventato il drink per eccellenza, le Manolo Blahnik uno status quo e i ricci di Carrie sono diventati l'emblema delle donne del nuovo millennio: indipendenti e intraprendenti.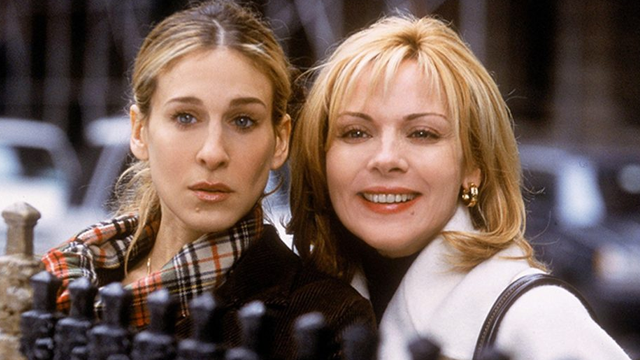 Ma se non fosse stata proprio Sex and the City a rivoluzionare questi parametri? Se prima di Carrie Bradshaw noi avessimo già conosciuto in una serie tv una donna forte, indipendente e libera da sovrastrutture?
Ebbene sì. Ally McBeal è la nostra donna. Nel 1997 l'emittente FOX ha mandato in onda la prima stagione di una serie tv che raccontava le vicende di una giovane donna appena diventata avvocato, con una fantasia fuori dal normale e tante ambizioni. Questa era la premessa di Ally McBeal, la serie tv prodotta da David E. Kelley, che ha davvero temperato la matita con cui venivano disegnate le donne in tv.
Già dal pilot della serie viene tessuta la trama di un interessante intrigo amoroso, Ally (Calista Flockhart)  viene infatti assunta nello studio legale di un suo vecchio compagno di università e scopre che uno degli avvocati dello studio altri non è che il suo primo (e unico) grande amore: Billy. Ma Billy si è sposato con una collega e Ally non può fare altro che provare a gestire al meglio le sue emozioni per salvaguardare il lavoro. La prima sostanziale differenza con Sex and the City risiede nel carattere di Ally confrontato con quello di Carrie. Ally è una sognatrice, è vero, ma è chiaro sin da subito che non è alla sfrenata ricerca del grande amore. Anzi, nei rapporti sentimentali risulta quasi scostante e la vediamo perdere la testa per un uomo in pochissime occasioni.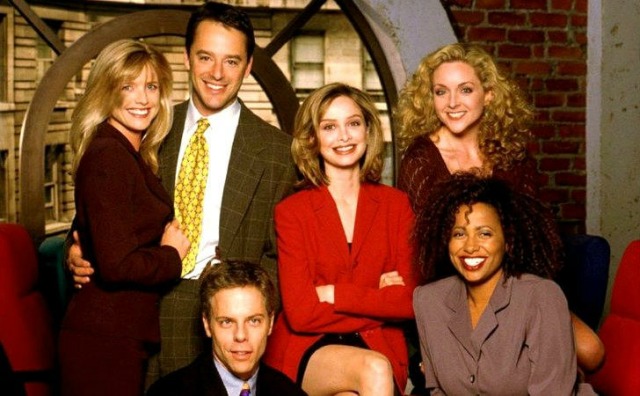 Ma anche lei vive il sesso liberamente, senza sovrastrutture di sorta e senza investirci sempre il cuore.
Iconico, a riguardo, l'episodio in cui Ally, dopo aver fantasticato per giorni su un uomo sconosciuto con il quale aveva scambiato uno sguardo fugace ad un auto-lavaggio, decide realizzare la sua fantasia e concedersi un'avventura con lui. Mentre Sex and the City è una serie "femminocentrica" che non ha importanti personaggi maschili che fungano da contrappeso e luogo di confronto, se non i fidanzati/mariti delle protagoniste, Ally McBeal ha pur sempre una donna come protagonista ma ce la mostra a confronto con l'universo maschile. Ally ha amici uomini, colleghi uomini che hanno un ruolo nelle sue storyline e ci viene mostrata scontrarsi alla pari con degli uomini nell'ambito professionale.
In Ally McBeal la totale parificazione di genere passa dai bagni dello studio. Misti, per uomini e donne. In effetti nello studio legale della serie tra gli avvocati che ne fanno parte la tensione sessuale si taglia con il coltello e uno dei soci fondatori, Fish, è un uomo un po' promiscuo. Ma Ally dimostra da subito un carattere indomito, per nulla scalfito dalla situazione. Carrie avrebbe mai accettato di condividere il bagno con altri uomini sul posto di lavoro? Chissà.
Ma se Ally McBeal è stata pionieristica anche a confronto con Sex and the City, perché tale merito non le viene riconosciuto?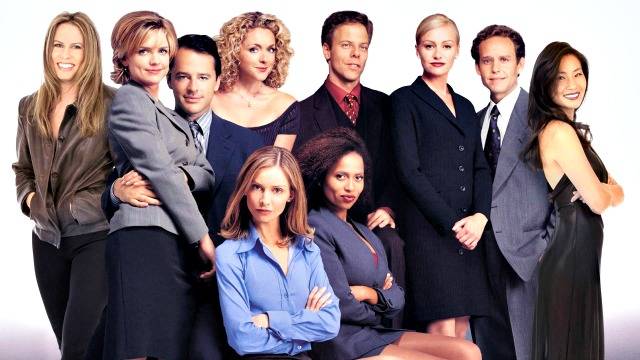 Io credo che la risposta sia da ricercare nell'impostazione surreale e visionaria di Ally McBeal. La serie, infatti, vive delle speculazioni e dei viaggi mentali della protagonista, che, come dicevamo, ha una grande fantasia. Ally sogna a occhi aperti per la gran parte del tempo e quando "rinviene" ha un'espressione stralunata e confusa. Ally fantastica su piccole vendette e desideri nascosti. Ma la vera rivoluzione non è nella sopraffazione del genere maschile bensì nella parificazione. Dunque nemmeno nel suo fantasticare Ally è unica. Nella serie infatti è presente un personaggio maschile estremamente simile a lei, il suo migliore amico si direbbe, John. Famoso per "evocare" Barry White nella sua mente al fine di superare situazioni di crisi.
È probabilmente questo che ha reso Ally McBeal meno credibile come rappresentazione del genere femminile. Il suo paradossale, e a volte demenziale, modo di rappresentare personaggi in realtà assai più complessi. Il contesto in cui ha luogo Sex and the City sono le strade di Manhattan, il posto più reale al mondo. Non uno studio legale pieno di soggetti al limite del patologico. Eppure Sex and the City pecca di credibilità in modi meno evidenti, più sottili. Come Carrie che si permette il suo stile di vita in un appartamento al centro della città pubblicando UN articolo a settimana.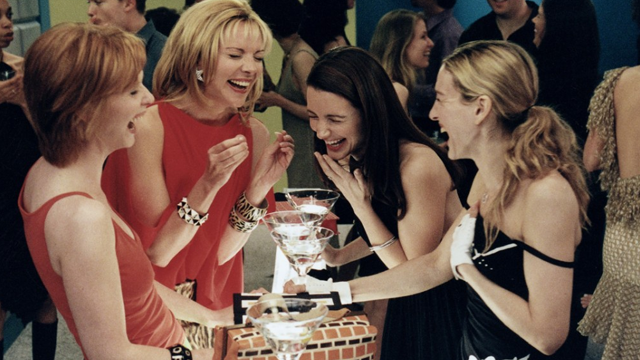 Tuttavia, il tempo restituisce tutto a tutti. Mentre oggi persino i più accaniti fan di SATCH riconoscono che, sotto molti punti di vista, la serie sia adesso obsoleta, Ally McBeal non ha tempo. Non cade mai nel retorico e ha come protagonista una donna più attenta alle sue dissertazioni professionali che agli abiti da indossare. Per lei l'amore non è un catenaccio ma il rispetto dei desideri dell'altro, così quando Larry (Robert Downey Jr), l'amore di Ally, si trasferisce in un'altra città lei non strepita, non lo aggredisce. Soffre ma lo lascia andare comprendendo i suoi bisogni. Carrie nella stessa situazione, con Big in partenza per la Francia invece, ha tirato fuori il peggio di sè.
Ancora oggi, io sceglierei di farmi rappresentare da Ally: emancipata, libera, ma più vera di Carrie pur nella sua bizzarria.