Sono passati quasi vent'anni da quando Ally McBeal andò in onda per la prima volta su Italia 1 nei caldi pomeriggi d'estate. Da allora sono state migliaia le serie tv passate sotto i ponti. Ancor più il numero di personaggi iconici cui ci siamo affezionati. Eppure, durante alcune delle più grigie giornate londinesi della mia realtà, è ancora la coreografia di My First My Last My Everything di Barry White messa in scena degli avvocati di Boston – capeggiati dal "Biscottino" – il video che guardo per darmi la carica al mattino. Chiunque abbia amato il legal drama di David E. Kelley (quello che ha davvero rivoluzionato un genere, anche se Sex & The City se ne è preso il merito) potrebbe chiudere gli occhi in questo esatto momento e muovere le spalle a tempo di "We got it together don't we…"
Un'adrenalina unica per la quale dobbiamo ringraziare lui, l'avvocato più bislacco degli Stati Uniti: John Cage.
Chiamato così in onore dell'omonimo compositore americano, tra i pionieri della musica contemporanea. Colui che utilizzò la musica per "ascoltare il silenzio". Un tributo non casuale se si considera l'eccentricità per la quale il personaggio di Ally McBeal verrà sempre ricordato. Ovvero la capacità di proiettarsi in un mondo tutto suo in cui sentire la musica di Barry White e seguirne il ritmo ballando nel più totale silenzio esterno. Una connessione che dà a John – che non è un campione di relazioni umane – la forza di affrontare i momenti cruciali della sua vita. Dai processi più complicati alla vita sentimentale che, a differenza di quella professionale, non rappresenta il suo cavallo di battaglia. John Cage infatti è un personaggio costruito sulla falsa riga del tipico genio incompreso ma con caratteristiche tutt'altro che stereotipate. Le stesse che fanno di lui un personaggio unico e irripetibile del panorama televisivo.
Cage infatti è un timido e introverso 35enne, sensibile ma goffo nei rapporti sociali, ancor più in quelli sentimentali. Caratterizzato da una montagna di bizzarrie che ne fanno quello che Ling definisce IL funny little man. È noto tuttavia per saper contrapporre a tutto ciò un'impronta forte e decisa alle sue vesti professionali. In tribunale, infatti, il Biscottino della Cage&Fish (tale è il soprannome col quale tutti lo conoscono) è un avvocato estremamente competente, persuasivo oltre ogni immaginazione, noto a colleghi, clienti e giudici per la dialettica impeccabile, le arringhe "interattive" e l'inimitabile stile legale.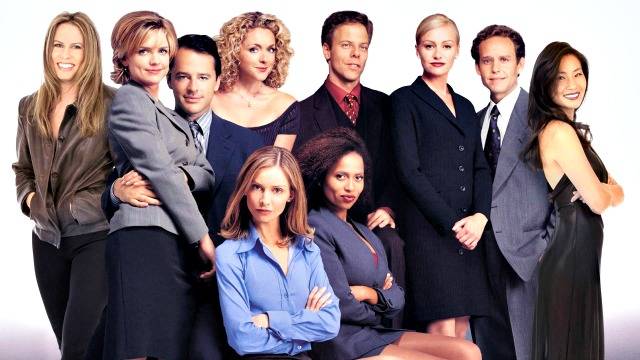 Eppure più di una ragione fa sì che John Cage spicchi tra gli associati dello studio di cui è fondatore. Prima tra tutte l'esser costruito per incarnare l'alter ego maschile della protagonista che dà il nome alla serie. Dunque nel suo ruolo di specchio riflesso della collega e amica Ally McBeal, John rappresenta l'essenza dell'uomo timido, intelligente ma socialmente inadatto. Che non fa di tutto una questione di sesso ed esplora a fondo i sentimenti, spesso a discapito della propria sicurezza in campo affettivo. Non è un caso che il personaggio affianchi regolarmente quello di Richard Fish, migliore amico di John e tuttavia suo esatto contrario. Cinico, materialista, superficiale nei rapporti sentimentali e molto sicuro di sé.
John Cage è un uomo in cui convivono e danzano assieme incredibili capacità e limiti da combattere.
Nonostante sia l'uomo che tutti temono in tribunale, è altresì l'uomo che forse non molti vorrebbero essere al di fuori dell'aula di tribunale. Sa come ribaltare schemi di pensiero e giudizi frettolosi a colpi di dialettica eppure è privo di quella sicurezza che ci si aspetterebbe da un brillante professionista come lui. Una dicotomia intrigante resa ancor più interessante dal gran numero di stranezze che caratterizzano il suo personaggio. Dal telecomando che tira lo sciacquone a distanza al fischio del naso. Dalla terapia del sorriso a Steffan, rana domestica addestrata. Fino ad arrivare al gran numero di trucchi poco ortodossi praticati in aula per distrarre la giuria nei momenti di tensione. Per non dimenticare le citazioni rimaste nel gergo comune americano per anni e che lo hanno reso famoso.
"I'm going to take a moment" e "Poughkeepsie" sono solo due dei tanti esempi, ma sicuramente i più famosi. Il primo infatti è sempre seguito da un vero e proprio momento di silenzio osservato anche nei momenti socialmente meno opportuni. Mentre il secondo è un escamotage per eludere la sua balbuzie che ci ha regalato risate da perdere il fiato.
E potremmo citare decine di altre caratteristiche che hanno reso John Cage forse il miglior personaggio di Ally McBeal. Senza dubbio unico nel suo genere e difficile da imitare.
Ecco perché a distanza di vent'anni lo ricordiamo ancora preparare le arringhe conclusive facendo su e giù per lo studio a piedi scalzi. O i suoi inaspettati numeri di ginnastica nel bagno dello studio, o le campane che accompagnavano il suo trionfale ingresso in tribunale. Ma più di ogni altra cosa non dimenticheremo mai la sua connessione con Barry White, la coreografia davanti lo specchio, la "angry dance". Momenti di televisione indimenticabili, tanto nel 1997 quanto oggi.
Per questo un posto nel cuore di ogni appassionato della serie dovrebbe essere per sempre riservato a Peter MacNicol, attore interprete del Biscottino. Capace come forse nessun altro di dar vita a un personaggio tanto versatile. Entrare nei panni di John Cage non era una sfida semplice, ma MacNicol l'ha vinta a mani basse, riuscendo a regalarci uno dei migliori personaggi televisivi mai creati. Uno di cui a distanza di vent'anni sentiamo ancora la mancanza, o per lo meno la nostalgia.
Per questo adesso, prenderò un minuto per me.