Stiamo per salutare per sempre il cast di The Big Bang Theory: il 16 maggio andrà in onda l'ultimo episodio della sitcom di Chuck Lorre. Ma per fortuna almeno potremo continuare a seguire le avventure di Sheldon. Infatti lo spin-off è stato rinnovato per altre due stagioni (leggi qui per saperne di più). E dopo aver visto la 2×19 di Young Sheldon non possiamo non desiderare che questo show duri il più possibile.
Sheldon nella 2×19 di Young Sheldon ha intrapreso una nuova avventura: si è candidato a presidente degli studenti!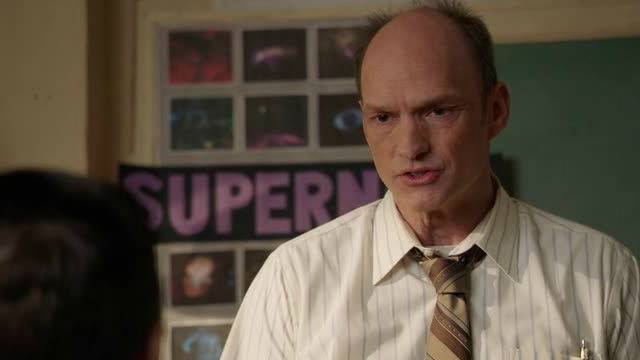 Il piccolo genio ha preso questa decisione dopo aver notato che nella sua scuola il preside destinava un basso budget all'acquisto delle attrezzature scientifiche, mentre spendeva molto denaro per la squadra di football. Dopo averne discusso a cena con la sua famiglia, ha deciso di seguire il consiglio di sua nonna e di andare a protestare dal preside. L'uomo però non si è lasciato convincere dalle parole di Sheldon. Il ragazzo ha capito che avrebbe dovuto fare qualcosa di più. Ha deciso quindi di candidarsi a presidente degli studenti. La professoressa però lo ha messo in guardia: nonostante il suo proposito fosse nobile, era davvero improbabile che potesse vincere perché era poco popolare a scuola.
Tornato a casa, Sheldon ha comunicato alla madre il suo progetto, ma neanche lei è sembrata molto sicura che il suo Shelly potesse vincere.
Il protagonista ha chiamato quindi il sindaco di Medford e gli ha chiesto qualche consiglio per riuscire a raggiungere il suo obiettivo. L'uomo, anziché trattarlo con sufficienza, gli ha suggerito di essere più gentile con gli elettori: avrebbe dovuto parlare con loro e stringergli le mani. Sebbene a Sheldon non piacesse molto l'idea di toccare le mani di tante persone, ha deciso di provarci. Ha iniziato quindi a distribuire spille e volantini e a tentare di fare colpo sugli elettori.
Tuttavia il ragazzo si è reso conto che la sua sfidante, Nell Cavanaugh, non solo era più popolare di lui ma anche più scorretta!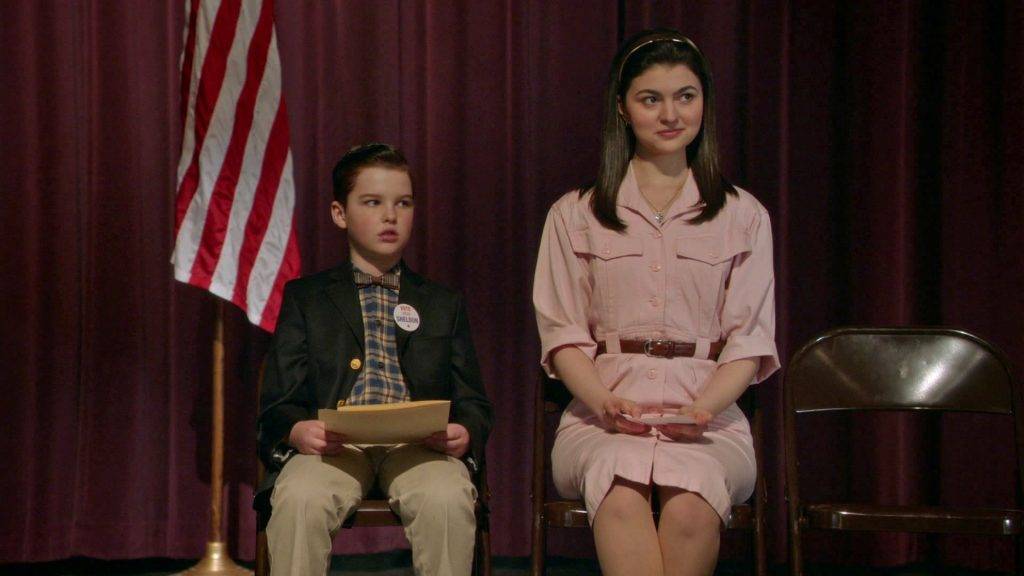 La ragazza ha infatti detto a tutti che se Sheldon fosse diventato presidente degli studenti, avrebbe aumentato i compiti per tutti. Il piccolo genio all'inizio ha pensato di ricambiare il favore e ha chiesto a sua sorella Missy di trovare qualche informazione infamante contro Nell. Successivamente però ha deciso di non abbassarsi al suo livello e di provare a vincere solo con la forza delle sue idee. Per potercela fare però avrebbe dovuto superare un altro ostacolo: la sua paura di parlare in pubblico. Doveva infatti tenere un discorso per convincere gli studenti a votarlo, ma era consapevole di non esserne capace.
Dopo che i consigli del professor Sturgis non si sono rivelati utili, ha ricevuto un grande aiuto da suo padre (leggi qui come è cambiato George da The Big Bang Theory a Young Sheldon).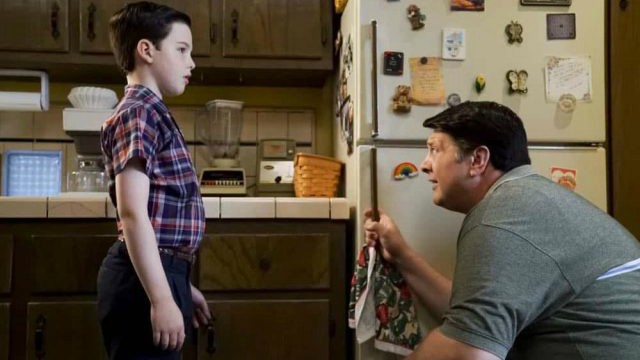 George gli ha confessato che all'inizio anche lui provava molto imbarazzo all'idea di rivolgersi ai giocatori della sua squadra negli spogliatoi. Ha anche aiutato Sheldon a capire che era molto più coraggioso di quanto credeva: in fin dei conti era un ragazzino che frequentava il liceo ed era sempre riuscito a cavarsela. Incitato da queste parole, il genio si è recato a scuola pieno di fiducia in sé stesso e pronto a pronunciare il suo brillante discorso.
Ma Nell Cavanaugh ha deciso di fare un altro sgambetto al suo avversario: ha rivelato a tutti che Sheldon non solo odiava il football, ma era anche ateo. Ormai sembrava che il genio fosse destinato a perdere, ma è riuscito a ribaltare la situazione con l'aiuto di Missy. Il ragazzo infatti ha rivelato a tutti quello che sua sorella aveva scoperto: Nell non è una vera texana ma è nata a New York. In questo modo è diventato il presidente degli studenti! Come prima cosa ha deciso di eliminare il nome di Dio dal giuramento alla bandiera, ma il preside glielo ha impedito.
La 2×19 di Young Sheldon, intitolata A Political Campaign and a Candy Land Cheater, è stata davvero una puntata divertente!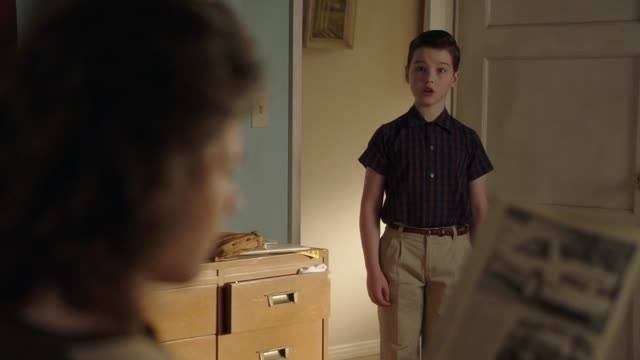 Se c'è una cosa che sappiamo di Sheldon è che lui non piace alla gente. Lo ha dimostrato tante volte in The Big Bang Theory e lo ha fatto anche in questo episodio di Young Sheldon. Eppure è riuscito a convincere i suoi compagni con un piccolo ma fondamentale aiuto di Missy. La ragazzina è stata la vera star di questa puntata: non solo ci ha fatto ridere con le sue battute, ma ha anche mostrato quanto sia brava a trovare informazioni e a barare. Un altro personaggio che ci ha colpito nella 2×19 di Young Sheldon è stato George Cooper. L'uomo infatti non solo ha supportato la campagna elettorale di suo figlio (sebbene andasse contro i suoi interessi), ma ci ha anche commosso con il discorso che ha rivolto a suo figlio.
Questa puntata è stata sicuramente divertente e piena di momenti esilaranti, ma mi ha mostrato quanto lo spin-off si sta allontanando sempre di più dalla trama della serie madre. Mostrare come Sheldon abbia superato la paura di parlare in pubblico non è stata un'ottima idea dato che nelle prime stagioni di The Big Bang Theory il ragazzo aveva ancora questo timore. Inoltre è indubbio che l'ambiente scolastico gli fosse meno ostile di quanto lui abbia detto tante volte nella sitcom.
Nonostante questa piccola critica, non posso non promuovere a pieni voti questa nuova puntata!