When They See Us è una serie tv che tutti dovrebbero vedere, a prescindere dalle convinzioni politiche.
Possiamo credere nel mostro nero, possiamo pensare che i porti debbano restare aperti, non è questo il senso di questo articolo.
Penso che When They See Us sia una serie che tutti debbano vedere perché, seppure sia ambientato in un decennio del tutto diverso dall'attuale, ci lascia un ritratto anche di questo momento storico.
Ci sono cinque ragazzini di colore, di estrazione sociale medio-bassa, ma comunque bravi ragazzi, perché non sempre la povertà implica un degrado morale. C'è una vittima, Trisha Meili, bella, bionda e bianca: una donna che pagherà per il resto della propria vita uno stupro violento e barbaro. C'è un'opinione pubblica che pretende, giustamente, un colpevole.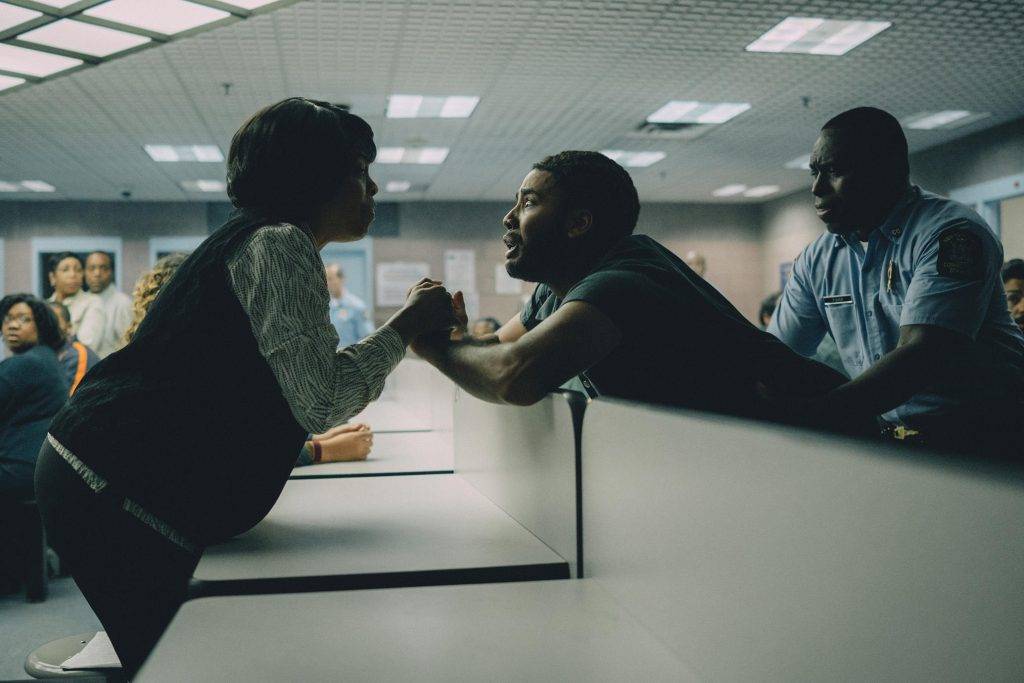 Il problema di fondo è dato dalle modalità in cui questo colpevole viene incriminato.
I ragazzini vengono prelevati, interrogati, percossi, umiliati, terrorizzati. Hanno dai 14 ai 16 anni, sono praticamente dei bambini e vengono trattati come degli adulti.
Ora, gli Stati Uniti d'America sono una realtà ben diversa dalla nostra, ma la visione di When They See Us è qualcosa che deve fare suonare un campanello anche alle nostre orecchie.
Andiamo per punti.
La brutalità della polizia è evidente. Si cerca un colpevole, a ogni costo e i ragazzini sono terrorizzati, perché i metodi usati nei loro confronti sono illegali. Stefano Cucchi e Federico Aldrovandi sono due casi eclatanti accaduti in Italia che rappresentano gli abusi della polizia. Ripeto, sono scenari diversi, ma sui quali non si può sorvolare.
Il fatto che gli accusati siano di colore ha un peso ben preciso. Un crimine commesso da un bianco non è uguale a uno commesso da un nero, specialmente in America e negarlo è solo una perdita di tempo.
When They See Us racconta l'inferno attraversato da cinque ragazzini accusati ingiustamente di una lista di reati talmente lunga che farebbe tremare i polsi a chiunque. Pagano per il colore della loro pelle, perché fossero stati arrestati cinque ragazzini bianchi di buona famiglia, le cose sarebbero andate in maniera diversa.
Questa serie mette molta carne al fuoco e ha il pregio di riuscire a reggere il confronto con i tempi moderni: la storia è ambientata nel 1989, ma sarebbe attualissima anche oggi.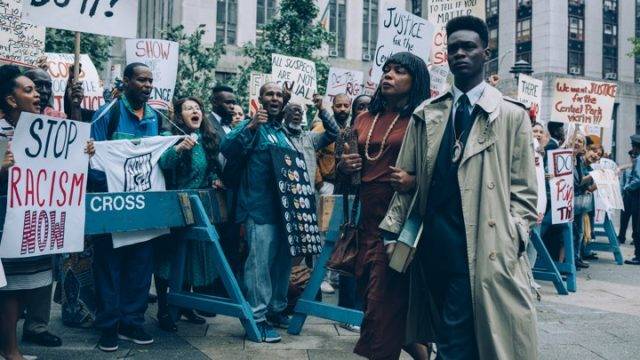 C'è una legittima paura nei confronti di un barbaro atto di violenza. Trisha Meili ha subito danni permanenti che hanno per sempre condizionato la sua vita. È giusto avere paura, è normale, è un segno del nostro essere esseri umani.
C'è il desiderio di prendere i colpevoli, altrettanto legittimo.
Fin qui tutto bene: stiamo parlando di sentimenti comunque umani.
Ma quando il desiderio di trovare un colpevole diventa una mera caccia alle streghe tutto cambia.
Nei confronti dei presunti colpevoli c'è un atteggiamento che definire persecutorio è poco. Va bene trovare il colpevole, ma ci sono dei limiti.
Sono ragazzini che dovrebbero essere almeno assistiti dai genitori, magari anche da avvocati. Non dovrebbero subire intimidazioni, minacce o ricatti.
Chi guarda When They See Us è obbligato a guardarsi dentro, a interrogarsi se tutto questo debba essere accettato come normale, oppure ci sia, in effetti, qualcosa che non va.
Certo. C'è molto che non va.
La modalità dell'arresto non è normale: quei ragazzi erano lì per caso. Non ci sono prove effettive e anche questo non è normale. La polizia cattura dei minorenni che rilasciano una confessione estorta a suon di minacce, botte e false promesse e non è normale.
Non è normale che, pur di trovare un capro espiatorio, dei giovani innocenti passino i migliori anni della loro vita in prigione. Si perdono tutto: i primi amori, i baci, la scuola, la vita coi genitori, gli amici. Nessuno di loro avrà indietro gli anni passati in prigione, nessuno sarà risarcito per aver pagato per un crimine mai commesso.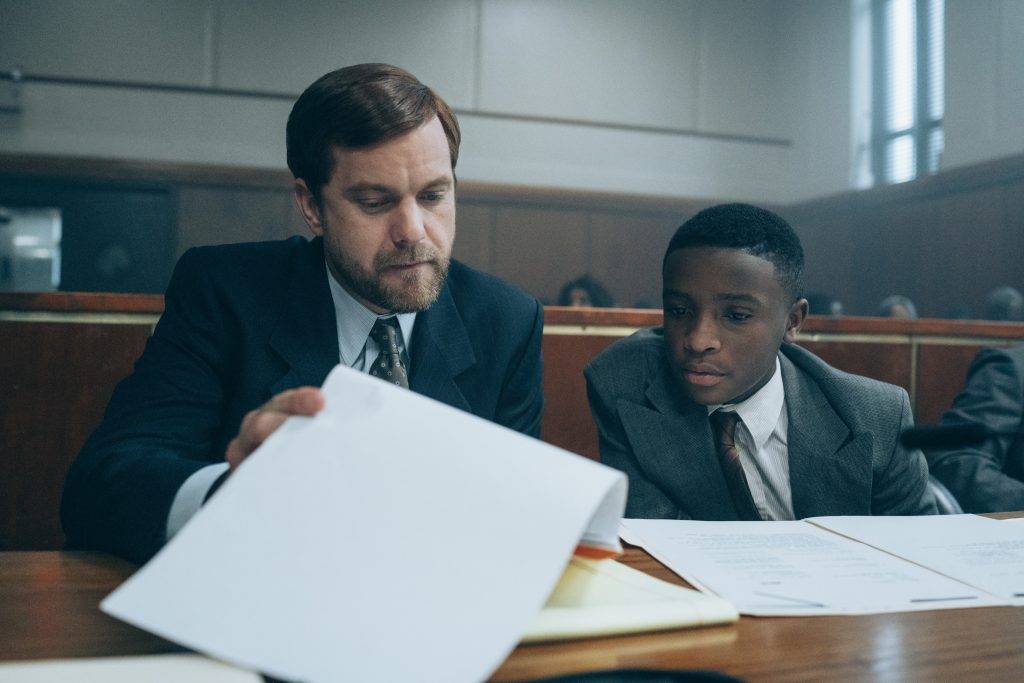 Non si può fare a meno di provare pietà per queste povere vite bruciate, sprecate, annichilite da un senso di giustizia tutto sbagliato.
Siamo costretti a guardarci dentro e a chiederci cosa siamo disposti a sacrificare pur di avere giustizia. E quando la giustizia diventa mera sete di vendetta? Perché la condanna è effettiva anche in assenza di prove? Ha un peso il fatto che gli accusati siano ragazzi di colore?
When They See Us è una bella serie tv (mi piacerebbe citare una frase che mi è rimasta nelle orecchie dagli anni '90 in riferimento a Trainspotting: It's not nice and it's not meant to be), ma non nel senso letterale del termine: vi arrabbierete, piangerete e sarete costretti a guardarvi allo specchio. È una sveglia: non dormiamo sulle ingiustizie, non ci adagiamo su una semplice ricerca del colpevole.
When They See Us ci insegna: la giustizia a ogni costo, ma al giusto costo.