Attenzione: evitate la lettura se non volete imbattervi in spoiler pesanti sulla 6×06 di Vikings
Dire di no al destino non è un'opzione contemplabile, soprattutto se si vive in un mondo fatalista come quello di Vikings. Un mondo straordinario, nel quale passato, presente e futuro sembrano correre ineluttabilmente in un unico binario verso una meta definita fin dall'inizio. Abbiamo imparato a capirlo nel tempo, attraverso una miriade di profezie puntualmente divenute realtà. E ne abbiamo avuto conferma per l'ennesima volta nell'ultimo episodio andato in onda nei giorni scorsi, Death and the Serpent.
Un episodio bellissimo, fino a dieci minuti dalla fine. Senza dubbio tra i migliori delle ultime due travagliate stagioni di Vikings, azzoppate inevitabilmente dalla dipartita di Ragnar Lothbrok, un protagonista troppo carismatico per non incidere sulla qualità di una serie tv che ha avuto più di una difficoltà nel superare la fine della sua saga. Ma c'è riuscita, in qualche modo. Vikings, dopo una quinta stagione che soprattutto nella seconda parte ha dato il peggio di sé, è ripartita con un ultimo capitolo, il sesto, che sta convincendo ed entusiasmando.
È stato così nei primi cinque episodi, e ancora di più in Death and the Serpent. Ma a un certo punto è successo qualcosa. Qualcosa di pesante, dirompente. Per alcuni versi persino imprevedibile, seppure attendessimo questo momento da troppo tempo. A un certo punto Lagertha è morta. La vera Regina di Vikings, la shieldmaiden dalla storia straordinaria e dalla rappresentazione unica incarnata perfettamente per sei anni dalla fenomenale Katheryn Winnick, ci ha lasciato. E non è un problema, anzi. Il problema, quello vero, è che l'ha fatto troppo tardi. In una scena che ricorderemo a lungo, purtroppo non in positivo.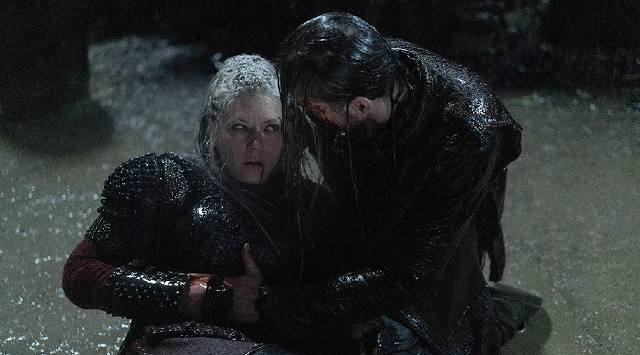 Parliamo peraltro di una scena bellissima, paradossalmente. Perché la resa del momento è stata molto coinvolgente, e le interpretazioni della Winnick e Marco Ilso sono state più che convincenti. Ma le criticità ci sono, e sono fin troppe. Perché il problema della scena non è la scena stessa, bensì come ci si arriva. Come abbiamo evidenziato nella recensione dell'episodio (la trovate qua), sono tanti gli interrogativi che con ogni probabilità non avranno mai risposta: perché Lagertha, pesantemente ferita dopo lo scontro con l'esiliato, ha deciso di affrontare un viaggio del genere col solo fine di allertare Ubbe? Perché farlo da sola? A che pro?
Le perplessità sono troppe, perché non c'erano i presupposti narrativi minimi per quello che è stato a tutti gli effetti un martirio superfluo. Il pericolo rappresentato dagli esiliati di Bjorn non può essere una minaccia credibile per Kattegat, ben abituata ad affrontare dei nemici più ostici e numerosi. E il viaggio in solitaria in quelle condizioni non poteva non avere altre conseguenze al di fuori della morte di Lagertha.
Allora perché farlo? Lagertha non aveva più motivazioni per vivere e ha deciso, di fatto, di suicidarsi? Difficile crederlo, in considerazione dello sviluppo vissuto dal personaggio nei primi episodi dell'ultima stagione.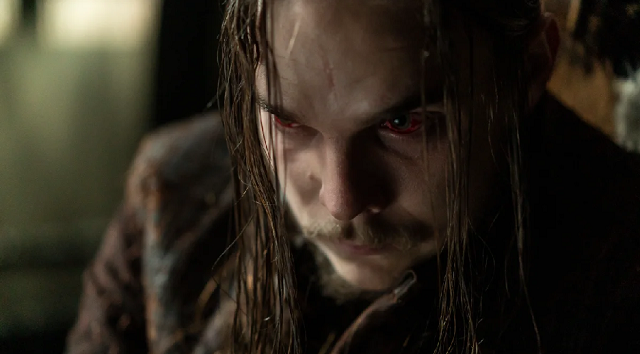 Poi c'è il capitolo Hvitserk, il più controverso. Risulta difficile trovare delle motivazioni credibili per giustificare la morte di Lagertha da lui causata, al di fuori di due elementi: la parabola autodistruttiva del terzo figlio di Ragnar che lo contraddistingue staticamente da inizio stagione, culminata nel (e a questo punto finalizzata al) tragico "incidente" dell'ultimo episodio, e soprattutto la necessità di concretizzare la profezia non interpretabile secondo la quale Lagertha avrebbe dovuto morire per mano di un figlio dell'amato ex marito.
Lo sviluppo narrativo è lineare, apparentemente. E privo di buchi di trama. Così è, in effetti. Ma il risultato è stato raggiunto con una scrittura pigra che non rende giustizia alla maestria di Michael Hirst, autore di Vikings. E alla cura dei dettagli che ha contraddistinto la storia almeno fino alla prima metà della quinta stagione, facendone una delle migliori serie tv degli ultimi anni. Perché Hvitserk è stato fin qui per ampio distacco il vero punto debole della stagione, e soprattutto perché la scelta di uccidere Lagertha attraverso lui, all'improvviso e senza una reale contestualizzazione, non sembra altro che un debole escamotage per dare un senso alla profezia.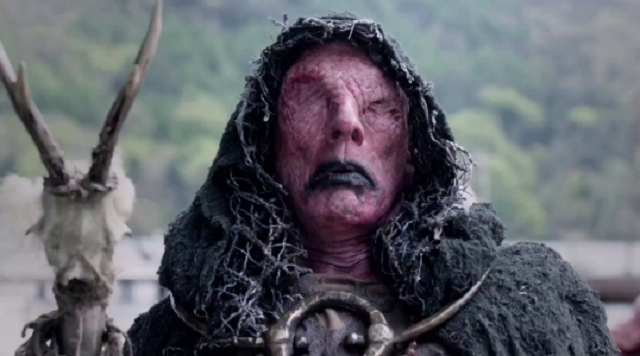 È vero, a dirla tutta la scelta cela un simbolismo interessante: la casualità della situazione creatasi rafforza una volta ancora l'idea di causalità del fato che contraddistingue da sempre Vikings. Lagertha ha incontrato il suo destino nel modo più imprevedibile, per mano del personaggio più imprevedibile nel momento più imprevedibile, in linea con quello che la serie ha sempre voluto raccontarci. Ma possiamo accontentarci di questo? Possiamo farlo se si parla della morte del secondo personaggio più importante di Vikings, uno dei più iconici del decennio seriale che abbiamo appena lasciato alle spalle?
No, non possiamo farlo. E diciamolo: Hirst si è legato le mani da solo fino a trovarsi costretto a forzare la trama pur di ottenere un risultato sacrosanto (uccidere un personaggio che aveva dato ampiamente tutto quello che aveva da dare) attraverso un caposaldo fissato da tempo (l'eliminazione per mano di un figlio di Ragnar). Il problema non è quindi la scena in sé, ma come ci si è arrivati. Perché è chiaro: a questo punto nessun altro figlio di Ragnar avrebbe avuto un solo buon motivo per ucciderla, e l'unico che di motivazioni ne avrebbe avuto fin troppe non avrebbe avuto la possibilità materiale per farlo. Non ora, almeno.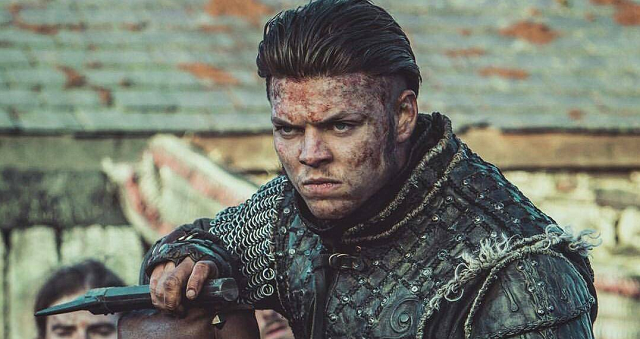 Parliamo ovviamente di Ivar, per molto tempo alla ricerca di una vendetta nei confronti di Lagertha, rea di aver ucciso l'amata madre Aslaug. Avrebbe avuto tantissime occasioni per regalare alla Regina una degnissima uscita di scena, ma non è mai successo. Sul tema si è espresso lo stesso Hirst nei giorni scorsi, affermando di aver pensato a lungo a questa soluzione ma di aver virato poi su Hvitserk per evitare uno sviluppo scontato. Tuttavia la sua risposta non ci convince. Perché in Vikings è la solidità della narrazione a fare davvero la differenza, molto più dei colpi di scena. Sapevamo tutti, per esempio, che con ogni probabilità Athelstan sarebbe morto per mano di Floki, ma l'ovvietà della scelta non ha reso meno bella e intensa una delle scene più memorabili dell'intera parabola di Vikings.
Allora perché non farlo? Perché non farlo, per esempio, nel decimo episodio della quinta stagione, nel bel mezzo della Battaglia di Kattegat tra Ivar e Lagertha, in un momento in cui lei aveva già dato tutto quello che aveva da dare? Perché tenerla in vita forzatamente per poi snaturarla nella seconda parte di stagione con l'assurda e del tutto indefinita storia d'amore con Heahmund? Perché tenerla in vita agonizzante fino ad arrivare a una fine indegna? Purtroppo per volere dei fan, di fatto. La verità è questa: la presenza di Lagertha nella 5B non ha avuto alcun senso, e altrettanto si può dire della prima parte della sesta, seppure il personaggio avesse ritrovato maggiore attinenza con la vera Lagertha che tanto abbiamo amato.
Hirst avrebbe fatto fuori volentieri il personaggio molto tempo prima, ma le recenti e deprecabili minacce di morte ricevute dallo showrunner, alla quali sono seguite le numerose lamentele del fandom fin dal rilascio del trailer dell'ultimo episodio, testimoniano l'attaccamento viscerale dei fan alla Regina che l'autore non ha potuto non considerare. Ma questo non giustifica in alcun modo né le assurde minacce, né la scelta di zavorrare Vikings per più di una stagione pur di soddisfare una parte degli spettatori. Non possiamo accettarlo, e chiunque ami davvero Lagertha e Vikings dovrebbe fare altrettanto.
Perché è innegabile: nel momento in cui un personaggio abbraccia il mondo non è più solo la creatura di un autore, ma un essere che appartiene a ognuno di noi. A tutto, però, c'è un limite. E quel limite, purtroppo, si è ampiamente superato. Lagertha è morta, viva Lagertha. Ma la prossima volta evitiamo l'accanimento terapeutico: il mondo delle serie tv merita un destino diverso. E noi, spettatori appassionati, non avremmo che da guadagnarci.
Antonio Casu