# #
Il commissario Rex forse non sarà la Serie Tv più appassionante, eppure per tutti questi anni è rimasta nei nostri ricordi… E nei nostri cuori!
Alcune Serie Tv non si possono prendere sul serio, e Il commissario Rex sembrerebbe essere tra queste.
# #
Sì, tutti riconoscono all'idea del cane poliziotto che affianca il suo padrone nelle indagini un grande potenziale, ma già nel 1994 (anno in cui fu trasmesso il primo episodio) l'espediente dell'animale-eroe era tutt'altro che nuovo: per citare un solo esempio basta la parola "Lassie".
Dico che Il commissario Rex non può essere preso sul serio, almeno da uno spettatore dei nostri giorni, perché le vecchie puntate del telefilm austriaco oggi risultano scadenti dal punto di vista tecnico e spesso ridicole per quanto riguarda la trama, mentre la versione italiana dello show (andata in onda tra 2008 e 2015) non raggiunge comunque gli standard qualitativi di altri prodotti di tendenza, pur essendo per certi versi godibile.
# #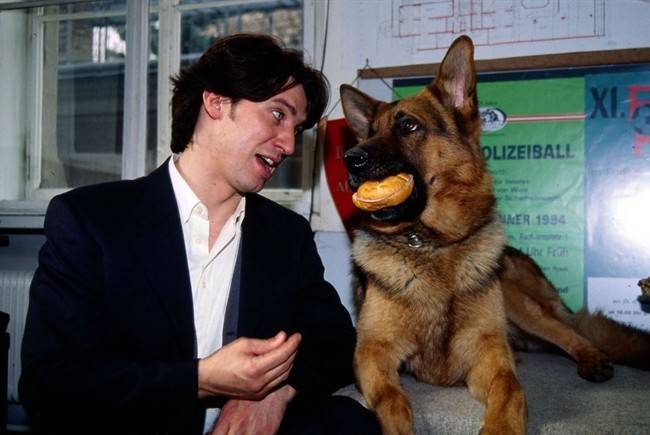 Insomma, si tratta di una Serie Tv confezionata per intrattenere un pubblico vasto, composto da chi ama i polizieschi, chi ama gli animali e chi ama i polizieschi e gli animali insieme; un pubblico che non cerca storie importanti o misteri mozzafiato da risolvere, ma desidera semplicemente spegnere il cervello per un'oretta. Il commissario Rex non è brillante quanto una sit-com moderna, però nemmeno serio e ben congegnato come un vero thriller.
Eppure è un telefilm famoso, e la sua longevità lo dimostra; perciò mi chiedo quale sia il meccanismo che ce lo rende tanto appetibile, tolta la simpatia del cagnolone e il fascino dell'attore che interpreta il commissario (quello umano) di turno.
Beh, credo che gli autori di serie come questa puntino molto sul fattore abitudine: creare uno show carino, non troppo scabroso e latore di buoni sentimenti (e riproporlo con continuità per diversi anni) significa far affezionare gli spettatori ai personaggi e alla trama, ma anche alla "presenza" della serie stessa.
Perché magari Il commissario Rex viene mandato in onda nel tardo pomeriggio, quando la gente è appena tornata dal lavoro e vuole svagarsi senza dover prestare allo schermo l'attenzione che richiede un episodio di Game of Thrones o di Breaking Bad… Lo spettatore si abituerà ad ascoltare la puntata mentre naviga su Internet oppure sbriga i lavori di casa, e forse sarà troppo distratto anche per capire la trama, ma all'ora x accenderà inevitabilmente il televisore e lo lascerà sintonizzato sullo stesso canale fino al termine della puntata.
Una Serie Tv davvero bella cattura, però Il commissario Rex tiene compagnia, e non è cosa da poco.
Quindi sì, in fondo è possibile prendere sul serio un telefilm del genere. Basta fare in modo che esso diventi parte dell'atmosfera quotidiana delle persone e sfruttare la loro capacità di associare tale atmosfera a sensazioni piacevoli.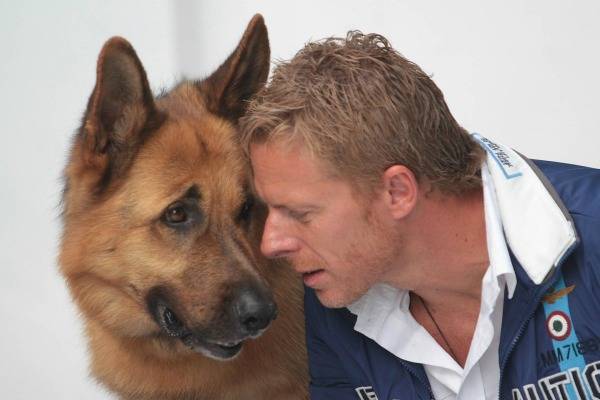 Ed ecco il motivo per cui ho deciso di ritornare su un vecchio episodio de Il Commissario Rex, anche se non posso dire in tutta sincerità di aver mai seguito questa serie: ho scelto la seconda puntata della quinta stagione dello show italiano, e ricordo benissimo la prima volta in cui la guardai…
Un cane di nome Rex, una superstar e
una sera a Firenze
Era l'inizio di settembre di tre anni fa, e mi trovavo a Firenze con il mio ragazzo per una settimana di vacanza. Era stata un'estate orribile, tutta pioggia e freddo, ma in quei giorni stranamente il caldo era esploso con un'intensità che rendeva difficile attraversare la città in lungo e in largo per visitare musei e luoghi importanti.
Alloggiavamo in un B&B le cui stanze erano situate in una vecchia villa in periferia, e non c'erano altri ospiti oltre a noi: preparavamo la cena cucinando su un fornellino mezzo rotto; la televisione era accesa, credo sulla Rai, e trasmettevano forse per la millesima volta Il commissario Rex.
Una sera c'era questa pentola sul fuoco e l'acqua non si decideva a bollire, ed eravamo entrambi affamatissimi e impazienti… Per ingannare l'attesa ci mettemmo a seguire l'episodio intitolato Superstar.
In pratica un'attrice da quattro soldi veniva uccisa e Rex e il commissario Rivera erano costretti a entrare nel mondo complicato delle celebrità per indagare sull'omicidio; e la cosa strana era che a mano a mano che il mistero veniva penetrato dalle scoperte geniali del cane (mentre il suo padrone brancolava pacificamente nel buio), la situazione somigliava sempre più a una sorta di telefilm: era come guardare una puntata nella puntata, perché la vittima sembrava proprio una primadonna dello spettacolo, odiata da tutti i colleghi, dal produttore e persino dalla moglie dell'attore che interpretava il protagonista maschile.
Una storia di tradimenti e sotterfugi che pareva messa in scena apposta per far impazzire Rivera. Ed era bello, questo signore: eh sì, Ettore Bassi sapeva incarnare bene il ruolo del poliziotto duro fuori e morbido dentro; aveva quel fascino sicuro che poteva appartenere tanto a un protettore della giustizia quanto a un tipo losco, un po' come Kim Rossi Stuart in Vallanzasca.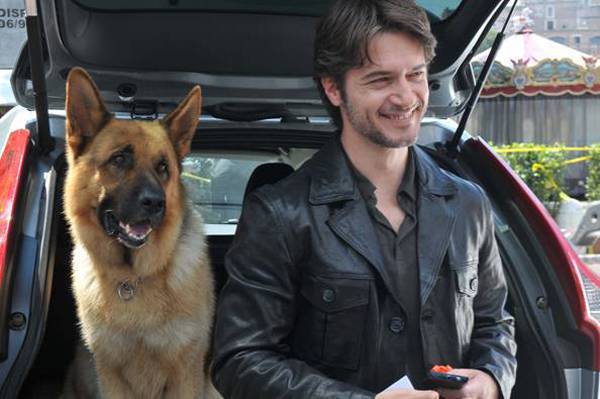 E il finale era così… Ridicolo!
Come in tutti gli altri episodi un imprevisto metteva momentaneamente fuori gioco Rivera e permetteva a Rex di salvare la situazione: la solita carrellata per riprendere gli eleganti movimenti del cagnolone, una ringhiata all'assassino in fuga (perché uccidere un essere umano a sangue freddo è un conto, però davanti ai denti scoperti di Rex si sarebbe arreso perfino Jack lo Squartatore!), ed ecco arrivare Ettore Bassi, affannato ma pronto ad arrestare il colpevole.
Questa particolare puntata, poi, si concludeva mostrando il nostro eroe a quattro zampe in mezzo agli attori, i quali lodavano il suo presunto talento nella recitazione (un celato riferimento alle magistrali interpretazioni del cane che interpretava Rex).
Insomma, tutto è bene quel che finisce bene! Purché anche il telefilm sia finito una volta per tutte.
A parte gli scherzi, non posso proprio dire che Il commissario Rex sia adatto a stuzzicare la mia fantasia; adesso credo che tornerò a guardare The Walking Dead, Pretty Little Liars, Mr. Robot e altri show più meritevoli d'attenzione… Ma se ripenserò a quella vacanza in Toscana, saranno sempre le stesse immagini a tornarmi in mente: la stanzetta di un B&B, una pentola d'acqua che non vuole scaldarsi, un cane lupo che corre.
Ecco svelato il segreto delle Serie Tv che non appassionano, e che tuttavia non riusciremo mai a dimenticare.