Spike: Ottimo lavoro, dolcezza.
Buffy: E tu chi sei?
Spike: Avrai modo di saperlo sabato.
Buffy: Che succederà sabato?
Spike: Io ti ucciderò.

Questo è in assoluto il primo scambio di battute che si rivolgono Buffy e Spike. Lui è arrivato in città da poco ed il suo obbiettivo è quello di uccidere la sua terza cacciatrice. Si reca quindi al Bronze, dove prima la osserva ballare (mica stupido!), poi la esamina mentre uccide un vampiro. Già dalla sua prima apparizione abbiamo capito che Spike non era un vampiro come un altro: lui sa il fatto suo.
Parto dal presupposto che per quanto mi riguarda non basterebbero dieci punti per sintetizzare la storia tra Buffy e Spike, ma dobbiamo pur imporci un limite! Fan di Angel e di Riley (esistono davvero fan di Riley?) non me ne vogliate: io ho sempre tifato per la Cacciatrice ed il vampiro ribelle. Tra alti e bassi (forse più bassi che alti!), la loro storia travagliata è rimasta nel cuore di molti amanti del Buffyverse.
Vediamo insieme alcuni dei momenti più emozionanti di Buffy e Spike!
1. "Billions of people walking around like Happy Meals with legs"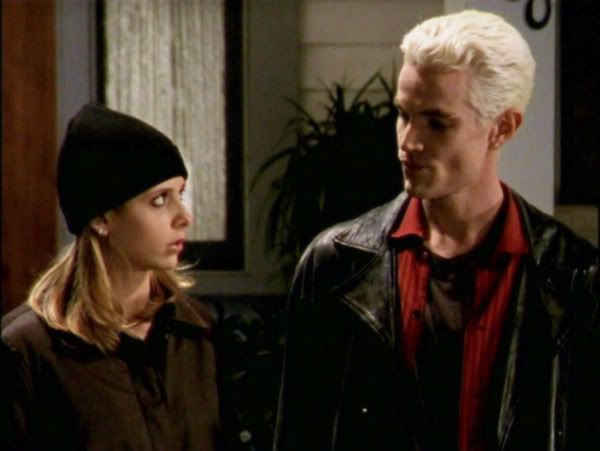 Come dimenticare la loro "alleanza" per sconfiggere Angelus? Quando Angel torna cattivo va da Spike e Drusilla intenzionato a distruggere il mondo assieme a loro. Spike, però, non ne vuole sapere. Un po' perché odia Angel, un po' per delle ragioni che spiega a Buffy con questo esauriente monologo:
"Ci piace spararle grosse. I vampiri lo fanno. "Distruggerò il mondo!". Discorsi da spacconi, che si fanno tra amici, davanti ad un boccale di sangue. La verità è: io amo questo mondo! Ci sono le corse dei cani, il Manchester United, e ci sono le persone. Milioni di persone che vanno in giro come degli Happy Meals con le gambe. Mi piace tutto questo. Ma poi basta un visionario con le manie di grandezza, con la passione per la distruzione, nel nostro caso Angel, e allora addio Piccadilly, addio Leicester Square. Capisci cosa voglio dire?"
Buffy ovviamente non si fida di lui: hanno cercato di uccidersi a vicenda fino a poco tempo prima! Tuttavia, a mali estremi, estremi rimedi: la Cacciatrice lo fa entrare a casa sua, gli presenta addirittura sua madre (amavo il rapporto tra Joyce e Spike!) ed insieme decidono una tattica per cercare di sconfiggere Angelus.