Per scrivere di The Young Pope forse è necessario adeguarsi a complessità e bizzarria, due caratteristiche precipue di questa Serie Tv.
Seguendo quello che è stato il modus operandi un po' di tutti gli altri miei pezzi su The Young Pope, a causa anche della densità di questioni a cui si potrebbe attingere, mi lascio trasportare da una suggestione e seguo la vita da essa tracciata. Se la scorsa volta abbiamo ragionato sul concetto di "evento" mossi da quanto abbiamo ascoltato in un dialogo, questa volta lasciamo sia un'immagine a darci qualche coordinata in più sull'opera di Sorrentino.
Ci è già capitato di tirare in ballo l'arte parlando degli episodi precedenti e della sigla, e così non sarà una novità farlo ora. Non so se sia capitato anche a voi, ma mentre guardavo il giovane Lenny passarsi tra le dita la pipa paterna, la mia mente è volata in un battito di ciglia a La Trahison des images di Magritte. Cosa diamine c'entri l'opera del pittore surrealista belga con The Young Pope resta un mistero anche per me. Ma cosa devo dirvi? Succede questo, che nella mente dello spettatore si attivino delle connessioni e allora salti fuori un'interpretazione che magari non è proprio quella giusta, né tanto meno la migliore, ma comunque un'interpretazione. Quindi, partiamo dal quadro: praticamente vediamo una pipa e, sotto ad essa, una scritta: «Ceci n'est pas une pipe» («Questa non è una pipa»). Cosa vuole dirci Magritte? Una cosa semplice: la pipa e la rappresentazione della pipa non coincidono; una pipa e il disegno di una pipa sono due cose differenti. Semplicemente, l'immagine di un oggetto non è l'oggetto stesso. Ok. Evitando tutto il trip metatestuale pallosissimo che ci si potrebbe fare, prendiamo una via molto più banale: mi è venuto da fare un gioco di parole e nella mia testa si è formata questa roba qua: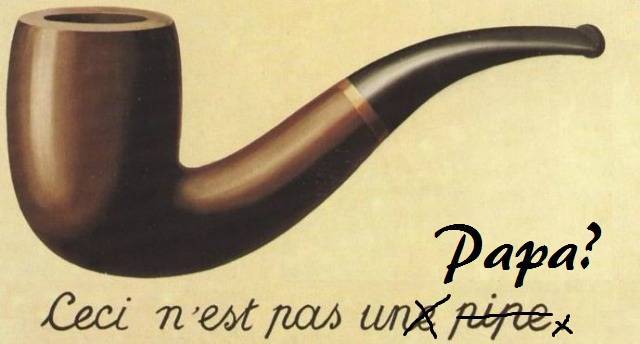 Questo non è un Papa? E allora mi sono ricordata che quando ho scritto l'elenco di cose che secondo me Pio XIII è (un orfano, un bambino annoiato, un pavone, uno che sa pregare, un tracotante timorato di un Dio che non sa se c'è, un eterosessuale omofobo, un'interferenza, un uomo molto bello, una contraddizione, una rivoluzione) l'ho fatto dando per scontato, fino quasi dimenticarmene, che lui fosse il Papa. Sicuramente è un Uomo, con tutte le idiosincrasie, le contraddizioni e le fragilità che un uomo può avere. Chiaramente Lenny Belardo non è per niente aderente all'idea che abbiamo di Papa, ma per la prima volta in vita mia mi sono domandata: come dovrebbe essere, secondo me, un Papa? Lenny è vicino o lontano a questa mia immagine? Quando dico Papa, penso semplicemente a quello che dovrebbe essere il rappresentate massimo della religiosità. Intendo dire che non si vuole discutere del ruolo politico – non in questo articolo – di tale figura, ma di quello umano/spirituale.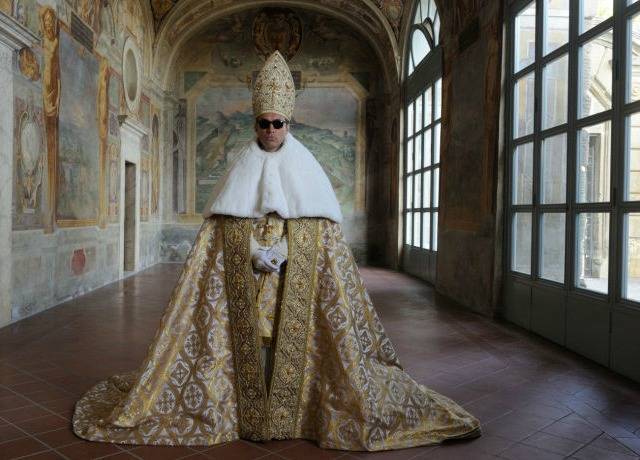 Prima di provare ad abbozzare una mezza risposta, voglio dirvi che ho sempre trovato The Young Pope una serie capace di essere al contempo estremamente drammatica ed estremamente comica. Non si è bene capito ancora dove voglia andare a parare, ma finora ogni episodio ci ha un po' stupito. Gli ultimi due, in modo particolare, mi hanno profondamente commossa. Il Papa giovane emerge in tutta la sua fragilità proprio perché vengono toccati due nervi scoperti: il suo migliore amico  e, soprattutto, i suoi genitori. Potremmo stare qui a scrivere di entrambe le cose per ore, ma questa volta ci limitiamo solo a cercare di dare una risposta alla domanda che ci siamo fatti sopra. (SPOILER) Il migliore amico del Papa è il cardinale Dussollier che muore ammazzato a Honduras. Ecco come Lenny prega Dio, una volta saputo l'accaduto:
Dio Onnipotente, ora che hai il caro Dussollier tra le tue braccia, Ti prego, ricordagli quel pomeriggio che scappammo insieme dall'istituto. Ricordagli la paura e la libertà di quel pomeriggio carico di pioggia. E rassicuralo, non c'è niente di male: paura e libertà stanno sempre insieme, come due vecchi sposi pronti a morire l'uno per l'altro. Ricordagli di Suor Mary a vent'anni, con i capelli sciolti e biondi inondati dal sole mentre correva e faceva canestro. Ricordagli quell'indelebile e arcaica immagine di bellezza che ci commuoveva in silenzio. Sì, Dio, lo so benissimo che lui, come me, non dimenticherà mai quell'immagine.
Ricordagli, Dio onnipotente, di tutte le nostre infinite camminate notturne nella grande camerata del dormitorio, sotto le lenzuola, di come bisbigliavamo di nascosto, e avevamo un unico, instancabile argomento di discussione: il nostro futuro. Eravamo bambini e i bambini fanno questo: dipingono il futuro con colori che la realtà non conosce. Ricordagli che non c'è da soffrire per tutti i nostri sogni infranti: volevamo vivere la vita del grande giocatore di baseball, del vecchio benzinaio sulla strada provinciale, del soldato eroico, del musicista sconcio di New York, del vigile del fuoco, del velocista sull'Oceano.   
Ricordagli di non piangere quando ricorderà che abbiamo vissuto solo la vita semplice e sbiadita del prete. Una vita così strana, a sperare e a pregare che Tu, Dio onnipotente, esista veramente. E magari pensi a noi. 
Amen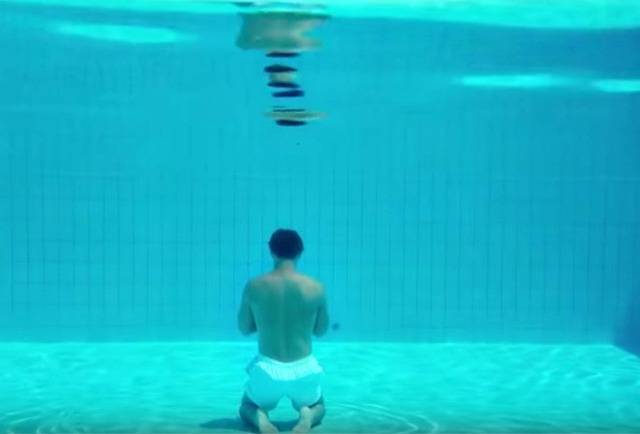 Questa è una delle preghiere più belle e umane che io abbia mai sentito. Lasciamo stare poi, che venga fatta dal fondo di una piscina.
Passiamo oltre, quando Lenny chiede al Cardinale Spencer cosa debba fare per il bene della Chiesa, egli gli risponde di andare a Venezia e seppellire due bare vuote. Come a dire di mettere da parte i suoi genitori, l'ossessione che Lenny ha nei loro confronti e la sofferenza che ne consegue. Io non so bene cosa avvenga, nella testa di Sorrentino, ma, dopo il tentativo d' "imbroglio di Suor Mary",  scatta qualcosa nel personaggio del Papa che accetta di recarsi in Africa e dopo aver preso coscienza di alcune realtà riesce a fare questo discorso:
E' il vicario di Cristo, Papa Pio XIII,  che vi parla. Fratelli e sorelle, voglio essere molto chiaro con voi: ho visitato il vostro paese e ho visto i morti, li ho visti per terra, ho visto la fame, il sangue, la sete e la povertà. Tutte queste cose sono figlie della guerra e della violenza che vi attanaglia da dodici anni. Non dirò i nomi di chi è colpevole di tutto questo, perché sono troppi: siamo tutti colpevoli. Siamo tutti colpevoli della guerra e della morte. Sempre. Così come possiamo tutti essere colpevoli della Pace. Sempre. Io ve lo chiedo, ve lo chiedo in ginocchio: sono pronto a morire per voi, purché voi diventiate colpevoli della Pace.
Lo dico sempre ai bambini che mi scrivono da ogni parte del mondo: "Pensate a tutte le cose che vi piacciono: quello è Dio". Ai bambini piacciono un sacco di cose diverse, ma  nessuno di loro mi ha mai scritto che gli piace la guerra. Ora guardate colui che è al vostro fianco, guardatelo con gli occhi della gioia e ricordatevi di quando Sant'Agostino ha detto: "Se vuoi vedere Dio, hai a disposizione l'idea giusta".
Dio è amore. Io, invece, non vi parlerò di Dio finché non ci sarà la Pace. Perché Dio è la Pace e la Pace è Dio. Datemi la Pace e io vi darò Dio. Voi non lo sapete quanto è bella la Pace. Non avete idea di quanto possa essere sconcertante la Pace, ma io lo so. Perché l'ho vista quando avevo otto anni, in riva a un fiume in Colorado, la Pace.
Non lo so bene, io, come deve essere un Papa, ma una cosa la so: questo è il discorso più bello su Dio e l'Uomo che io abbia mai sentito e chiunque voglia rappresentare il personaggio interpretato da Jude Law, io penso che queste parole arrivino al cuore.
Un saluto agli amici di The Young Pope Italia e  Seriamente Tv!