# #
Scrivere che quando si guardano gli ultimi due episodi di The Young Pope si entra nel campo dell'ineffabile può sembrare una contraddizione, ma non lo è fino in fondo.
Quello che intendo dire è che ci si trova di fronte a qualcosa di smisuratamente grande e metafisico, qualcosa di cui non ci si immaginava si potesse occupare la serialità. Non si tratta certo di un limite intrinseco nel prodotto, ma dell'aspettativa di noi spettatori, così abituati a sentir parlare di tutto, nelle nostre Serie Tv, ma non certo, almeno in questi termini, di Dio.
# #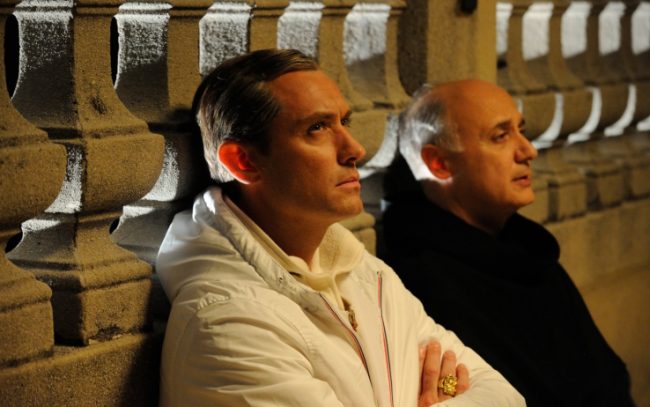 Onestamente, quando vidi il trailer della serie sorrentiana pensai che The Young Pope si sarebbe rivelato o la trashata peggiore della storia o un capolavoro. Da un certo momento in poi, si è parlato di rivoluzione seriale: io stessa ne ho scritto in questi termini, ma era chiaro a tutti che fosse necessario aspettare la conclusione, prima di giungere a conclusioni. Ora il finale di stagione è arrivato e possiamo tirare le somme. Seppur la filmografia di Sorrentino ci abbia abituati a guardare le storie più disparate impacchettate nelle confezioni stilistiche più bizzarre, nonostante ci si dica che ci si aspetta di tutto dal quel (amato o odiato che sia) regista, personalmente credevo di vedere quanto ho visto. Detta così vuol dire tutto e niente.
# #
Non mi immaginavo la dolcezza. Non mi immaginavo che si parlasse di Dio in un modo così umano e così toccante. Non mi immaginavo che una Serie Tv potesse "dirci" Dio facendoci sentire una carezza tanto morbida sul cuore (nonostante una parte di noi "spettatori" sia atea, disillusa e refrattaria a discorsi spirituali). Perché è questo che avviene negli ultimi quattro episodi, e in modo particolare nel finale di stagione.
The Young Pope ci ha commosso e ci ha regalato un'idea di Umano e Divino di cui, forse, abbiamo bisogno. Laddove il panorama seriale si fa sempre più variegato e violento, ecco che Sorrentino ci mostra un centimetro di dolcezza…ma che dolcezza. Dopo averci sballottato da una parte e dall'altra della schiera che adora o detesta Papa Pio XIII, questa serie ci culla: ci racconta la storia di un orfano (di tanti orfani, in realtà) che riesce a farsi Padre di un'intera comunità (di cui noi spettatori, in un modo misterioso e magico, facciamo parte). Paolo Sorrentino ci ha raccontato la storia (e ora, possiamo dirlo: la meravigliosa storia) di un bambino egoista e ferito che diventa Uomo. Della mia infanzia ricordo solo che un giorno non c'era più, dice Lenny; poco oltre, tuttavia, il Papa comunica a Suor Mary che il suo compito accanto al pontefice è concluso: perché si sente finalmente adulto. The Young Pope parla di tante cose, ma prima di tutto parla dell'Amore. Le lettere d'amore scritte dal Papa sono una cosa che nemmeno riesco a descrivere. Il mondo si è fermato a parlare d'amore e nevica su Roma: questo è il miracolo.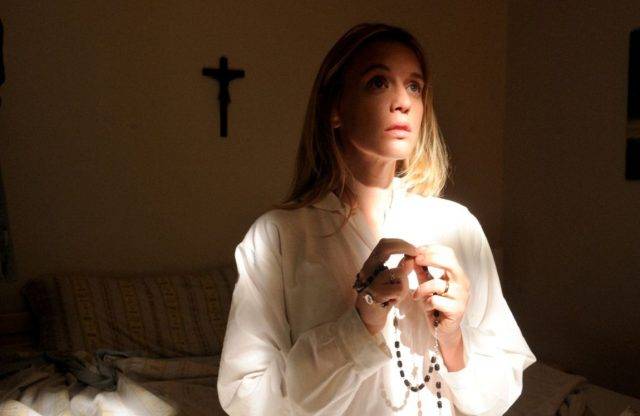 Se ci interessa davvero parlare ancora di rivoluzione, io penso che si possa certamente trattare dello stile narrativo dell'autore,  degli ammiccamenti intellettualoidi e chi più ne ha più ne metta, ma ritengo che, a questo punto, si debba parlare più che altro di una rivoluzione tematica: Sorrentino non solo ci parla di Amore attraverso una figura che non vive l'amore come lo intendiamo noi solitamente. Sorrentino ci parla di Amore, mentre la serialità e il mondo dell'informazione tendono a parlarci di Violenza, Odio e Rancore. Niente di paternalistico, sia chiaro: solo mi stupisce come si possa arrivare al cuore delle persone in questo modo.
I Papi che appaiono a Pio XIII gli ricordano che spesso le banalità si rivelano vere e come il potere sia un luogo comune. Anche l'Amore spesso lo è. E purtroppo, talvolta, anche Dio. Ma non in questo caso. La finisco qui, il resto l'ha già detto tutto Lenny:
Quando le chiesero: "Chi è Dio?", "Dio è una linea che si apre", rispose la Beata Juana. Aveva soltanto quattordici anni e nessuno capiva che cosa volesse dire. E allora tutti i bambini posero, alla Beata Juana mentre lei moriva, decine di domande: "Siamo morti o siamo vivi?"; "Siamo stanchi o siamo energici?"; "Siamo sani o siamo malati?"; "Siamo buoni o siamo malvagi?"; "Abbiamo ancora tempo o il tempo è scaduto?"; "Siamo giovani o siamo vecchi?"; "Siamo puliti o siamo sporchi?"; "Siamo stupidi o siamo in gamba?"; "Siamo veri o siamo falsi?"; "Siamo ricchi o siamo poveri?"; "Siamo re o siamo servitori?"; "Siamo bravi o siamo belli?"; "Siamo caldi o siamo freddi?", "Siamo contenti o siamo ciechi?"; "Siamo delusi o siamo gioiosi"; "Ci siamo  persi o ci siamo trovati?"; "Siamo uomini o siamo donne?"; "Non ha importanza" rispose la Beata Juana, mentre stava morendo a soli diciotto anni. E poi aggiunse, in punto di morte, con le lacrime agli occhi: "Dio non si concede, non si fa vedere. Dio non grida, Dio non bisbiglia, Dio non scrive, Dio non sente, Dio non chiacchiera. Dio non ci conforta". E allora i bambini le chiesero: "Chi è Dio?" e Juana rispose: "Dio sorride". Soltanto allora tutti capirono. 
The Young Pope, 1×10
Il Papa che appende i calzini è un'immagine superba.
Non sappiamo cosa ci attende nella seconda stagione, ma una cosa è certa, non penso smetteremo mai di domandarci dove cadono i pomeriggi di maggio…
Un saluto agli amici di The Young Pope Italia e  Seriamente Tv!
Leggi anche – Com'è nato The Young Pope;