La difficoltà con cui ci si mette a scrivere di un'opera come The Young Pope è enorme.
Enorme perché non ci si è mai trovati prima a doversi confrontare con qualcosa di anche solo lontanamente simile a questo prodotto seriale (e questo, che piaccia o meno, la dice lunga sulla forza della firma sorrentiniana). Le puntate prese in considerazione, poi, sono tanto dense di riferimenti e riflessioni che qualsiasi cosa si scriva risulterà, in qualche modo, limitata. Ma non è una buona scusa per non provarci.
Iniziamo dalla sigla che potrebbe costituire un prodotto artistico a sé stante. Quel che vediamo è semplicemente il nostro meraviglioso Jude Law in versione Santo Padre che "passeggia" (con tanto di svolazzìo dei vestiti) dinnanzi a una lunga galleria di celebri quadri. Parallelamente all'incedere del Papa, un meteorite attraversa le varie opere incendiandone qua e là dei particolari. Poi, il capo della Chiesa guarda in camera e ci fa l'occhiolino (un ammiccamento meraviglioso), fino che il meteorite, ormai fuoriuscito dalla finzione artistica dei quadri, colpisce l'effigie di Papa Giovanni Paolo II "ricreando" La nona ora, l'irriverente opera di Maurizio Cattelan. Il tutto scandito dal ritmo incalzante  di All along the watchover di Jimi Hendrix (la colonna sonora è firmata Lele Marchitelli: praticamente una garanzia).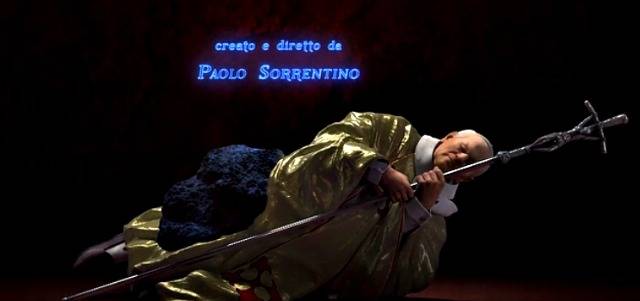 Al di là della goduria estetica che se ne può trarre, cosa ci dice questa sigla di The Young Pope? E quanto Sorrentino ci suggerisce è aderente a quanto vuole mostrarci o è volutamente fuorviante? Fatto sta che quel che vediamo è lì a dirci: PIO XIII è il meteorite che colpisce la Chiesa Cattolica (almeno, quella che conosciamo noi). Che questo sia un bene o un male, non spetta a chi scrive dirlo.
Meteorite: Frammento di corpo celeste di varie dimensioni vagante nello spazio che, entrato negli strati alti dell'atmosfera, si disintegra per l'elevata temperatura provocata dall'attrito oppure si frantuma precipitando a terra con una scia luminosa.
Ecco cos'è Lenny Belardo. Sorrentino, tuttavia, ci ha lasciato qualche indizio per studiare meglio la natura di questo "frammento di corpo celeste". Se già i primi due episodi di The Young Pope delineavano, seppur in maniera confusa, i contorni di questa figura tanto ambigua e indecifrabile, sicuramente il terzo e il quarto demarcano più nettamente i confini di quel che Lenny è (o non è).
1) Un orfano – Ma questo lo sapevamo già dal primo episodio. È inutile sottolineare quanto parte di ciò che siamo derivi dal rapporto con i nostri genitori (senza stare a scomodare Freud), e il nostro giovane Papa non fa di certo eccezione: lui è, prima di qualsiasi altra cosa, orfano. Pio XIII è crocifisso a quel bambino di nove anni e non ha abbandonato il risentimento che lo lega ai genitori che lo hanno abbandonato. Quanto egli sia ancora ingabbiato in quel legame prematuramente rotto, lo si desume dal fatto che l'accendino che stringe e guarda con amorevolezza rappresenta Venezia, il luogo in cui erano diretti i genitori quando l'hanno lasciato in orfanotrofio. Genitori che, per Lenny, non hanno nemmeno un nome. Il Papa, tornato bambino, li rincorre in sogno per chiedere loro come si chiamino. Forse anche per questo cita Spinoza, ricordando che chi ama Dio non pretende che Dio lo ami a sua volta. Ed ecco che Dio, Padre Eterno, si fa massima espressione del sentimento ambivalente che Lenny prova nei confronti dei suoi genitori e, ormai, della vita intera. Che il protagonista di The Young Pope cerchi nella sua religiosità un rifugio, una culla, la casa del padre o il solo mezzo per sfogare tutto il suo rancore, non ci è ancora dato saperlo. Non vi lascerò orfani, dice Gesù Cristo nel Vangelo di Giovanni.
2) Un bambino annoiato – Da un lato fa sorridere, dall'altro fa riflettere, quanto Pio XIII sia annoiato da alcune incombenze, ma, soprattutto, quanto serenamente manifesti il proprio incontenibile senso di tedio e noncuranza. Così, di fronte alla fila di bambini da battezzare, Lenny non si riserva di trattenere gli sbuffi. Ripete, come un automatismo, con stizza, che le bambine somigliano alla madre ("Lei ti somiglia"). Lo fa con così poca attenzione che arriva a dire la stessa frase in riferimento a una bambina di colore palesemente adottata. Salvo poi correggere il tiro una volta resosi conto della figuraccia. Il tipo di noia che lo vediamo provare somiglia a quella dei bambini viziati che sono stati obbligati a fare i compiti quando avrebbero preferito giocare.
3) Un pavone – All'inizio della quarta puntata (una puntata che definire strabiliante è dire poco), lo spettatore si trova catapultato in una dimensione quasi surreale: il mondo del "santone" Tonino Pettola (in una scena che ricorda vagamente quella di Talia Concept ne La grande bellezza). In sottofondo si sente il verso di una poiana. Mentre il Papa passeggia per i giardini vaticani, invece, è il verso del pavone quello che sentiamo. E cosa rappresenta il pavone se non la bellezza, l'eleganza, la superbia, la superficialità, l'importanza dell'apparire, la tracotanza? E Pio XIII non è tutto questo?
4) Uno che sa pregare – Sì, Pio XIII è, a tratti, un pavone, ma è anche uno che sa pregare. E lui a fornirci una bellissima definizione della preghiera come momento di comprensione nel quale si riflette aspettando il soffio del pensiero di Dio, mentre spiega a Esterina come pregare. E' lui che prega così intensamente la Madonna affinché la donna realizzi il più bramato dei desideri della donna: rimanere incinta. Ma anche questa faccia del Papa di The Young Pope è un incontro di luce e ombra. Per sua ammissione, infatti, Lenny prega profondamente di venire eletto durante il conclave e lo fa con un egoismo che quasi spaventa.
5) Un tracotante timorato di un Dio che non sa se c'è – Eppure, mentre rincorriamo questa assurda definizione di ciò che Lenny è, ci discostiamo continuamente da alcuni punti, per poi tornarvici: il Papa è così pieno di hybris che arriva a confessare che non amerà mai il prossimo come se stesso, che ama se stesso più del prossimo e più del Signore. E lo dice con una tale sicura arroganza nello sguardo da non lasciare dubbi. L'indomani, tuttavia, si sente mortalmente in colpa e prega come un forsennato, con una stizza indicibile. Urla al Signore di perdonarlo: lì a imitare il crocefisso con le braccia, ma con la sigaretta in mano. E lo dice, lo urla, a Dio, che è sempre stato bravo a prendere appunti ed è pronto al nuovo dettato. Questa sua ambiguità emerge anche dal discorso fatto con il primo ministro della Groenlandia: da un lato egli ricorda con durezza che la Chiesa cattolica è arrivata per prima in Groenlandia, benché ora venga relegata nelle riserve come gli indiani d'America, ma la sua durezza arrogante viene mitigata dalla poesia con cui considera (ma forse è solo un ottimo comunicatore) che sotto il ghiaccio della Groenlandia può esserci Dio.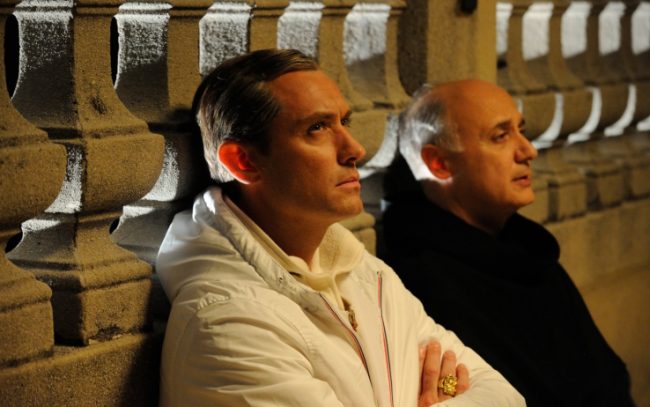 6) Eterosessuale e omofobo – Un'altra cosa che sappiamo con certezza del nostro Papa è (che discorso strano da farsi per un Papa) è la sua eterosessualità. Anche se, a suo dire, non ha esperito più di tanto la passione amorosa: è stato fidanzato con una ragazza per una settimana durante le vacanze estive, poi è entrato in seminario.  Proprio per questo Voiello cerca il suo punto debole in quella che sembra essere l'attrazione che egli prova nei confronti di Esther. Che il legame con la donna abbia anche a che vedere come il legame spezzato con la madre non è da escludere: come dimenticare lo svenimento tra le braccia della giovane come a ricreare La pietà michelangiolesca nella quale Lenny sarebbe un moderno Cristo e Esther la Madonna? Non è ancora tempo di soffermarsi sullo strano rapporto che lega i due. Interessante è invece il tentativo di "epurazione dalla piaga dell'omosessualità" che vede così fortemente presente nella curia. Strategia politica o il Pio XIII è veramente omofobo?
7) Un'interferenza – MERAVIGLIOSO. Mi rendo conto si tratti di un giudizio personale, ma ho trovato quella scena a dir poco geniale (una delle trovate più geniali, considerando che The Young Pope non ne è esente per niente). Mi riferisco a quando il Papa parla con la suora e noi percepiamo la sua voce come se uscisse da una radio con delle interferenze. Come quella del primo episodio, ecco. Proprio così. Ecco cosa è Lenny: un'interferenza nelle frequenza della Chiesa cattolica. Fuck, dice anche a un certo punto.
8) Un uomo molto bello – Più bello di Gesù Cristo, specifica il Papa.
9) Una contraddizione. Lo è, e l'abbiamo già detto mille volte.
10) Una rivoluzione. Seriale, quantomeno.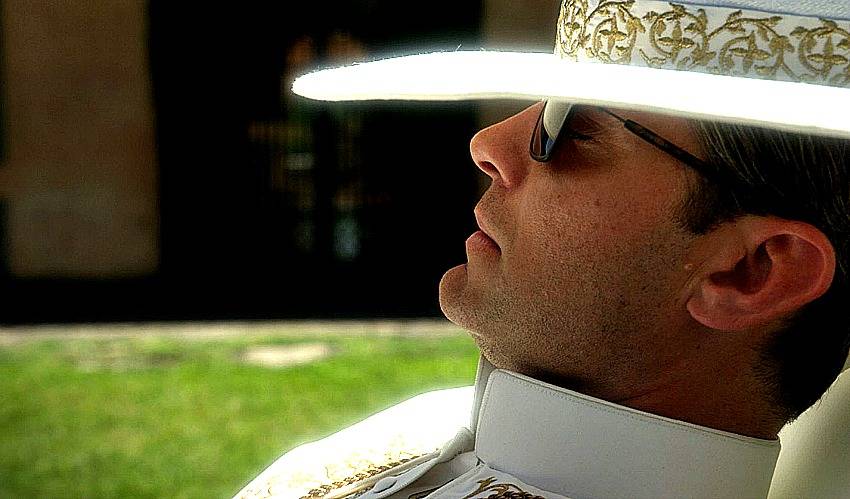 Un saluto agli amici di The Young Pope Italia e  Seriamente Tv!