The Young Pope può piacere e non piacere, continuiamo a ripeterlo, ma è un evento seriale: voi vi sareste mai immaginati di sentire parlare della Chiesa così? E dell'Uomo?
EVENTO – Ogni puntata di The Young Pope è così densa di spunti che è sempre difficile scegliere cosa approfondire. Allora tocca farsi fregare da una suggestione, da un'intuizione e cercare di seguirla. La strada che si cerca di percorrere a questo giro è stata scorta tra le battute di un dialogo. Sono ormai trascorsi nove mesi dall'inizio del pontificato di Pio XIII quando, finalmente, il Papa si decide a incontrare il Primo Ministro italiano (anche lui molto giovane, interpretato da Stefano Accorsi). Il dibattito tra i due è subito serrato: una sfida a suon di provocazioni. La conversazione pare volta solo a stabilire chi tra i due giovani detenga maggior potere. Il Papa propone (dire "impone" sarebbe più corretto) al Primo Ministro una lista di nuove conservatorissime e rigidissime norme alle quali desidera egli si attenga (il divieto di unioni civili, di matrimoni gay, dell'assoluzione a qualsiasi donna abbia abortito, qualunque fossero le sue motivazioni, per dirne alcune). Il politico si rifiuta di seguirle (anzi, vuole abolire persino l' 8xmille alla Chiesa Cattolica) e da quel momento in poi è una gara a chi avrà più consenso. Non stiamo a ricordare cosa si dicano precisamente i due uomini, quel che ci interessa è un concetto che emerge in questa discussione e che giustificherà, in qualche modo, il titolo di questo pezzo.
A un certo punto Lenny si alza e prende uno specchio. Si siede nuovamente accanto al Primo Ministro e inclina lo specchio cosicché esso rifletta le immagini dei due. Poi, rivolgendosi al politico:
Papa: "Lei cosa vede?"
Primo Ministro: "Due giovani uomini. Uno vestito in un modo un po' strano"
Papa: "Io vedo due eventi mediatici. Uno dei due è già avvenuto: ed è lei. L'altro sta per avvenire".
The Young Pope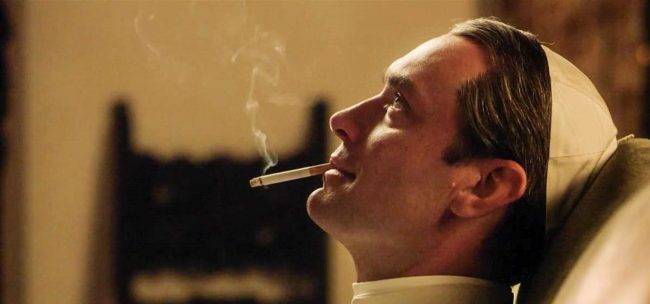 Il primo significato che troviamo sul vocabolario alla voce "evento" è questo: "Avvenimento, caso, fatto che è avvenuto o che potrà avvenire". Si tratta semplicemente di "qualcosa che accade".
EVENTO MEDIATICO- E quindi la salita al soglio pontificio di Lenny Belardo è, prima di tutto, un evento mediatico. Lo dichiara il Papa stesso, ma è comunque una cosa piuttosto evidente. Quasi ogni gesto che Pio XIII compie è una studiatissima mossa mediatica. Se il Papa non si è mostrato finora, se non ha ancora recitato mezzo Angelus davanti ai suoi Fedeli è perché pensa di poter trarre beneficio creando attesa. Questo ci fa pensare che anche dietro alle sue scelte assurde (di un conservatorismo medievale) ci sia un intento mediatico. Lenny sembra essere un esperto di comunicazione, seppure finora abbia sovvertito qualsiasi buona norma del caso. Da uomo moderno qual è, Pio XIII sa di essere bello "come Gesù Cristo" e sa che questa cosa farà breccia nei fedeli. Lenny è il più bel poster pubblicitario che si sia mai visto e il suo regime austero transiterà attraverso quel viso perfetto.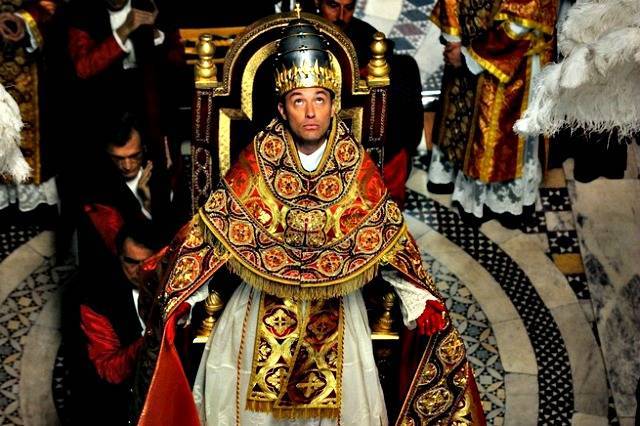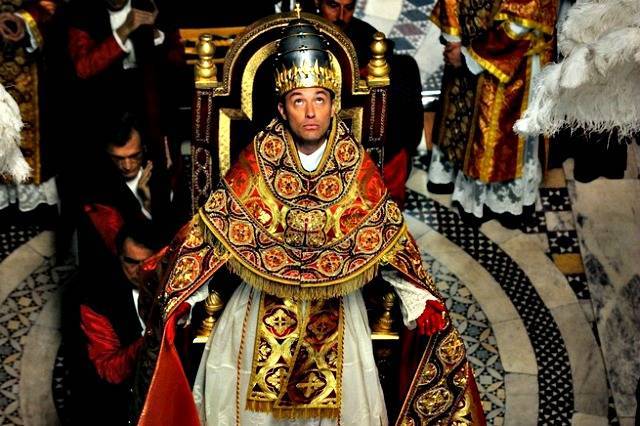 EVENTO DELL'ANIMA- E quindi la salita al soglio pontificio di Lenny Belardo è, anche e forse soprattutto, un evento dell'anima. Questo Papa così contraddittorio e ambiguo è uno specchio (dalle sfumature molto complesse, è vero) di quel groviglio intricato di ferite, convinzioni, dolori, egoismi, paure, superbie che l'uomo ha depositate in fondo a quella cosa che qualcuno chiama anima. A dire il vero, non lo è solo il Papa, ma tutti i personaggi che compaiono in The Young Pope. Lenny è solo il personaggio che viene maggiormente approfondito. Con la scusa che la serie sorrentiniana tratta temi da nulla come spiritualità, mondanità e potere, capite che le luci che si riflettono in tale specchio sono diverse e originano molti colori. Eppure il Papa non è solo lo spietato comunicatore di cui sopra, non è solo il sovrano assoluto che spinge con il piede i suoi "sudditi" a baciargli l'altro piede: lo vediamo bambino scappare dal convento in cerca di quei genitori che sogna ancora e poi ritornare tra le braccia di Suor Mary per stare con il suo migliore amico; lo sentiamo fare a Esther uno dei più sinceri e bei discorsi sull'amore che abbiamo mai sentito. Lenny ammette di amare Dio perché amare un essere umano comporta un dolore che egli non può sopportare (e al contempo lo ammette Voiello che, dopo aver sentito le parole del Santo Padre elimina le prove dello scandalo che aveva ideato e inizia a considerare Lenny un santo).Il Papa ammette di amare Dio perché è un codardo. Quanto ascoltiamo ci commuove.
The Young Pope è la storia del sapersi orfani (lo sono Lenny, Andrew e persino Suor Mary) dei genitori, di Dio o della capacità di amare.
La rivoluzione di Pio XIII è una rivoluzione invisibile. Con un gioco di parole, potremmo dire che il rischio è che il continuo intrecciarsi di questi eventi mediatici e questi eventi dell'anima conduca a "un orizzonte degli eventi" oltre il quale neppure la luce può tornare indietro. 
Un saluto agli amici di The Young Pope Italia e  Seriamente Tv!