Una cosa che sta balzando agli occhi in questo inizio di ottava stagione di The Walking Dead è senza dubbio la "redenzione" dei vaganti. I marci cadaveri erranti non sono più una minaccia da diverso tempo, e questa è probabilmente una delle cause del netto calo qualitativo dello show. L'impressione comune è comunque che, con l'attuale stagione, si vogliano mescolare le carte in tavola per dare nuova linfa vitale a The Walking Dead. Tra queste vi è sicuramente il fattore zombie. Un passo indietro importantissimo che metterebbe i vaganti, di nuovo, al primo posto tra le minacce.
Nella puntata 8×04, Carol, Ezekiel e Jerry finiscono in una fossa in balia dei vaganti. Il re prova a fungere da martire ma il sacrificio della tigre Shiva permette alla combriccola di salvarsi. Lo scontro avviene in prossimità di un canale di scolo delle fogne dal quale sembrano fuoriuscire scorie e rifiuti tossici. Gli zombie in questione sono visibilmente compromessi e diversi rispetto agli altri. Inoltre questa tubatura sporca e fatiscente è stata inserita nella sigla iniziale.
Nella più antica tradizione di The Walking Dead, questo deve pur significare qualcosa!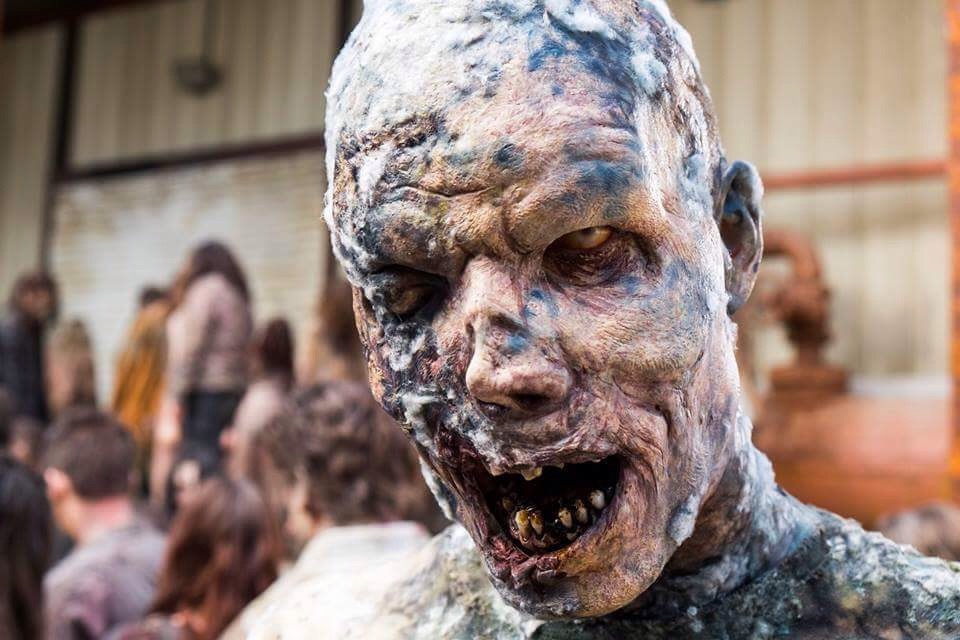 Ezekiel nella seconda puntata sembra confermare la nuova minaccia quando, durante l'inseguimento di un Salvatore fuggitivo, si imbatte in un vagante dissimile e inedito. Superato lo sgomento iniziale lo abbatte ed esclama: "Cosa sarà successo a questa creatura?"
Negan sembra saperne più di tutti. Nella scorsa puntata insieme a padre Gabriel usa lo sdoganato trucco del cospargersi di budella e sangue dei vaganti per passare inosservato tra di loro. Mentre procede si abbatte in alcuni di essi molto particolari. Poco prima, come se conoscesse i rischi, chiede a Padre Gabriel se qualcuno del suo gruppo si sia mai ammalato in quella maniera. Dopo essere sfuggiti entrambi a morte certa, lo sfortunato prete inizia ad avere strani sintomi. Inspiegabilmente si ammala e perde colorito, è visibilmente compromesso nonostante non sia stato nè morso nè graffiato.
Che sia stato infettato da questi vaganti radioattivi?
Tale ipotesi renderebbe ancor più spaventosa e insidiosa l'avversità zombie. Può darsi che il contatto con questi rifiuti abbia permesso ad alcuni vaganti di "evolversi" in una minaccia ancor peggiore.
La "carne" putrefatta degli zombie è esposta al caldo, al sole e a qualsiasi sostanza inquinante da circa un paio d'anni (chi più, chi meno), come afferma Negan nel container con Padre Gabriel. È quindi credibile e possibile che un nuovo processo stia accompagnando l'evoluzione dei vaganti, rendendoli più pericolosi. È un po' come quando, al termine della seconda stagione, si scoprì che anche i morti per cause naturali avrebbero subito la trasformazione. Come allora, questo potrebbe essere un salto importante per la storia dei sopravvissuti.
Con tutti gli schieramenti sul piede di guerra, e questo nuovo possibile pericolo incombente, la AMC potrebbe aver trovato la "cura" per il suo show prediletto. The Walking Dead prenderebbe una svolta molto interessante e originale, cosa di cui necessita assolutamente. Non ci resta che aspettare e vedere. Ogni puntata aggiunge un nuovo tassello al mosaico, anche se l'iter ormai è chiaro e assodato: se deve succedere qualcosa, accadrà nel mid-season finale.